SNDYS. (or Sundays) is an Australian brand and women's fashion label. It includes cute and versatile pieces such as tops, bottoms and dresses. Furthermore, its price is very affordable, so women of all ages can have a fashionable SNDYS. piece. Be it a teenage lady to a woman in her 50s, SNDYS. the label, will make them look good! If you want to browse the ensembles visit their website at: SNDYS. the Label or Sundays The Label. We, at Beverly Hills Magazine have prepared 6 fabulous dresses for you to pick from. Let's now take a look at them.
ACE RIB DRESS (Pictured Above)
The first dress we have is the Ace Rib Dress which actually comes in 6 colors, namely, black, white, gray, sage and blue. It's material is 100 % made of acrylic. Moreover, it features a ribbed material that hugs the body and flaunts your shape, a high rounded neckline and sleeveless. This casual dress is perfect for any occasion! Just imagine wearing this while shopping in the mall, pairing it with flip flops and a denim jacket. It can also be worn as it is paired with very colorful sneakers for a good contrast at a school festival or game. This piece sure is a basic that cannot go wrong in your collection of dresses.
ELROY RIB DRESS

The second dress we feature is the Elroy Rib Dress which also comes in 3 colors namely, white, black and sand. It is made of 100 % polyester. Moreover, it features a press stud front with a V neckline which accentuates the chest feature. Furthermore, it's long sleeves contrast the deep V neckline and the stretchy material and short side split gives it such a form fitting and sultry look. I can imagine this dress paired with high boots at the nightclub with friends. Stilettos are another good pair for this sexy dress and a trench coat if you want to look extremely classy at a certain grand opening.
GEORGIE DRESS IN MARLIN BLUE

The third dress we have here is the Georgie Dress in Marlin blue color. This dress comes in 3 other colors namely, black, white and wheat. It is made of 95% polyester and 5% spandex. Furthermore it features ankle length, thin straps, a v neckline, and a soft ribbed fabric. The buttons in front also give a cute little detail to the dress while giving more accent to the bust area. I can imagine this dress as a staple summer outfit! Best paired with large framed eyeglasses and beaded jewelry, this dress will make every teenage boys' head turn. It is also a nice to don this for lunch with your friends or just simply to hang out at the mall. It is also so versatile and chic!
BYRON DRESS IN LAVENDER

The forth dress is the Byron Dress in Lavender. It comes in 5 other colors namely, sky, mint, black, white and pink. It is made from 53% acrylic and 47% nylon. Furthermore it is actually the best selling dress for summer. It features a soft knitted material, a low scooped back and adjustable ruched ties on the side. It is both cozy and chic. I can imagine wearing this sexy piece used just at home while Netflix and chilling. It can also be a cover-up for a sexy and colorful swimwear in Byron Beach, or paired with heels and a cute jacket for a dinner date with your significant other! The options are endless!
FLORIDA MIDI DRESS IN BLUE AND PINK STRIPE

The fifth dress we present here is the Florida Midi dress in blue and pink stripe. This midi dress is made of 63% viscose and 37% nylon. Furthermore, it features knitted ribbed fabric and a straight neckline. This tight fitting dress is body hugging and accentuates the hourglass look of the one who wears it. The pastel blue and pink color of the dress go well together and give off a spring and summer vibe. I can imagine this dress paired with flip flops and pearly jewelry for a beach party. It can also be paired with a blue denim jacket and heels for a casual picnic date at the park.
BAHA KNIT DRESS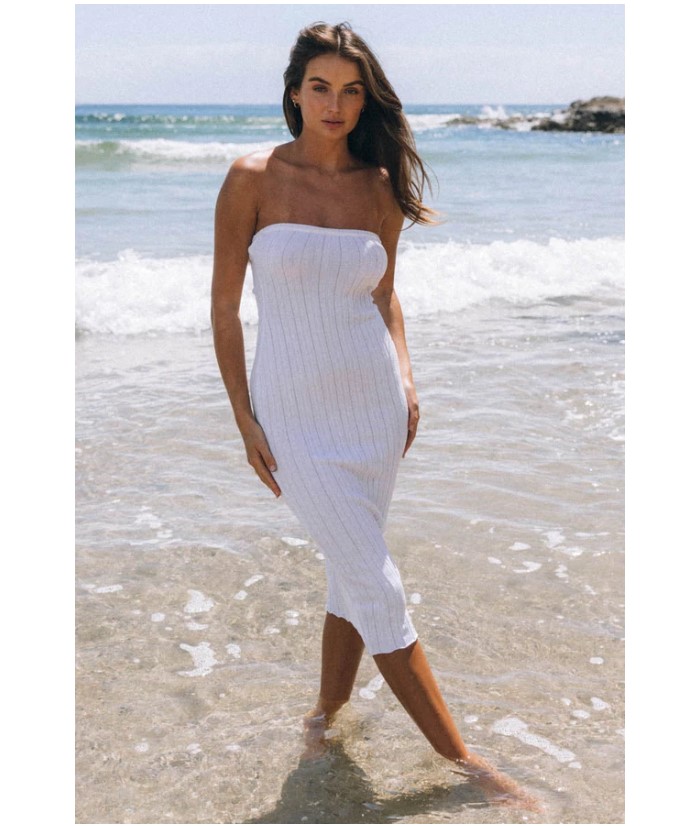 The sixth and final dress we present to you is this strapless Baha knit dress which is made of 63% viscose and 37% nylon. It comes in 2 other colors, namely, namely black and sand. Furthermore its design is from the much loved Baha skirt. This dress makes a good cover-up for a bikini  by the beach. It is also a good basic dress to add to your collection. Pair it with a kimono or a bomber jacket to give an extra oomph. This dress is feminine and versatile. Just like the first dress, the Baha knit dress can be paired with sneakers or heels, your choice!
To summarize, we looked at 6 of SNDYS. the Label's amazing versatile and feminine dresses. Your collection of cute dresses will be incomplete if you don't have one of these. Paying for one doesn't even hurt the wallet. See similar styles of these pieces from California here. What are you waiting for? Visit their website and shop now!