When picking out an outfit for the day, many women decide what to wear based on what their plans are. Sometimes, plans clash. The first thing that comes to mind is dinner with friends after work on a Friday night. However, just because plans, like working and then mingling, don't always match up, it doesn't mean that a woman's fashion for the day has to clash too. Use the Versace fashion examples below to plan your next outfit for the next time you plan to spend the day at work and spend the night out on the town.
Double Breasted Coat
Let's start out this outfit by looking at a stylish jacket. When it comes down to it, the kind of shirt a woman wears doesn't matter much when there is a jacket over it. A basic strappy tank will do just fine for this look. Of course, the type of jacket matters. Wearing a great big puffball of a jacket isn't nearly as stylish as the Balmain double-breasted coat shown below.
What really makes this jacket pop is the bright metallic buttons on it. There's nothing more classic than a dark black coat, however, wearing entirely all black can get boring. Even just the little accents of color provided by the buttons can change something that would otherwise be dull into something that will get people talking.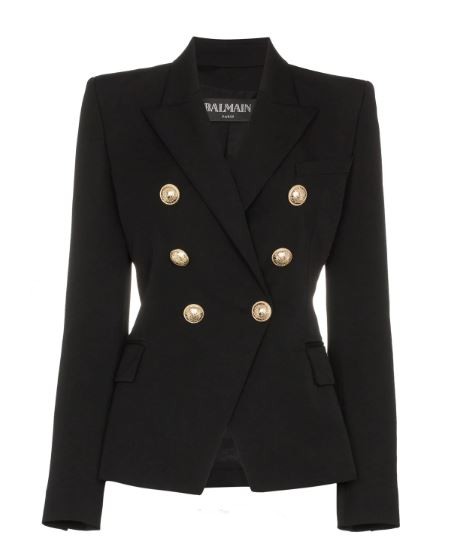 Button Embellished Skirt
What matches a beautiful buttoned coat better than a skirt with a few buttons of its own? Keeping in theme with the classic black clothing pieces brought to life with metallic flair, comes this black leather skirt by Versace.
Leather is one of those iconic materials that never goes out of style. Along with the skirt's material and metallic embellishments, the cut of this skirt also makes it stand out. The length of the skirt makes it appropriate for the workplace. The slit up the side of the skirt makes for a daring look that is sure to make a statement out of the workplace.
Detailed Golden Stilettos
With the metallic embellishments on both the coat and the skirt, it only makes sense to add a little more flair on the feet. It's the color that makes all of the difference. Sure, black shoes would also work well with this outfit, but the gold coloring is what makes them stand out.
One great example of shoes that fit this look are the Tom Ford shoes shown below. Other than the color, some other worthy details for these shoes include the knotted embellishments and the straps. These little details make a big difference when it comes to style.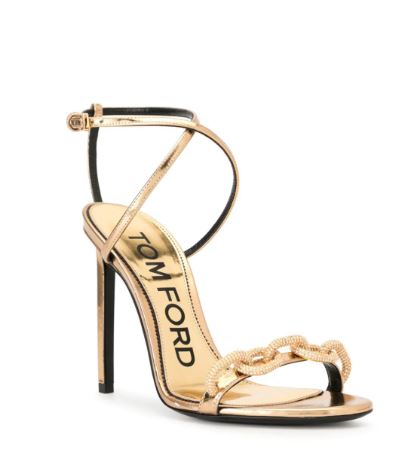 Black Patterned Purse
What ties off an outfit better than the perfect accessory? In the case of a black and gold-themed outfit, just about any purse by Louis Vuitton will fit the ticket. Their classic coloring is what makes it work with this outfit.
The design of the purse below follows the typical Louis Vuitton pattern. This in itself it something that is sure to speak to any fashionista that happens to be nearby. After all, there's nothing quite like name-brand fashion when it comes to showing off that you know a thing or two about design!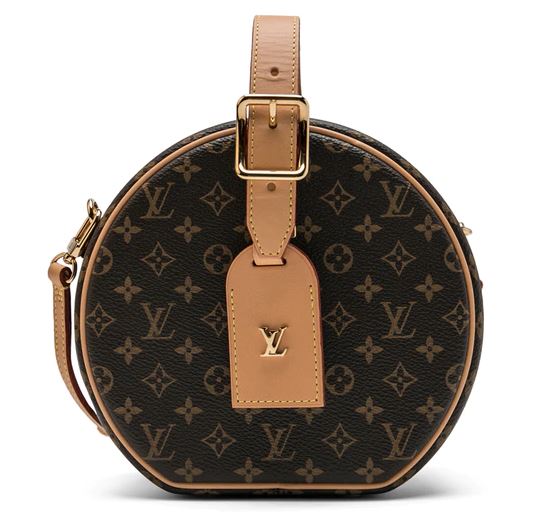 All in all, this is a great look for hanging out with friends at the bar or a club after a day of hard work. This outfit is sophisticated enough to fit a professional business setting and fashionable enough to stand out when you're trying to have fun!
SHOP MORE FASHION AND STYLE NOW!!!