Paris is famous for many things. From being 'the city of love' to the 'city of lights', it's no wonder it's one of the most visited cities in the world. If you ever find yourself in this romance-haven, the Shangri-La hotel is one you definitely should check out.
Location
Shangri La Hotel Paris is located across seine facing the Eiffel tower in Prince Roland Bonaparte's former residence. It's also centrally positioned in Paris' 16th arrondissement, a few minutes' drive from des Etats-unis on the chariot hill.
Among the many neighbors of the hotel include exclusive fashion designers on Montaigne Avenue and Gorge V.
There are also numerous tourist destinations close by, including the museum of modern arts, the museum of man, and the Paris aquarium.  The metro is also close to the vicinity.
Style
Known previously as a palace, this 5-star hotel offers excellent services to maintain its legacy.
Shangri-la takes pride in its design displays which exhibit great elegance and fine details from their grand glass cupola and Murano, astronomical designs on their lobby ceilings, and their wedding-cake façade.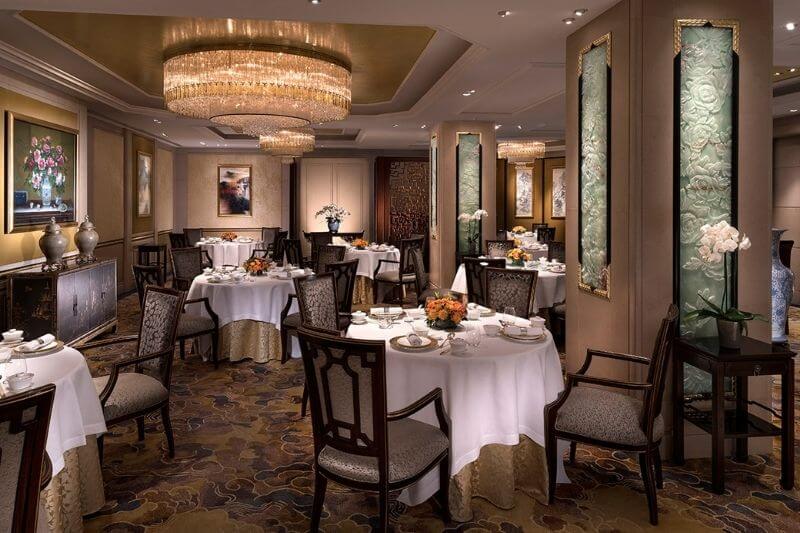 The open spaces and the high ceiling in the lobby immaculately finished, featuring sophisticated moldings, inlaid floor marbles, and tapestry-like rugs.
Rooms and Accommodation
Designed by the interior designer Pierre-Yves Rochon, rooms at Shangri-la hotel are all furnished in calming colors.
The interior décor features a classic French beauty with a touch of modern contemporary technology. The rooms are spacious (36/sq. m) and elegant with luxurious finishes.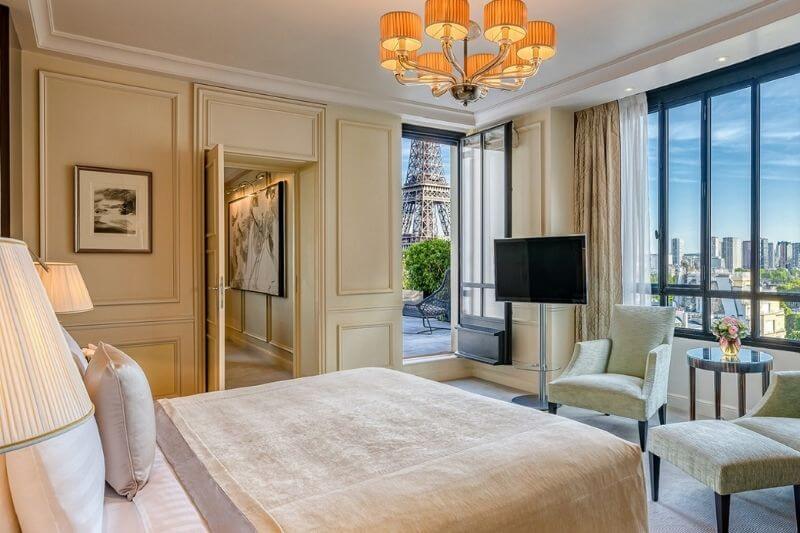 Most rooms come with a king-size bed or two twin beds upon request, which can accommodate up to 3 guests. The Shangri la signature beds feature the patented body contouring technique.
Each room comes with a feather duvet and pillows available, a writing desk, and an international telephone with voicemail. Other rooms are designed in a way you can connect two rooms or suites.

The 7th floor Shangri-la suite has a 120-sqm living space with a 100-sqm terrace, offering a breathtaking view of the city. The suite offers an unobstructed view of the Eiffel Tower, Notre Dame, Trocadero, the Aleixandre 3 Bridge, and pantheon.
You can also combine the suite into a four-bedroom apartment with a total space of 500sqm.
Other key features in Shangri-la rooms include: a marble-clad bathroom, a walk-in shower, heated floors, a soaking bathtub, and a mirror embedded television.
You're also provided with toiletries, a bathrobe, slippers, iron, ironing board, and a hair drier.
Meetings and Events
If you're ever hosting royal weddings, prestigious conferences, or a festive cocktail Shangri la hotel offers the best venues.

The hotel offers three connecting rooms, an executive saloon, and the prince stables in the first-floor gallery to enchant your guests. The conference room is fully equipped with a screen, a projector, and complimentary WI-FI.
It is also perfect for large weddings since they offer 101 spacious rooms and 37 suites. The European and Asian styles of the rooms are perfect for guests from diverse cultures.

Making Shangri-la hotel your wedding venue is a sure way of stepping into a French fairytale. They handle the transport of your guests from the airport to the hotel upon request, and their wedding and events planners have vast experience in exclusive events planning.
You won't have to worry about a thing!
Shangri la Hotel Spa
For relaxation and de-stressing, Shangri-la's spa offers the tranquil and peaceful experience you need. The spa draws inspiration from the legendary Shangri la, meaning peace, well-being, and enchantment, and uses ancient relaxation techniques to help you forget your daily stressors.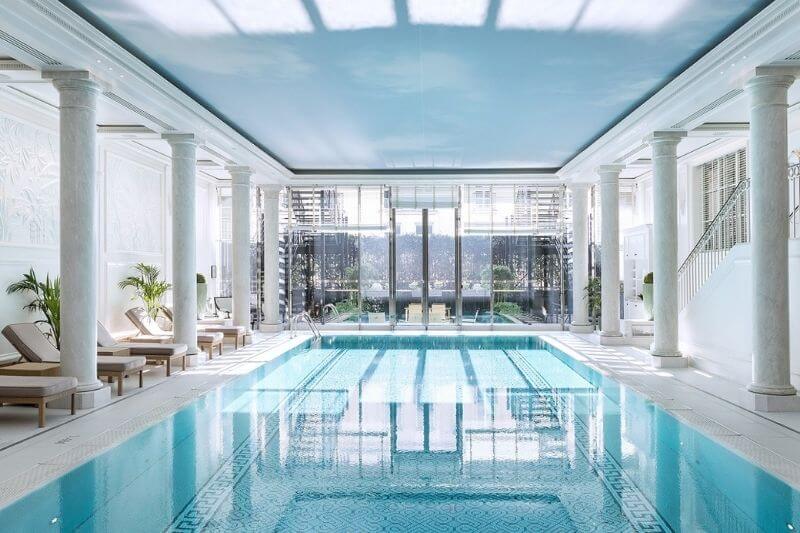 There is also a health club equipped with wellness equipment, a pool, and a beauty treatment center. The pool measures 17*6meters, and the water is heated at 30 degrees. It also includes an outdoor terrace. They serve chi and herbal tea to the spa clients and offer flavored water, dried, and fresh fruits.
Outside, there is an outdoor terrace for sunbathing while the guest enjoys snacks or lunch at the spa. You can also try the ultimate well-being ceremony, which involves detox and sensory alert, plus a healthy lunch or breakfast.
Spurge treatment is another popular activity in the spa. The treatment involves relaxing your back and 80 minutes of facial treatment.

You can also try the Thai massage offered at the Shangri la spa.  It involves lying down in a comfortable outfit and allowing the experts to apply some pressure on specific body parts and then stretching oil.
Foods and Drinks
There are three main restaurants at Shangri-la hotel; Labeille or Michelin 2 star, which offers French cuisine; Shang palace or Michelin 1 star, which serves Cantonese cuisine and La Bauhinia featuring French and Asian food.

With each of these restaurants serving different meals, you can be sure that you'll always get any food of your choice anytime – including teatimes or late-night tapas.
The on-site bar is also a very elegant and exciting place to hang out at the end of the day. It offers an intimate and serene environment and serves cocktails and a variety of foods. They also serve 100% vegan afternoon tea from 3-6 pm on request.

Final thought
Whether you're looking for the perfect vacation spot, a weekend getaway, or an event venue, the Shangri-La hotel should be your first choice! It'll give you a chance to enjoy yourself while getting the best Paris has to offer!