The Bell 427 is a twin-engine, light utility helicopter designed and manufactured by the Bell Helicopter Textron Company, US, and Samsung Aerospace Industries, South Korea. Typically, this helicopter is used for passenger transportation and aero-medical evacuations. Moreover, it was made to replace the earlier Bell 206LT twin-ranger helicopter. 
Range and Performance
Bell 427 gets its power from two Pratt and Whitney Canada PW207D turboshaft engines, each producing 529 kW. The engines have a full authority digital electronic control system. So, this reduces the workload of the pilot by performing automated operations. Moreover, the dimensions of the engine are a length of 0.91 m, a width of 0.5 m, a height of 0.56 m, and a diameter of 0.55 m. The helicopter also features low skids as standard and optional high skids and emergency floats. 
The Bell 427 can climb at a rate of 10.16 m/s. The maximum speed of the helicopter is 251 km/h and the cruise speed is 246 km/h. Moreover, the range is 716 km and the service calling is 3,048 m. The maximum endurance is around 4 hours. Moreover, the aircraft weighs 1,760 kg and the maximum take-off weight is 2,971 kg.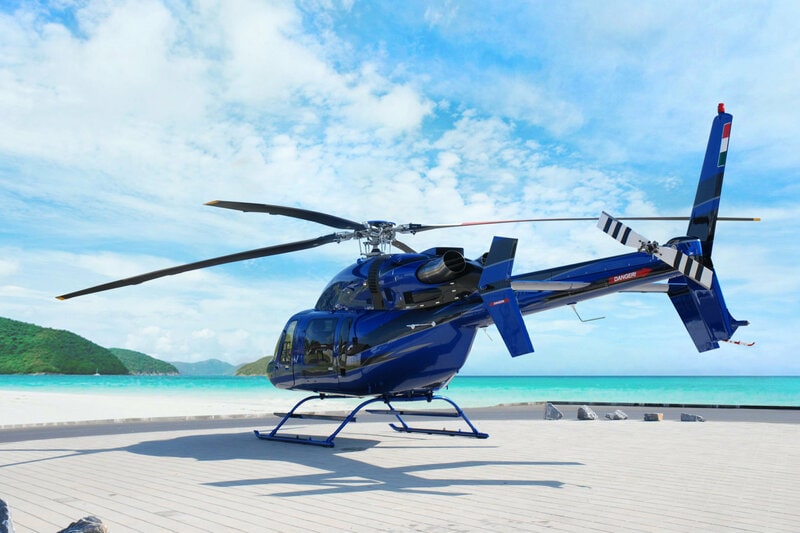 Interior
This luxury helicopter features a glass cockpit with two energy-attenuating seats for the pilot and co-pilot, with a glass canopy for clear visibility. Moreover, the interior is quite spacious and comfortable with seating for up to seven passengers in a two-three-three arrangement in standard configuration. The cabin also contains a hinged main door and an optional sliding door. Moreover, the helicopter also operates as an ambulance and contains two patient stretchers and two medical attendants. 
Infotainment
The Bell 427 features a Rogerson-Kratos NeoAV dual LCD instrument panel and electronic flight instrumentation system, navigation map, a global positioning system, display, weather radar, and non-precision approach capability. 
Other tech features of the helicopter include a Sextant AFDS 95-1 automatic flight control system, flight director computer, KT-76C transponder equipment, automatic direction finder, and a Bendix navigation or communication system. 
Price
The Price of Bell 427 is around $4300000. For more information, visit the Savback website. 
The Bell 427 is the perfect form of transport for the most demanding clients. So, if you want a helicopter with a top-notch engine and spacious interior, you should choose the Bell 427 helicopter.