The 102′ Alpha 2024 is quite an innovative and appealing yacht. Alpha worked with the Italian superyacht designer Giorgio Cassetta and naval architect Laurent Giles to make this yacht. Moreover, according to Cassetta, this yacht gives you the feeling of a Miami villa combined with great functionality. 
Outline
Length: 102′

Builder: Alpha

Year: 2024

Top Speed: 15 Knots

Guests: 10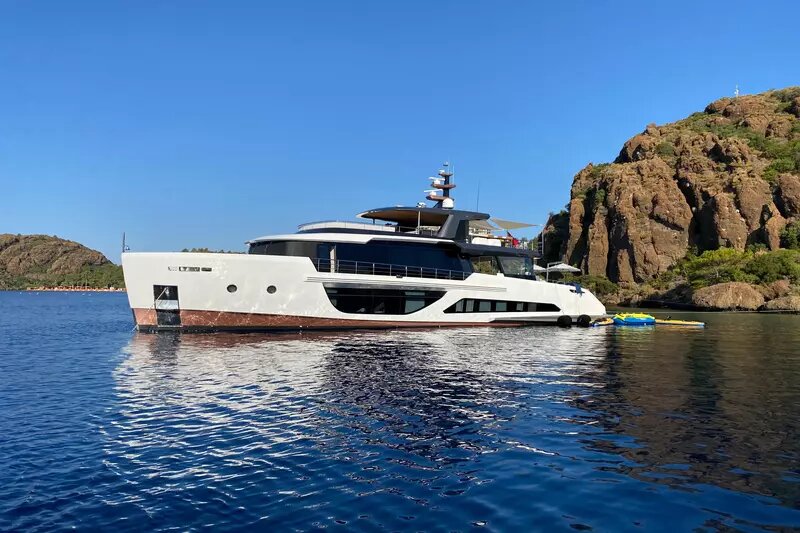 Accommodation
The 102′ Alpha can accommodate 10 to 12 guests in 5 guest staterooms present below the deck. Moreover, there are two twin cabins, 2 queen cabins, and an absolutely beautiful master cabin. All of the rooms have massive whole side windows and some of the most luxurious arrangements which you will find in this class. Moreover, the living area is separate from the hull of the boat which helps with having no vibration or noise. 
Range and Performance
A straight bow facilitates the water entry and modest relativity power. It is enough to bring the cruise speed to 12 to 13 knots. Moreover, the maximum speed is 15 knots. Moreover, the 102′ Alpha is fitted with a twin 1,000hp Caterpillar C12.9 (one of the three engine power options available). It also consumes 100 liters per hour on average and yields a range of up to 3,000 nautical miles. 
Interior
The outdoor spaces in this luxury yacht are exceptional, with many areas where guests can stretch out in full sun or shade. But even on the inside, the guests are never disconnected from the environment. The interior is quite stunning. Moreover, there are large windows that ensure the constant visibility of the water and sky, even from the bed. This effect is quite prominent in the owner's cabin where the windows are oversized and less than half a meter over the water. 
Some other amazing interior features include designer finishes, oversized beds, and a plethora of storage end of the most inspired ensuites you can ask for. 
Onboard Comfort and Entertainment
The 102′ Alpha 2024 features a 2000-liter plunge pool which can be covered with teak to serve as a dance floor. Moreover, there is an outdoor lounge and a well-protected dining area large enough for 12 guests. The yacht also has a 76-square meter flybridge which boasts an excellent impression of space and panoramic views. 
Price
The 102′ Alpha 2024 costs around $13,400,000. However, if you want more information, visit the Denison Yacht Sales website. 
The 102′ Alpha 2024 gives you a feeling of standing at water level with its big windows. So, if you want a family-friendly and elegant yacht, you should choose the 102′ Alpha 2024.