The most memorable moments start with the first impression, and there is nothing that compliments impressions better than jewelry elegance. Elegance can make you stand out right from the first glance. This rose gold diamond jewelry collection is flawlessly compiled to produce the desired look. The collection includes beautiful pieces such as rings, necklaces, and earrings that bring out the appealing elegance you desire.
Necklace
First, you can start by getting this 18-Karat Rose Gold Diamond Necklace. Finding the right outfit is usually every girl's crisis, but when you put on this necklace, you can turn any outfit into something magical. It gracefully matches with any outfit and comes in one size that fits everyone. Yannis Sergakis adornments have made sure any girl can walk around with her best friends (Diamonds) in style.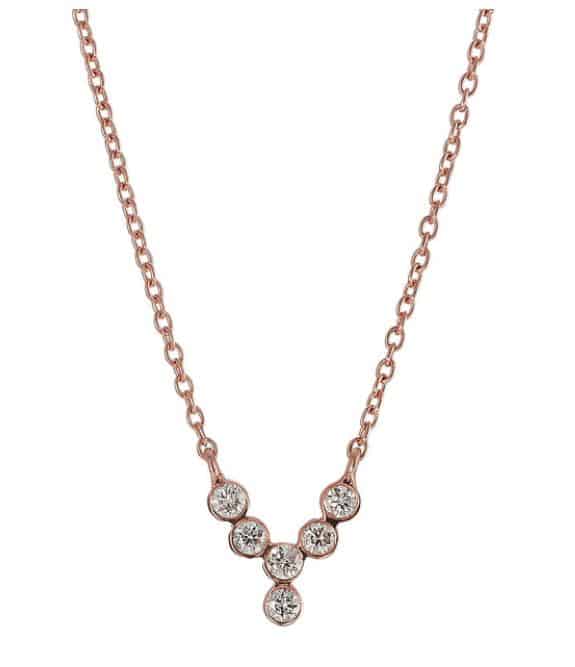 Earrings
Next, you will need this astounding Huggy 18-Karat Rose Gold Diamond Earrings to add to your embellished beauty. Most diamond rings feel heavy in the ears, but surprisingly these ring-shaped earrings from Anita Ko are considerably light. You should disregard people who think having that much karats is too much. In fact, this is the perfect way of making a statement of your dominant charming looks.
Or, you can opt for Hueb 18K Rose Gold Diamond Luminous Earrings. Hueb's fine jewelry is inspired by the color energy and natural beauty of Braziil. Handcrafted from 18K rose gold these 'Luminous' earrings are encrusted with sparkling diamonds and a smooth morganite stone. Make them the focal point of your outfit with a sleek updo. These earrings go so well with the Yannis sergakis' necklace.
Ring
Last, the Boucheron's 18-karat rose gold ring will subtly complete your radiant look fashionably. The ring is sculptured expertly to produce a fully detailed masterpiece. Even when the ring fades through your skin, the diamonds will still sparkle due to their sunlit position. 
Moreover, this ring is the best adornment for your fingers that can undoubtedly draw attention to everything you touch.
In conclusion, this elegant Rose Gold Diamond Jewelry Collection, you will have the perfect style accessories for any occasion. Whether, you want to dress up a casual ensemble, or you're dressing for a formal event; these dazzling jewels will be the perfect addition to make you shine.
SHOP MORE ROSE GOLD JEWELRY NOW!!!