In today's day and age, women of wonder are stepping onto the scene breaking boundaries and proving that a woman on a mission can be truly unstoppable. In the world of beauty, Bronwyn Maddison is a successful entrepreneur with a blazing trail of business ventures ranging from an international fashion line to a luxury restaurant, and technology startups. She has recently launched her latest creation which just may be her best yet. Introducing RESCUEHER, a designer handbag beauty kit stocked complete with 34 essential high end cosmetic beauty items all in one.
With this in mind, if ever you lose a button or rip your pants, you're covered. Never get caught with food in your teeth. Break a nail or a shoe, you're covered. Inside zipper pocket for added security, keep your ID, credit cards and cash safely inside. Never lose an earring – with 2 earring backs to save the moment. Hair ties, bobby pins, comb and a bottle of hairspray ensures you're always looking your best on the go. Always have fresh breath, with our minty fresh, sugar free breath drops. And who can go without a pair of great tweezers on them!

Moreover, the question is, "So what's in it?" You'll be amazed at just how many makeup items can fit in this pretty purse. Some of the items included; Eye Shadow & Contour Palette, Eyeliner Pencil With Sharpener, Full Volume Black Mascara, Bb Cream, Cheek Bronzer, Fresh Breath Drops, Roll On Deodorant, Hairspray, Hair Comb, 2 Earring Backs, 2 Black Elastic Hairbands, 2 Bobby Pins, Nail Glue, Emery Board, 2 Makeup Wipe Removers, Mending Kit With 2 Buttons, Safety Pin, 2 Single-Use Dental Floss, 2 Adhesive Bandages, Tweezers, Pain Reliever, 2 Panty Liners, 2 Regular Tampons, And A Silver Metal Purse Strap.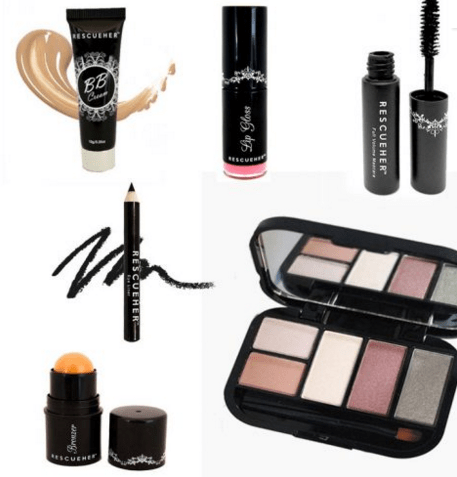 Additionally, each 34 item RESCUEHER kit comes perfectly stowed inside our fashionable, plush cosmetic bag with an inside zipper and a side pocket for all your extra goodies. Go from day to night in a snap, just use the included silver purse strap. Truly designed to rescue almost any outing, with extra room for your other goodies, we even left a little room for most standard cell phones.

Most importantly, RESCUEHER was created with a mission to provide for women who are facing hardship in life and just need a helping hand or a guiding light to lead them to higher ground. RESCUEHER donates a portion of all proceeds to battered women homes and homeless shelters while uniting with the GOD Foundation to bring RESCUEHER backpacks with basic necessities of life including blankets, socks, Bibles, financial resources and more to those in need.
In conclusion, RESCUEHER kits are perfect for daily use, a night out, travel, school, weddings, gifts and so much more. Every woman can benefit from having a RescueHer kit close by. Use coupon code BH10 for $10 off.
Get your RESCUEHER kit here today!