With his chiseled physique, charming smile, and handsome looks, Timon Kyle Durrett captivates audiences on the NAACP IMAGE Award-winning drama series "Queen Sugar," created, directed and executive produced by Ava Duvernay (SELMA) alongside Oprah Winfrey, as he portrays 'Davis West,' a successful professional basketball player and husband of 'Charley Bordelon West' (Daen-Lyen Gardner) who finds himself troubled when they move to Louisiana. "Queen Sugar" broke OWN records with its two-night debut last year, and Season 2 airs Wednesdays at 10:00pm ET/PT on OWN.
Born and raised on the south side of Chicago, Timon grew up in a big family, being one of 8 children. Timon garnered interest in modeling and began booking gigs in runway modeling and commercials; being a body double for Scotty Pippin and starring in Nike commercials with Michael Jordan.
Acting was always an interest of his as he was fascinated by action movies such as Rambo, Terminator, Indiana Jones and Bruce Lee movies. It wasn't until his mom suggested he audition for a role she heard on the radio and to his knowledge, he would book his first ever role in "There Are No Children Here" starring none other than his future employer, Oprah! Getting his feet wet and catching the acting bug, Timon moved to Los Angeles to pursue his career full time. Since then, he has had significant roles in "Single Ladies," "Castle," Tyler Perry's "The Marriage Counselor: The Play," BOXING DAY, 72 HOURS, BARBERSHOP 3, and LIKE MIKE to name a few.
Beverly Hills Magazine: What does your character Davis West stand for or represent?
Timon Kyle Durrett: He represents maturation and repentance. He's trying to get things right in his life after making some big mistakes. He's learning. Like all of us, we have to come to a moment of clarity, and realize things can get better but you have to be the one to make it that way.
Beverly Hills Magazine: To whom would he be a role model for and why?
Timon Kyle Durrett: Definitely fathers. He's on a journey to build and repair his relationship with his son, and I think a lot of men will relate to the emotional challenges that can bring. In Season 2 you will see more vulnerability in Davis, and watch how he manages his responsibilities as a man in today's modern world.
Beverly Hills Magazine: What can fans or viewers hope to look forward to from you in the show?
Timon Kyle Durrett: Viewers will be learning more about who Davis really is and they will understand why he is the way that he is. You'll see deeper layers to him.
Beverly Hills Magazine: What is your process as an actor and how do you prepare for a role?
Timon Kyle Durrett: It depends on the character. I like to be able to relate to things. My process is drawing from my past life experiences and inserting them into my performance. There were times in my life where I've been angry, happy, or sad; it's these moments that give me the emotional resources I utilize to bring my character to life.
Beverly Hills Magazine: What is your opinion of "Hollywood?"
Timon Kyle Durrett: It's like a sport; some games are good, some are not. Just like some projects are good, and some are not. It's an amalgam of opportunities set within an opportunity. It's a place where I can do what love to do and make a living. I really love the variety of available opportunities where you can do good work, and then more doors open for good work.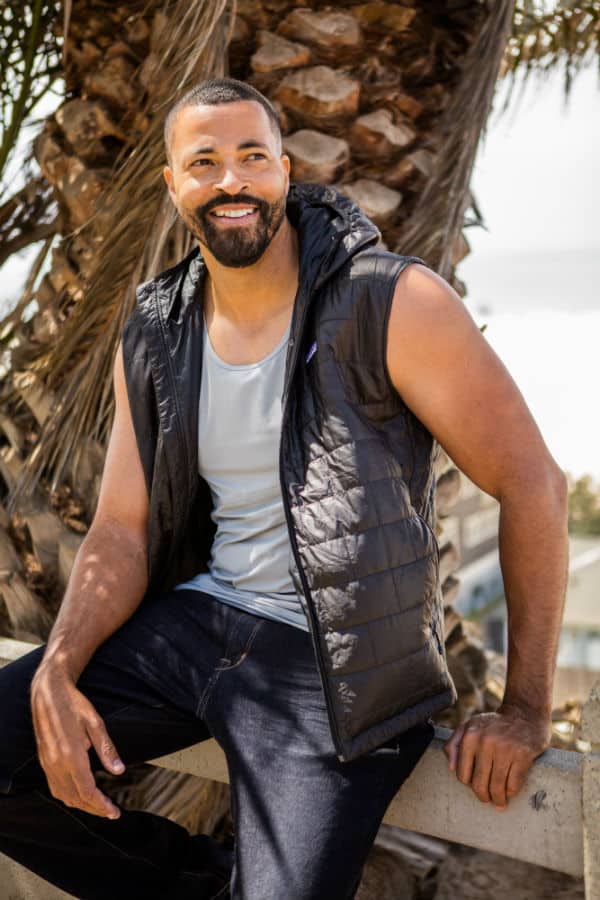 Beverly Hills Magazine: What advice would you give to actors looking for success in the entertainment business?
Timon Kyle Durrett: Stay true to yourself and stay true to your dreams. Don't let anyone tell you that you can't do it. Also don't ever give up, even when it seems completely hopeless. Your breakthrough just might be one phone call away.
Beverly Hills Magazine: Tell us about your book, Who The Hell Do I Think I Am?
Timon Kyle Durrett: There was a time in my life when I was reflecting on how to be a better man; the best version of myself. I used to write a lot of affirmations, etc and I decided to create a book. There is only one person in the world you cannot lie to; that person is yourself. My book is a first person self-assessment that will allow the reader to objectively look at themselves and take the necessary steps to self-improve where needed.
Beverly Hills Magazine: Has God played a role in your life journey, if so how?
Timon Kyle Durrett: When I look back I definitely see the presence of an all-powerful, intelligent God in my life. Just thinking about how things worked out; it's really amazing to reflect on it all.
Beverly Hills Magazine: Have you discovered a personal purpose in what you do?
Timon Kyle Durrett: I believe I am here to be an inspiration; an example to those who may be losing hope. I want others to know that even through the struggle, if you keep fighting, you can live your dream. Regardless of race, color, or creed; your purpose is valid. If God gave you a dream, then it's your purpose to see that dream through to fruition.  This applies to farmers, seamstresses, whatever your dream is. Do your best to pursue your dream. Even when I had no hope, I kept going. It's like driving on a dark road at night, and your headlights only illuminate a few feet in front of you. You have to move toward your dreams and goals one step at a time. Be strong-willed and you will make your dreams come true.
 Timon is the true definition of an artist. When he's not filming, Timon continues staying true to his first love of painting and drawing and spends his free time as a writer. Timon also loves to get creative in the kitchen and enjoys cooking up his one-of-a-kind home-made meals. As a former fitness trainer, he maintains his chiseled physique through boxing, swimming, running, and cycling.
(Images by Oleg Bogdan)