No surprise, skiers love winter! They wait months every year for that powdery heaven to fall from the sky. And before that first flake even appears, many begin planning their perfect ski vacation. Of course, ski resorts exist around the globe. But the Alps is home to some of the best skiing in the world. So when avid skiers plan a luxury Alps ski vacation, they look to the experts. And the most experienced ski travel agent in the world is Leo Trippi.

A Luxury Vacation Legacy
The current-day Leo Trippi company has its roots in the late 1800's. Leo Trippi was part of a family that excelled in the hospitality business. Despite hard economic times, his parents formed and successfully ran a Swiss hotel. Eventually, Leo Trippi took over the business and added other luxury properties to the collection. Indeed, these hotels grew a devoted following and became the preferred luxury destination of royalty and socialites from around the world. 
Sign Up For The Free GOD Foundation Travel Portal for 60% Off Travel Deals Today & A Portion Goes To Charity!!!
A few generations after his death, a descendant of this world-class hotelier reimagined that legacy and created Leo Trippi. Today, Leo Trippi provides luxury travel experiences to plan an unsurpassed exclusive getaway. In fact, for the last four years, Leo Trippi was voted the World's Best Ski Travel Agent. 

Exclusive European Getaways
Leo Trippi has nearly 500 luxury rental properties. Mostly centered in the Alps, these chalets and villas abound with amenities and unique features to accent any luxury vacation. Avid skiers and families will love the ski-in/ski-out chalets. Instead of using valuable vacation time jostling your equipment to the slopes, spend every minute skiing. Many of these chalets are close enough to the village to allow easy access to dining and other recreational activities. However, should you choose one of Leo Trippi's more remote locations, a private chauffeur will gladly drive you into town.
Vacationers who want to relax as well as ski will love the luxury wellness chalets. Start the day with yoga or Pilates. Or indulge with an après ski massage or facial. Many of these luxury accommodations also have pools, Jacuzzis, hammams, and state-of-the-art fitness facilities. And, best yet, the on-site chefs will carefully customize a menu to fit each guest's dietary needs. 

The Ultimate Luxury Ski Vacation
Any Leo Trippi property will be the highlight of a ski vacation. However, Tivoli Lodge is the epitome of luxury. Located in Davos, Switzerland, this popular exclusive getaway boasts over 7,000 square feet of living space spread over five floors. Seven bedrooms easily accommodate 12 adults and 4 children. This ski-in/ski-out chalet is a quick ski to the slopes and only five minutes to the village. 
Within this elegant chalet, guests can enjoy the pool, hot tub, sauna, and steam room. The cinema room is a wonderful way to relax at day's end. Or warm up in front of the fireplace with a bottle of wine from the wine cellar after enjoying the beautiful view of Engadine from one of the balconies.  
And notably, this luxury property is fully serviced. As such, guests can expect daily cleaning, fresh flowers, chauffeur service, and turndown service. Furthermore, a cooked and continental breakfast is offered, as well as evening meals.       
So when you are planning your next luxury ski vacation in Switzerland, turn to the experts at Leo Trippi. And don't forget, they have fantastic summer properties, too!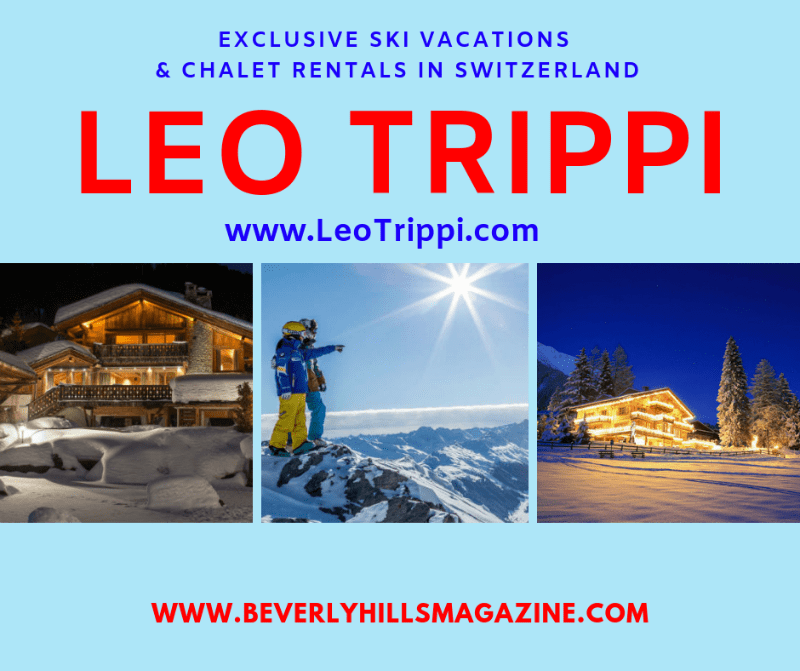 (Images Courtesy of LeoTrippi.com)