Celebrated Irish actor Pierce Brosnan, popular for his role as the fifth James Bond in the Bond series recently listed his spectacular Malibu Beach Orchid house for a whopping $100 million. The Thai-inspired home, only 117 feet from Malibu Beach's Oceanfront was designed by renowned architects Ralph and Ross Anderson.
It has been in the actor's possession since 2000 when he bought it with his wife, Kelly Shaye Smith. They then spent about 10 years building and finishing this magnificent oasis which they came to name, "Orchid House."
Owing to Pierce's frequent traveling to exotic destinations around the world, he picked up numerous architectural designs that now define the house's interior and exterior artistic designs.
Sitting on 1.18 acres of land, the 13,000 square-foot home provides some of the best ocean and beach views in Malibu.
The Malibu Magnet
The home comes with five bedrooms, fourteen bathrooms, a gourmet kitchen with fireplace, dining with a fireplace, a custom wine storage, and a butler's pantry. The resort-like estate also boasts of a soundproof home theatre with a bar, tiered sitting, and on one side, a custom surround sound.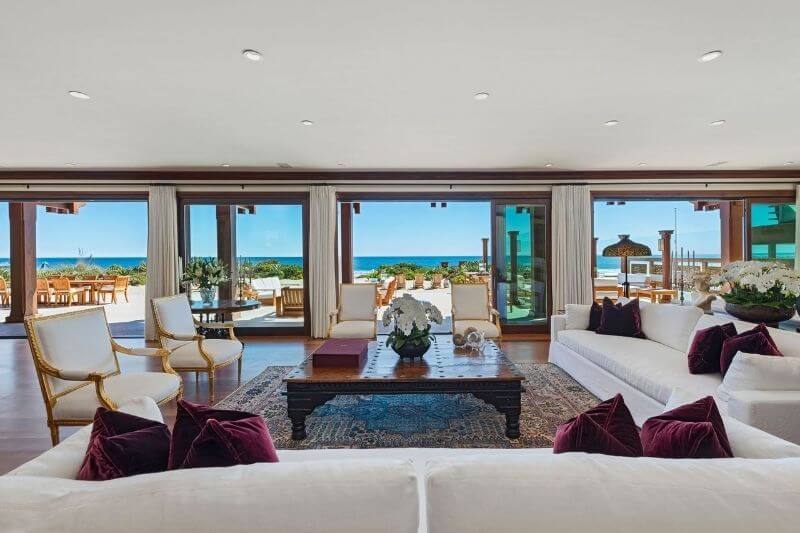 Throughout the house, there are foldaway doors, floor-to-ceiling glass walls, handcrafted woodwork, scissor-truss ceilings, and wide-plank teak floors. The kitchen features two islands, custom teak cabinetry, and quartz crystal countertops.
Contact Maddison Estates To Buy, Sell, Or Build Your Dream Home!
The other wing comprises of a steam room, cold plunge, a large mirrored gym, a Japanese soaking tub, and sauna. At the upper deck, you'll also find the master's suite. It comprises of a sitting area, his and her bathroom with chandeliers, two fireplaces, and dressing rooms. There's also a large glass door that opens up to a private deck with fantastic ocean views.
Outdoors, a saltwater pool plus a large open entertainment deck with a dining area, and a huge gas fire pit await the new owners. In the case of winds, there are also two glass-enclosed sitting and dining areas, complete with windbreaks.
Additionally, the landscape leading to the beach is characterized by aromatic tropical flowers and numerous palm trees. This gives the attractive appeal any potential homeowner is looking for.
Since the rise of Hollywood, Malibu has provided the perfect homes for many stars. The beautiful ocean views and calm beaches give them the peace they're looking for away from their busy schedules.
Some of the most notable figures in this area include, Courtney Cox, Julia Roberts, Lady Gaga, and Steven Spielberg. Landing this home will definitely put the new homeowners on the celebrity radar.
The home's listing broker is Chris Cortazzo of Compass.