Calling all Queens! We compiled this must have makeup set for all your Fall and Winter occasions. Who are we kidding? Spring and summer too! We just absolutely love wearing warmer earth tones in the cooler months, so let's get started so you can get the look as soon as possible.
First, you'll want to get the centerpiece of this collection, an amazing eye shadow palette by Tom Ford. Each eye color quad is designed with four opulent complementing shades that achieve multiple looks from a bold smoky eye to a sexy slash of color and everything in between. Formulated with advanced color processes the four luxurious finishes-sheer sparkle satin shimmer and matte-offer a spectrum of intensity and effects and deliver incredible shade fidelity and outstanding adhesion.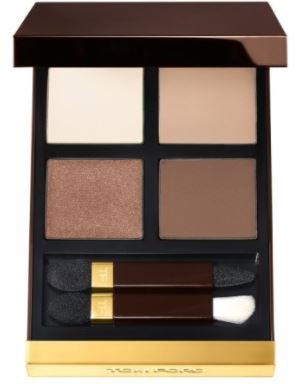 Complete your eye makeup with eye lashes by MAC Cosmetics. These false lashes are natural-length, dense, full lashes with a slightly wispy look. Handmade to exact specifications, the lashes are perfectly shaped and arranged to give a striking effect, whether you're going for a natural or dramatic look. M.A.C false lashes are available in a variety of shapes and densities. If properly cared for, the lashes can be reshaped or re-adorned as desired. How to use: Trim the lashes to fit your eye shape and length. Apply a small amount of lash glue to the strip and allow 30 seconds for the glue to become tacky. Position the strip at the base of your natural lashes and gently press onto your lash line.
Next up, you'll want to perfect shade of lipstick. We all know, MAC offers the widest range of color options. You can also opt for a sheer lip shine by Violet Grey. Get your favorite MAC color from their Bling Collection or try the new Liptensity, a brilliant new lipstick formula that pushes the boundaries of color. Created using the brand's groundbreaking High Frequency Tetrachromatic Pigments technology, each shade holds more pigment than traditional formulas resulting in an unprecedented spectrum of extreme color intensity, clarity and vibrancy. This luxurious gelled base melts on contact, providing fully saturated color with a satin finish in one stroke. Available in an assortment of original color hues.
Finally, when touch-ups just aren't an option, this day-to-night Bobbi Brown gift set featuring the best-selling, long-wearing eye products has you covered. Why it's different: In soft nude and sultry violet shades, the Long-Wear Cream Shadow serves up crease- and fade-free wear. Pair with best-selling Long-Wear Gel Eyeliner–a 12-hour, pigment-rich formula–for a look lasts well into the night. Gentle enough for use on eyes, Soothing Cleansing Oil easily dissolves long-wear makeup when you're ready to take it all off. How to use it: Apply Long-Wear Cream Shadow to bare lids, using the nude shade as a neutral base and the darker violet to add dimension and depth. Use the Ultra Fine Eyeliner Brush to apply Long-Wear Gel Eyeliner along the top and bottom lash lines, making sure line is thick enough to be visible with eyes open. When you're ready to take it off, apply Soothing Cleaning Oil to dry skin; then massage with warm water to gently dissolve makeup. Rinse clean with warm water.
Now you can have the perfect must have makeup set, to ensure you have beauty options for day and night, in every season.
SHOP MORE MAKEUP  NOW!!!