Misa Los Angeles is a clothing, bags and accessories brand that specializes in feminine, bohemian and romantic styles. Founded in 2016 by the late Shadi Askari-Farhat who combined her daughters' names in the brand, her spirit lives on. Furthermore, Misa's pieces are unique in detail, making it so timeless and chic. It also features knitwear, silhouette fabrics and linen which make the collection versatile. Lastly, what makes this brand so special is all of the pieces are handmade in Los Angeles by a team of designers, pattern-makers and sewists, most of whom have worked with them from the beginning. Let us now look at 5 gorgeous pieces.
Bar Skirt (Pictured Above)
If you want to wow anyone, this dreamy and ethereal Bar skirt is the perfect ensemble for you. It also comes with a matching top which is the Roksana Bandeau. It features a classic tiered silhouette handcrafted from a Patchwork Batik print chiffon. Moreover, it has a smocked elastic waistband, high side slit, and double-lined to the mini skirt length. Just imagine this piece by a Malibu poolside or a hippie music festival, and you'll totally look out of this world (in a great way of course).
Cassandra Dress
A style that reminds us of the Flamenco and has a Spanish touch to it is this beautiful Cassandra dress. This maxi dress is cut from a fuchsia batik print chiffon with shimmering lurex. Additionally, it features an off-the-shoulder silhouette with a ruffle detail at the smocked neckline and three-quarter length blouson sleeves. It also comes with an elastic cuff and a smocked waist leads into a fully lined, tiered flowing skirt that hits at the ankles. Pair this with high heels or strappy sandals for a fun date night to wow your SO.
Pilar Pant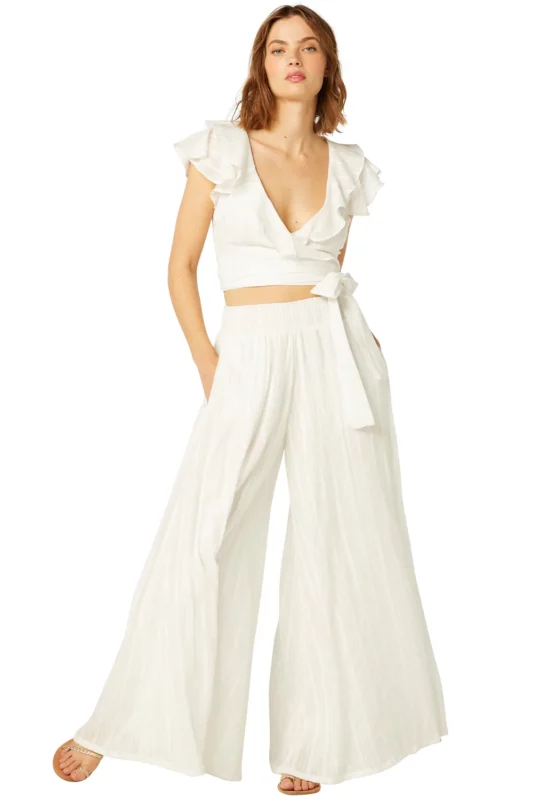 Next up is this trendy, cool and classic Pilar pant. This set is ideally matched with the Marah top. The pants feature a wide-leg style. Furthermore, it is cut from white cotton with shimmering lurex; these pants feature a comfortable elastic waistband, side-slit pockets and wide legs. We can just imagine this with see-through heels or strappy sandals for a casual brunch or event with your girlfriends. Classy and sexy go hand-in-hand with this matching set.
Anjou Dress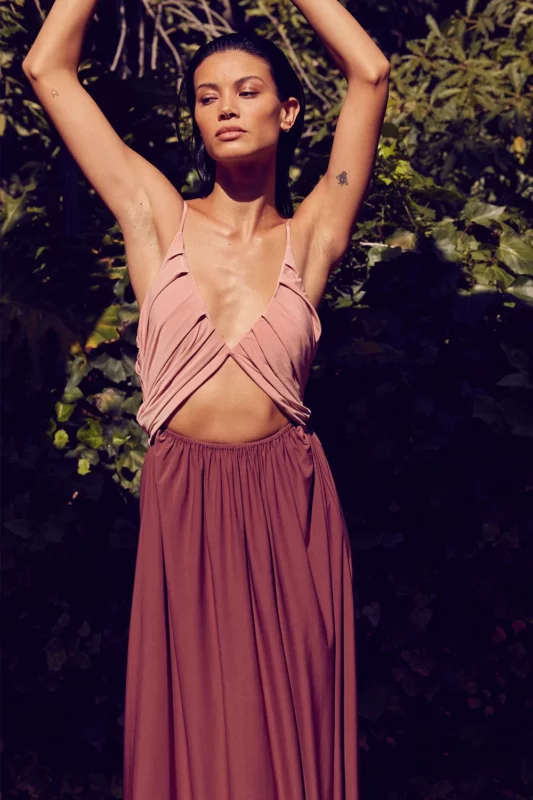 Fourth in line is a feminine and sultry cut-out dress, which is the Anjou dress. This piece will definitely unleash that inner goddess. It features a color-blocked maxi, a deep v-neckline with bodice and back cutouts. Moreover, it has adjustable spaghetti straps and a flowing maxi skirt. Don this with nude stilettos and gold jewelry for a formal event. It can also be paired with flip flops and a huge straw hat, while sipping Pina Coladas in the Mediterranean, truly a unique and versatile piece!
Zahra Dress
Last dress on this list comes with a gorgeous olive color and a sexy cut out back, the Zahra dress. Made of satin, this sleeveless maxi features a high neckline with back button enclosure and a deep open back cut out detail. Moreover, the fabulous texture of this ensemble makes it look so timeless and modern. You can't go wrong pairing this with a black stiletto or nude heels for a formal. The simplicity is so striking on this one.
5 amazing styles from Misa Los Angeles are worth your budget! You won't get the same look twice. For more fabulous clothing styles click here.