Academy Award-winning actor Michael Douglas began his real estate sideline at age 21. In 1966, he made his first purchased with the first money he ever made working on one of his father's films. He bought 70 acres of raw land in Vermont. In fact, he still owns the property today! It is clear that unlike many celebrity house flippers, Douglas holds on to his properties for decades. (Image credit: Engel Voelkers)
Today, Douglas and his Academy Award-winning wife, Catherine Zeta-Jones, split their time between their homes in New York and Bermuda. Rarely have they had the opportunity to visit their Mediterranean estate, S'Estaca, on the Spanish island of Mallorca. While the actor has owned this stunning piece of celebrity real estate for 30 years, they have chosen to sell the property. It is listed at $32.7 million. 
The Luxury Destination of Mallorca
Since 1838, when composer Frédéric Chopin spent his winters there, Mallorca has been the place to be seen for celebrities. In Hollywood's heyday, Audrey Hepburn and Elizabeth Taylor vacationed at Hotel Formentor, which was also where Grace Kelly and Prince Rainier had their honeymoon. More recently, Gwyneth Paltrow, Harrison Ford, Noel Gallagher and Sting have all spent time in the luxury destination. In fact, Michael Douglas himself has hosted many of his Hollywood friends at S'Estaca over the years. 
S'Estaca itself has a unique romantic history. In 1867, the Archduke Ludwig Salvator of Habsburg in 1867 used the estate as a secluded spot to secret away his paramours, transporting them to the island via his steam-yacht the Nixe. And for his cousin Archduchess Mathilde, his one great love, he had steps carved out of the rock so she could walk right into the sea to swim.
Contact Maddison Estates To Buy, Sell, Or Build Your Dream Home!
A Mediterranean Island Estate
Michael Douglas purchased the estate in 1990. He immediately poured millions into the property, upgrading the seven separate buildings and grounds. With a total of 10,764 square feet of living space, there are 10 bedrooms which easily accommodates 20 guests. Furthermore, the 10 baths exceed today's luxury standards. Large formal rooms, a library, gym, multimedia room, and a master suite with fireplace, terrace and sea views round out the estate's main features. 
The exceptional grounds sprawl over almost 200 acres. Spanning from the mountains to the sea, the parcel contains a swimming pool, ancient olive trees, terraces, a Moorish pavilion and a vineyard. Indeed, the large wine cellar contains casks and bottle storage for wines that have been produced on the property. Moreover, with the estate abutting the port of S'Estaca, there is also a private pier and dock for yachts.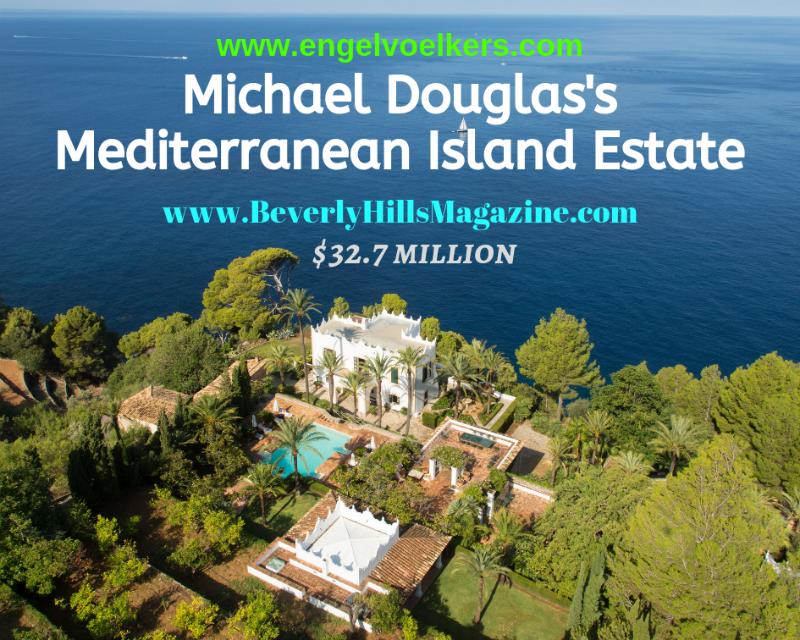 Michael Douglas and wife Catherine Zeta-Jones are selling their stunning Mediterranean luxury island estate. The asking price is $32.7 million. Eddy Barrera of Engel Voelkers, Mallorca Westcoast is the listing agent.
Courtesy of TopTenRealEstateDeals.com