With its year-round tropical weather, democratic government since the 1940s and proximity to the U.S., Costa Rica was one of the first getaway outposts for semi-expat Americans when having an off-shore home – a practical alternative to Florida and California.  Consistently rated by the Happy Planet Index as the happiest country in the world with safe streets, cheap cost of living, beautiful parks, dozens of sandy beaches, excellent medical care, a thriving economy and only a 2.5 hour flight to the United States, about 70,000 Americans have moved to Costa Rica and thousands more have purchased vacation homes, including Mel Gibson.  
One of the world's most famous celebrities, Mel Gibson, whose paternal grandparents were an Australian opera star and American tobacco millionaire, was born in Peekskill, New York in 1956. His family moved to Australia when Gibson was age 12 where he studied acting. After he became an international movie star in the 1980s, Gibson began buying a string of luxury homes in California, Montana, Connecticut, Australia and Fiji. While scouting locations for his 2006 film Apocalypto, Gibson went a bit further than most Americans who tend to buy Costa Rican beach condos and bought an entire 403-acre beachfront jungle on Costa Rica's Nicoya Peninsula.  
Contact Maddison Estates To Buy, Sell, Or Build Your Dream Home!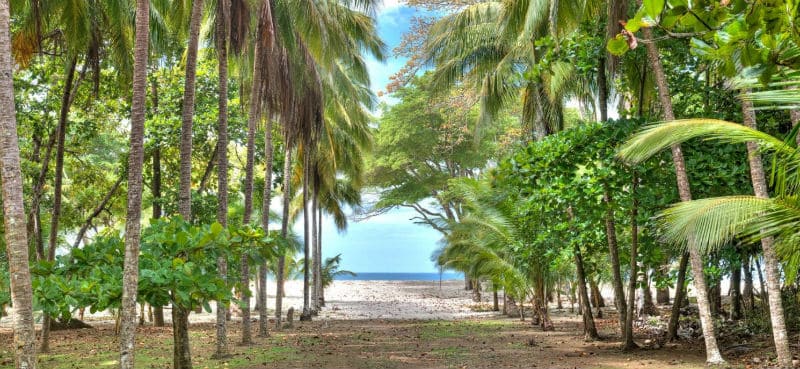 Gibson's Costa Rican estate includes three homes which are separated from each other by an extensive canopy of trees stretching across the entire property.  Each of the two smaller single-story homes have two bedrooms, vaulted ceilings, kitchens, verandas and their own swimming pools, BBQ area and are fully air conditioned.  Of the two, Casa Barrigona has its own poolside cottage and Casa Dorada has a loft, giving each additional sleeping space.  The main two-story hacienda-style residence, Casa Guanacaste, overlooks the long, wide beach and has seven bedrooms, eight bathrooms, a large courtyard and pool and multiple terraces affording both ocean and jungle views.  All three villas have been constructed of Costa Rican wood with Spanish and Italian tiles with red-barrel tile roofs that create a tropical ambiance.    
Located on Costa Rica's northern Pacific Coast, beach lovers will find white-sand beaches along with nearby steep cliffs.  Animal lovers will enjoy the howler monkeys, get an occasional glimpse of an ocelot and watch sea turtles lay eggs on Mel's private beach.  The listing is held by Robert Davey of Plantacion Properties and Rick Moeser of Christie's International Real Estate.
Braveheart Oscar winning director, actor, and Hollywood celebrity Mel Gibson whose most recent critically acclaimed film is Hacksaw Ridge is selling his romantic, ultimate getaway, Playa Barrigona,  is available for $29.75 million.
Photo credit: Christie's International Real Estate