In this present world of chaos, everyone wants peace— which is the rarest commodity right now. Everywhere you are, even in your sleep, there's often bad news, disappointment, betrayals, and many more.
So how can one find peace of mind? Many self-help books claim to have the perfect answer, and you may wonder how Civilized Terrorist is any different.
Let Musaib tell you about himself in the lovely interview we had with him as he shares a piece of his heart with us all.
Beverly Hills Magazine: Tell us a bit about yourself. Where did you grow up, currently living, and background info so we can get to know you better!
Musaib Malik: I am Musaib Malik from Jammu and Kashmir, India. I am one of the youngest humanitarians and an entrepreneur.
Also, I am the host and founder of the podcast: "Sets of Change". 
I am also a student who is currently preparing for the Medical College Examination.
I have worked with multiple non-profit organizations, both national and international. Also, I have formed many volunteer groups and conducted awareness events. And I currently teach kids from remote places who don't have any access to education.  
Beverly Hills Magazine: What inspired you to write this book?
Musaib Malik: The good concern for human welfare and my humanitarian work have inspired me to write the book. I have seen people in pain, suffering, depression, hopelessness, and in the most distributed mental conditions, in spite of having a luxurious lifestyle. All this inspired me to write a book that can help people attain peace. 
Beverly Hills Magazine: How was the journey of creating it?
Musaib Malik: The Journey was smooth, bumpy, and rough. I have been writing this book for three years, I had to edit, remove and read things over a million times. I made good friends while working on the book, as I had to interact with people and know their sufferings. 
During the course of the book I made really good connections with some nice people and the journey has helped me to become a good person. 
Beverly Hills Magazine: What was the biggest lesson you learned from creating this work for others?
Musaib Malik: The biggest lesson that I learned is that people and things will change, your wife will leave you for another man, your parents will abandon you for their business-work, your best-friend will say all the possible ugly things behind your back, and guess what that's okay and it won't bother you much as long as your life is centered around good values and principles. 
Beverly Hills Magazine: What do you hope readers will gain from this book?
Musaib Malik: The readers will learn to stay positive in the darkest hours of their lives. This book will help them make the choices that align with the kind of person they are and the book will turn them resistant towards the cynical society. 
It will boost their confidence and essentially help the readers attain internal peace.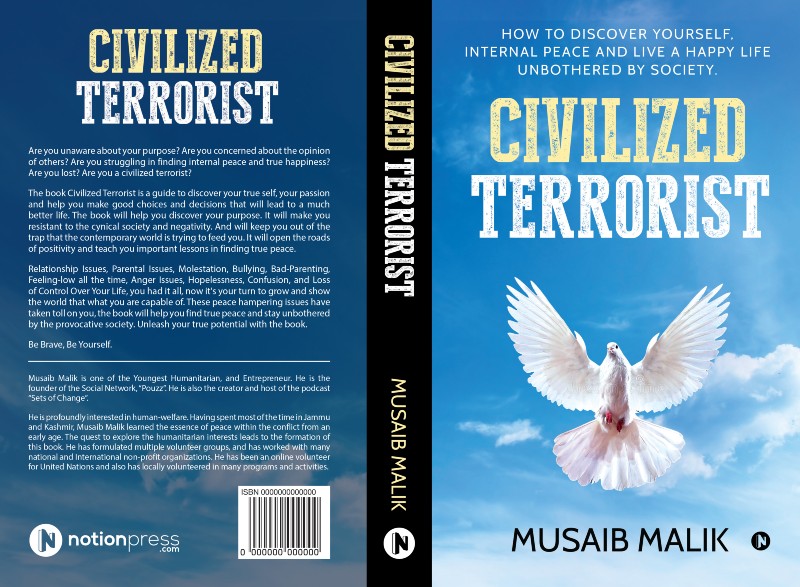 Beverly Hills Magazine: Any advice for other aspiring authors out there?
Musaib Malik: Just be very selective about the publishing house you chose, make sure it offers the things that you can't do yourself. Else there are lots of other free options available out there.
Beverly Hills Magazine: What is a quote from the book you'd like to share?
Musaib Malik: "If your house is on fire and you can't do a thing about it, positivity will grab a chair and observe one of the rare and spectacular scenes."
Beverly Hills Magazine: What are 3 reasons people should read this book?
Musaib Malik: Here are the reasons:
1. The book is written in the words most conflicted zone and in spite of that, it talks about peace. The idea of peace, true happiness, and the methods to gain it is promoted throughout the book. 
2.. The book is totally different from other self-help books, it has addressed the issues and problems that the majority of people face. The approach is different and the whole thing is written in the most strategic manner. 
3. The book will help you avoid the trap that the contemporary world has built and it will increase your self-awareness and make you a better person.
Beverly Hills Magazine: How has God helped you in your personal creative journey to better the lives of others?
Musaib Malik: God has blessed me in many ways, he has given me the power to change myself and others. God has given me a vision, a place to rest, food to eat, and a life to be thankful for. 
The one thing that I really thank God for is that he has given me a chance to worship him. And I want to worship him through my activities and work. 
Beverly Hills Magazine: Have you discovered your personal purpose in what you are contributing to the world?
Musaib Malik: My personal purpose is to spread the message of love and peace. And help people live a better life. I have found my peace in helping other people and spreading happiness through small acts such as buying clothes for the needy, spending time with people who need someone to talk to, and engaging in humanitarian activities. 
Author Profile
Musaib Malik is one of the youngest humanitarians in India, also an entrepreneur. He has founded and helped in numerous charity projects as he is currently dedicating his time to teaching children with no access to education in the remote part of India.
Having seen the world from various lenses, he set out on the journey to share what he learned with the world. Civilized Terrorist is his way to tell his story to anyone who cares to listen. With three solid years of preparation, the book is the sure place to find gold nuggets.