What happens when you add a copious amount of platinum to a luxury timepiece? In short, you get one of the world's finest watches for men in the form of the Vacheron Constantin Traditionnelle Calibre 2755! Simply put, this watch is one of the sleekest and suavest the market has ever seen. Seriously, it's hard to go wrong when crafting an epic design with this much platinum. So is this a must-have piece for you man watch collection? Let's find out!
A Dapper Man Watch Design
In short, this watch is covered with a lot of platinum. To be exact, you're getting a platinum case, bezel, buckle, and crown. And really, this all makes for a rugged, yet suave and fine design.
Moving to the dial, you'll get a metal opaline design. And as you'd guess, this all blends perfectly with the 3 calendar sub-dials. If you were curious, these sub-dial pieces split into sleek units telling you the day, month, and weekday. So overall, it makes for one of the world's most luxurious calendars—and it's resting right there on your wrist!
What also looks nice in the dial piece are the silver-toned hands. It's hard to think of a color that could better contrast with that greyish opaline background. And quite frankly, the black and silver minute marks around the edges only add a greater sense of sleekness to this fine timepiece!
But while the design is beyond stellar, perhaps the star of this show is that gigantic Vacheron Constantin tourbillon. Really, it's hard to imagine any other piece better filling the bottom half of this suave timepiece. It's a beautiful accent that adds a nice sense of motion and craftsmanship that sets this piece far above the thousands of other luxury watches you'll find on the market!
Finishing off the great design is the back of this watch. It's a transparent sapphire piece that allows you to see the movement in all its glory. And it's small accents like this that make this man watch one of the best you'll ever wear!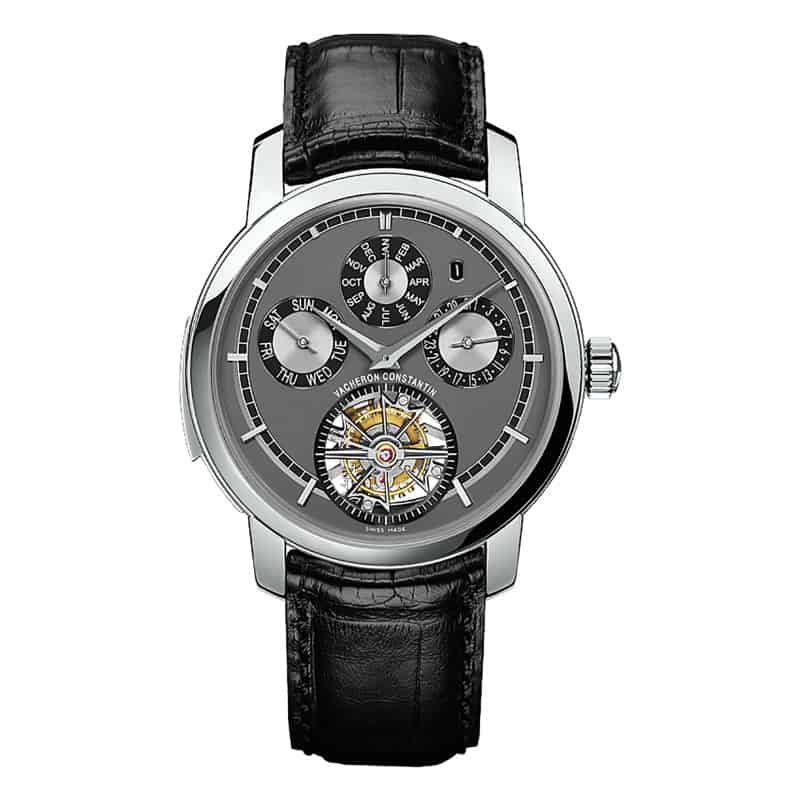 Speaking of that Movement…
Building off that last point, it should come as no surprise that the Vacheron Constantin Traditionnelle Calibre 2755 sports one of the finest and most precise movements you'll ever find on a man watch.
To be exact, this timepiece sports the Caliber 2755 QP movement. It's a manual-winding piece consisting of 602 parts and 40 jewels. But really, what else would you expect from a movement that powers the hour hand, minute hand, minute repeater, perpetual calendar, and a tourbillon? To keep all that in order, you'll need a movement just as exceptional as the one you'll find here.
Buy a Watch: Vacheron Constantin Traditionnelle Calibre 2755 Price
When you shop watches, it's not often you come across something as fine and dignified as this Vacheron Constantin piece. And the price reflects it's exclusivity at $584,325. But if you look at online watches long enough, you'll be sure to find a great deal. And when you find it, it's best to not delay! After all, this is hands down one of the best-constructed man watches you'll ever wear in your life!
Wrapping Up
At the end of the day, it's easy to say that this fine watch sets a new standard for the modern men's watch. It's not every day you find a timepiece with this much platinum. Moreover, it's even rarer to find a watch with a movement quite as nice as you'll find here. So be sure to add this sleek watch to your collection today!