If you are looking to spend some quiet time away from your busy life, then consider taking a trip to the Gili Lankanfushi resort in the Maldives. This large resort contains 45 spacious villas, which all have open-air spaces. Each of these villas also provides guests with much-desired privacy. This makes the Gili Lankanfushi resort the perfect place for a romantic getaway or for a private family vacation. The resort reopened on September 1, 2020, so visitors can book a stay here now! (Image Credits: Green Pearls GmbH)
Secluded Villas
As mentioned earlier, there are 45 luxury villas included at the Gili Lankanfushi resort. There are a variety of options to choose from. The most glamorous option is the Private Reserve, which clocks in at 1,700 m2, making it the largest overwater village on earth! Four buildings, a private gym, sauna, and a cinema make up this villa. That's not to mention the outdoor amenities, which include a private lagoon, infinity pool, and waterslide.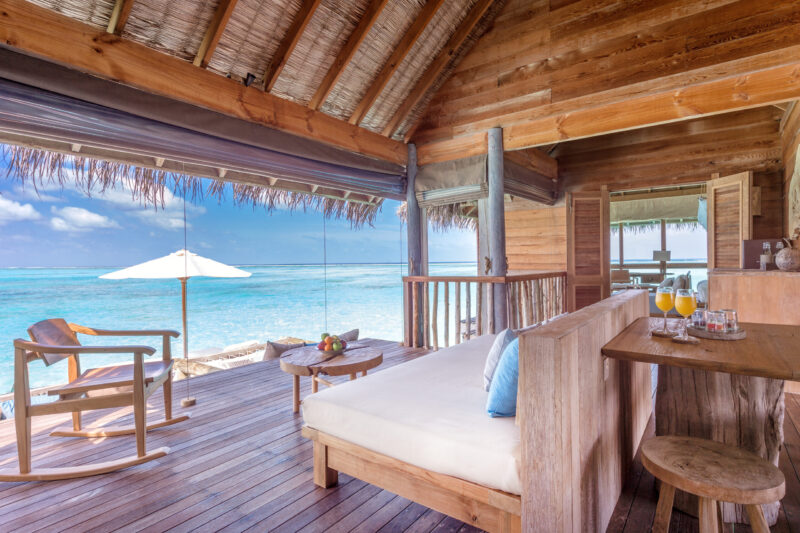 If you don't need something quite so extra, the Gili Lankanfushi resort has more modest accommodations available. Guests can choose to stay in villas consisting of only one or two bedrooms. If you're looking for something in between these rooms and the Private Reserve, then consider checking into the Crusoe Residences. There are seven of these residences at the resort. All of these offer luxury and privacy. No matter what villa option you choose, you will be somewhere elegantly decorated, private, and that has a beautiful view.
Sign Up For The Free GOD Foundation Travel Portal for 60% Off Travel Deals Today & A Portion Goes To Charity!!!
Seasonal Dining
Everyone has heard of farm to plate dining, but have you ever heard of ocean to plate dining? All three of Gili Lankanfushi's dining options — By the Sea, Kahiveli, and the Overwater Bar — use fresh-caught seafood and seasonal produce. This means that the menus change with the seasons, so your tastebuds are sure to stay entertained no matter what time of year you book your stay.

As of 2020, Hari Govindaraj is the executive chef at the Gili Lankanfushi resort. His most famous dishes include pan-seared scallops, aloe vera and coconut ceviche, and dairy-free ginger ice cream. Guests can enjoy these dishes at the three restaurants or call for room service to eat in their villa.
Meera Spa
If you're looking for even more ways to relax, then check out the Meera Spa. Here, there are several treatment options. Some of the spa options guests can choose from include point therapy, massage, lymphatic drainage, and crystal healing. No matter what option visitors pick, the spa specialist will use Meera products, which are made on the island out of natural ingredients. If guests want a mix of relaxation and thrill, they can also combine scuba diving or surfing with a variety of spa treatment options to make their stay a little more exciting!

Contact & Pricing
The Gili Lankanfushu resort is open to take reservations now! As of September 1, 2020, room rentals begin at  $1,440/night. The resort also has a special offer for the Private Reserve., which can be rented for eight days/seven nights for $74,970. This rental includes meals, spa stays, scuba diving, yoga classes, and more.
To make a reservation, you can book at the Gili Lankanfushi website or call (960) 664-0304. You can also stay up to date on the resort by following it on Instagram @gili.lankanfushi.
Sign Up For The Free GOD Foundation Travel Portal for 60% Off Travel Deals Today & A Portion Goes To Charity!!!