Looking forward to going for a luxury yacht ride? Or perhaps you have a strong affinity to yacht life? Why not get yourself the Lady Christine yacht. Launched in 2010, this yacht is a work of art, not only from the inside but the outside. When it comes to shopping luxury yachts, this masterpiece is certainly one to consider as it is absolutely stunning.
Meanwhile, the elegant exterior design is the work of De Voogt while the classic interior comes with décor styled by the world-renown Rodney Black Design Studios. Together, they present you an irresistible 68m Christine with an aesthetic touch.
So, you want to know how this lush yacht performs? Maybe how its interior décor looks like? Or perhaps its price? Well, sit back, relax and let's cut to the chase and unravel this mystery.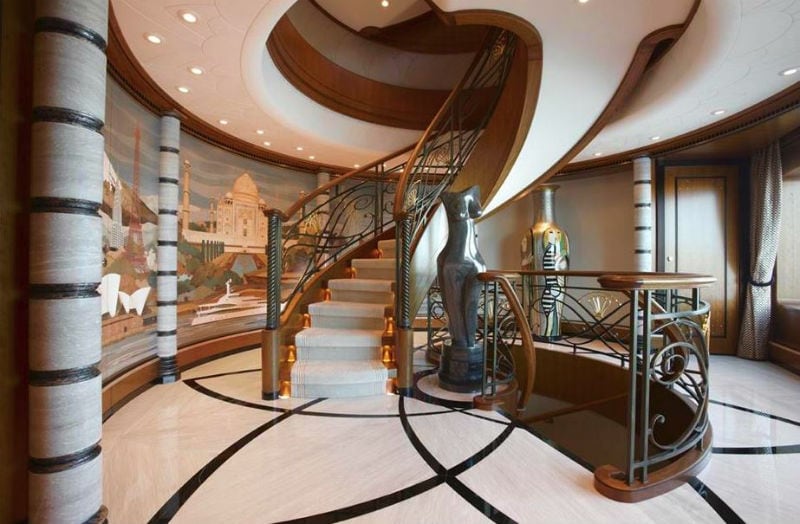 Firing All Cylinders
Speed and power is an integral part of any luxury yacht. And, Lady Christine does not disappoint. In fact, we should call it a "workhorse." It comes with Twin MTU 12V 400 M60 1,769 HP diesel engines. Equally important is the Quantum Zero speed stabilizers that present you that smooth ride even at high speed.
Talk of speed and this luxury yacht will still make the cut. In fact, it can reach 15 knots flat out and has a cruising speed of 13 knots.

The Elegant Body
Here comes what you've been waiting for; the artistic interior and exterior.  Well, let's jump in and decode her beautiful sundeck. It features an observation – 36-degrees – area forward where you can view the sea ahead. Additionally, it comes with unmatched panoramic lounge, bar and dining room. Furthermore, these rooms are air-conditioned and offer a stellar spot for casual dining and resting.
Not to mention the 18,000-liter infinity pool that features a contraflow design. Worried about making a dive in the warm sea waters, why not splash around in the pool? In the same way, the owner's deck comes with a dining area, ideal for fresco dining.
Design Perfection
Lady Christine also has a forward observation lounge next to the owner's deck. Here, you enjoy a 180-degree panoramic view. As such, you can have an interrupted view while you relax and unwind. In the owner's deck are a private gym, bathrooms, exquisite dressing rooms and his and hers that features full-height windows that flood the aesthetic room with natural light.
Consequently, the awe-inspiring spiral staircase leads you down to the lower deck which is the home to four generous guest cabins. Three feature king-size beds for comfortable sleep while one room has twin beds. All these rooms have ample storage space, come with separate water closets and double sinks. Well, your buddies will thank you for letting them tag along in the Lady Christine yacht.
In fact, if yachting is not their cup of tea, by the end of the trip, they'll have a deep fondness. All thanks to the lavish and sturdy Christine.

It's A Real Bargain
Well, why should you keep renting luxury yachts while you can own one? This top deck yacht will only require you to shell out $69 million. Given the features, décor, speed, and power, this is a real bargain! Say hello to a brand new yachting experience!

Final Cut
For all yachters out there, this is the perfect investment in a luxury yacht you could ever make. Just imagine the expansive space, spiral staircase, four generous guest rooms, and a Lloyds-approved helipad. What more could you want? Take your yacht life to another level with this Lady Christine yacht today.