Jeans are one of the most commonly worn yet diverse looks ever. No wonder they are so popular.  We are yet to see someone with a bad jeans look. However, there are those combos that rise above the rest and deserve to be highlighted. Take a look at our favorite jeans pairings.
The basic white t-shirt
A white t-shirt and jeans are ideal for those days when you have absolutely nothing to wear, but you still want to look fabulous. No wonder it is a fashion favorite across the world. You can add your own personal flavor to the white t-shirt blue jeans combo and make the look your own. I prefer turning this basic look to a boujee stunner by combining a pair of ripped jeans with a tucked in fitting white t-shirt, single strapped stilettos and a camel jacket on top. The fact that the pair is easy to layer makes it an ideal canvas to paint on any style as you see fit. Although, sometimes, you can leave this combination as it is and still look amazing.
An edgy fur coat
Fur is one of those items every girl needs in her closet. Whether it is a majestic maxi fur coat finished off with a fur hat and a pair of gloves, or it is a simpler crop biker jacket, fur is one of those items you cannot afford to miss. Jeans and fur are an entirely different story. They work quite well together and can range from stylish girl next door to a bold yet chic woman. I cannot resist a long lone teddy Borg coat draped over a blouse and jeans. Unlike other jeans looks, fur has a certain complexity other pieces do not offer. Sadly, it is not as common in any closets as other jeans pairings are. Don't have one? Lily lulu carries a range of options that are great for different jeans looks.
Denim on denim
Nothing beats a well developed double denim debut. Wow that's a mouthful. Sometimes, when inspiration strikes, I like to make this double D combo. It may seem simple, but it takes a careful eye to pick out two denim pieces that go well together. While many people are used to the faded jeans combination, I like to add some contrast to my denim on denim look. Why not pair dark blue jeans with a loose fitting grey t-shirt and a lighter shade denim jacket on top. Alternatively, you could tuck in your favorite button up denim shirt into some nice jeans and call it a stylish day.
The classic jeans and boots
From timbers to thigh highs, jeans and boots are a match made in heaven. There are so many directions you can take with jeans and boots look ranging from delicate and elegant to badass rocker chic. I love me a good jeans and boots combo. It is one of my go to combinations for slow idea days. Well fitted jeans and a pair or riding boots with a complimentary top are the perfect combination for an elegant jeans look. The stylish variety this combination offers is enough to last any boots or jeans lover a lifetime of outfit ideas. I especially enjoy this look in fall when I get to pull out my knee high chunky heeled leather boots and high waisted black jeans.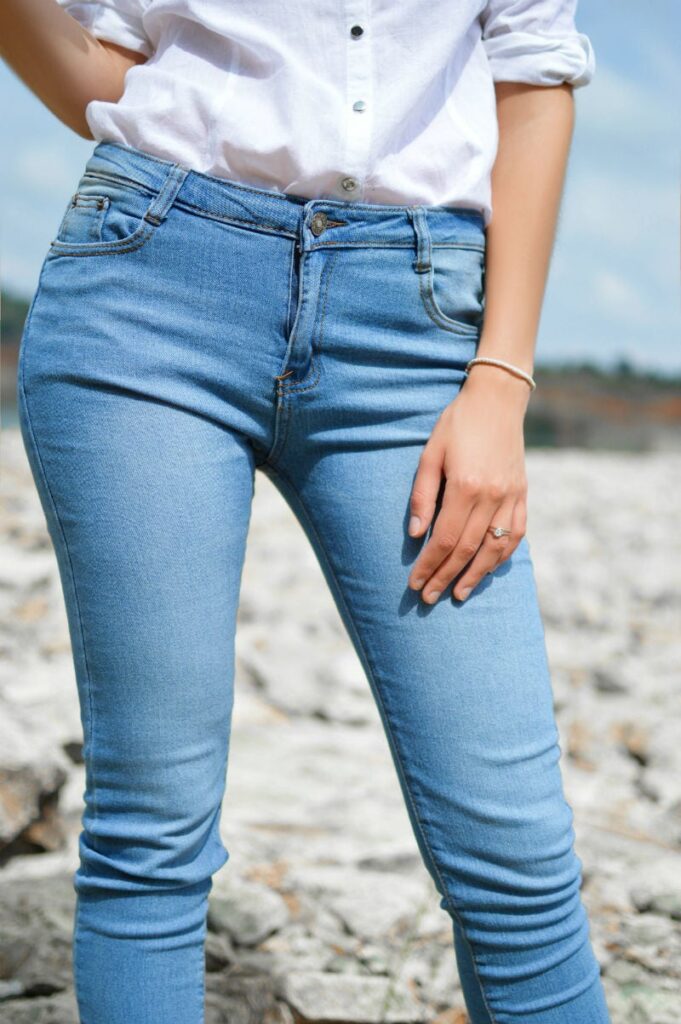 Boyfriend jeans and feminine top
You do not need a boyfriend to enjoy the perks of boyfriend jeans. These jeans are not only a favorite for their comfort, but also for their stylish coupling with crop tops and bandage tops. Boyfriend jeans may be rugged and somewhat manly, but they mysteriously pair with ultra feminine items to strike the perfect style balance. Our favorite combo has to be boyfriend jeans with a crop top. You get to show off your sexy waistline, belly, shoulders or whatever parts your top is flaunting while still keeping it plain on the bottom. You can wear tank tops, t-shirts or sweaters depending on your preferences for a casual yet chic appeal. On lazy days, I prefer an oversized sweater-top with a nice pair of rugged boyfriend jeans and my favorite black chuck taylors.
Black everything
Wearing black on black is not new to the fashion world. In fact, I am currently going through an all black with occasional greys look. Jeans are the perfect bottom to an all black ensemble. Because they pair so well and layer even better, you can throw on some of your preferred black add ons for a fabulous all black look. My ideal all black has to be black cigarette jeans with a black oversize batman t-shirt and black. Black on black is one of the simpler ways to style your look, but it is still a top contender in favorite looks across many platforms.
White jeans
White pants let alone white jeans are a slippery slope for most people. However, they are one of the most flattering types of jeans out there. The only restriction to wearing white jeans is staying away from stains and splotches. You don't want to walk around looking fabulous, but no one notices because they were staring at a stain on your butt cheek. I am yet to try on white jeans once I get my sloppy habits in check.  However, white jeans pair beautifully with blouse and fancy tops and heels for that simple, yet elegant look. You may finish it off with a midi trench coat to tie the look together.
Iconic jeans and leather
This list would be incomplete if we didn't include the jeans and leather look. Apart from being one of the most iconic look for each of the articles, the jeans and leather look is still trendy. If you do not have a leather jacket, then you may be missing out on looks you didn't even know you could pull off. I like to keep my jeans-leather combos very simple with a long striped t-shirt, black jeans and a pair of sneakers. You can however make this combo work with all sorts of looks to suit your style.
Final word
Jeans are one of those items almost every girl has and wears depending on her look. There some jeans combinations however that is undeniably fabulous. These eight are among many jeans pairings that every woman must try. They are simple to style and gorgeous to look at.