Combat Wraith is the new in-thing in the American motorcycle market. Combat Motors is currently accepting preorder for this luxury motorcycle, which will hit the market by early 2021.
The Wraith is a predecessor to P-51 Combat Fighter, a second-generation motorcycle for the manufacturer. With that heritage, clients can expect more from the new Combat motorcycle. The encouraging aspect is that every motorbike built and designed by Combat Motors always exceeds expectations. 
Combat Motors always deliver machines that are unique, exciting to ride, and obsessive. From the personalization design, innovation, to engineering excellence. Everything included in the dream motorcycle enhances the bespoke design process that guarantees the rider's comfort.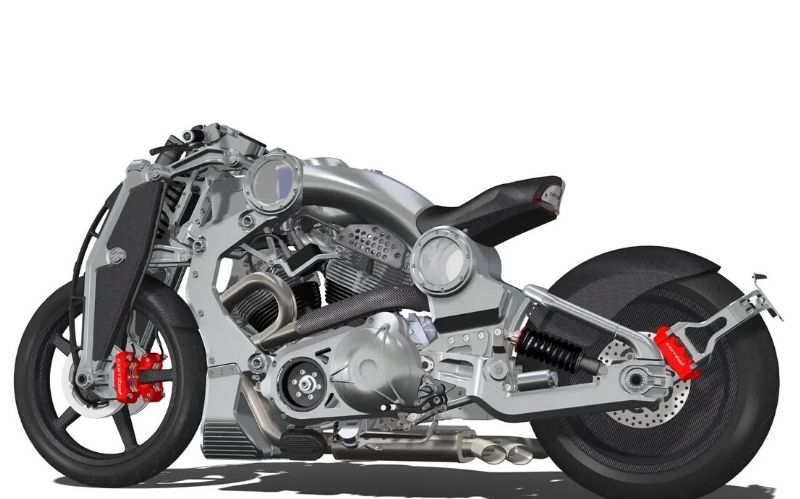 The Design of Combat Wraith
The design of Wraith includes an entire solid billet blocks cover built using military-grade aluminum. This makes the motorcycle lighter, aggressive, and less exhausting. Overall, the design and engineering philosophies offer a unique riding experience to each owner.
Like other luxury motorcycle built by Combat Motors, the new Wraith is hand-assembled using CNC manufactured parts. Most of the pieces are from US manufacturing partners, and they include hand-cut and sewn leathers. Besides assembling, each of the new Wraith requires thousands of machine work and person-hours.
Another remarkable aspect of this dream motorcycle is the aluminum monocoque chassis. Together with other parts, they support the massive 7-inch backbone of Wraith, which carves to carry fuel. Besides, it rolls to the carbon fiber BST wheels, which have adjustable race tech suspension and Beringer brakes. 
Engine Performance of 2020 Wraith
Wraith is a speeding image of P-51 Combat Fighter, but it's a much better version. Its power comes from a 132 cubic inch or 2,163cc engine. But still, a 117 cubic inch is available. The engine powering the two wheels is an S&S X-Wedge 56-degree V-twin. It's capable of producing 145 bhp at 5100 rpm, and a total torque of 160 lb. 
They say the top speed of this luxury motorcycle is 160 mph at 2,000 rpm. It has three types of suspensions, the double-wishbone, monoshock for the front, and cantilever monoshock at the rear. Plus, they are all adjustable. 

The Estimated Marked Price
Though the dream motorcycle is yet to reach the market, it's expected to be one of the most expensive two-wheel machines. From the heritage, body design, and engine performance, it gives one conclusion. The Combat Wraith will not come cheap, and the estimated market price ranges from $155,000. But for international clients, they will have to part with $3,200 for shipping to their local airport hub. 
Final Verdict on the Uniquely Designed Motorcycle
Each motorcycle assembled at the Birmingham facility gets tested to make sure they met every expectation. The tech personnel at Alabama has 15 years plus experience in assembling, so as a client, you should not worry. They will deliver on all the specifications promised, and they will maintain your Combat Wraith periodically if you wish.
The Company has gone on and promised to deliver the new Wraith motorcycle to 48 continental United States through its Combat Motors team members. For International clients, they will receive their luxury motorcycle by either flight or sea. To make it easy, the Company has reliable shipping partners who handle all the compliance issues with regards to logistics and regulations. 


(Images Courtesy of Combat Motors)