Whether its the weather, the beaches, the opportunities, or the energy, the sprawling city of Los Angeles is one of the most popular places to live in the world. One of the best known neighborhoods of Los Angeles is Beverly Hills. This opulent and famous portion of the city boasts a number of high-end shopping opportunities and luxury homes. Likewise, Century City, which borders Beverly Hills, is home to a bustling corporate dynamic in addition to its own lavish neighborhoods. And nestled between these two posh areas sits the stunning Ten Thousand.

Soaring Above the Los Angeles Skyline
Located on Santa Monica Boulevard, where Century City and Beverly Hills meet, Ten Thousand soars above city skyline. With its crystal façade, this chic, 40-story, residential tower sparkles and distinguishes itself from other buildings in the area. Within the modern structure, luxury abounds. Skilled design and the finest materials from around the globe combine to create a elite sophistication. Add a stunning collection of postmodern and contemporary art and, indeed, you have one of the most unique and lavish residential structures in California.
Furthermore, the grounds of Ten Thousand continue the luxury. The enclosed, one-acre private park has a manicured lawn, sunning pool, spa, lighted tennis court, and gardens. Entertain on the grounds with the chef's kitchen, one of the fire pits, or outdoor theater with 84-foot screen. And a dedicated dog run lawn provides ample space for Fido while keeping the grounds pristine.
The Well-Appointed Signature Residences
The dream homes in Ten Thousand are divided into two luxurious categories. The Signature Residences have one, two, and three bedroom options. Each of these residences have a powder room and every bedroom has an ensuite bath. As expected, the master bathroom is the most opulent with marble floors and surfaces, a dual vanity, a freestanding, oversized tub and a walk-in shower. The gourmet kitchens in these luxury homes feature custom cabinetry and quartz countertops. Also, most of the top-of-the-line appliances are Bosch with the exception of the Thermador refrigerator. In addition, some of the Signature Residences include a central prep island.
And while the Signature Residences at Ten Thousand are beautiful dream homes, as they say, the cream rises to the top.

The Luxury Features of The Estate Residences
The three and four bedroom Estate Residences are on the highest floors of Ten Thousand. And these luxury homes take the amenities of the Signature Residences to the next level. Ten and sixteen-foot ceilings, along with rich hardwood floors, create a dramatic living space. In addition, many units have private balconies to enjoy the view. Custom Italian cabinetry, quartz counters, and Bosch and Thermador appliances adorn the gourmet kitchen. Moreover, Estate Residence kitchens also include a U-Line wine refrigerator capable of storing 48 bottles. These kitchens offer an abundance of space with a central prep island. In addition, many of these luxury homes have enclosed kitchens to provide privacy during formal gatherings.
Like the Signature Residences, each bedroom has its own ensuite bathroom. However, these more opulent dream homes also have custom, built-in closets. In addition, the master suite bathroom has a dual vanity, marble countertops and floor, a freestanding soaking tub, and a walk-in shower.
These stunning residences also have some smart features to make life a bit easier. The smart WiFi thermostat has hands-free temperature control. Limit the light cascading into the home with motorized window shades. And wireless satellite television and ultra-high-speed internet makes connectivity a breeze.
Contact Maddison Estates To Buy, Sell, Or Build Your Dream Home!
Unparalleled Concierge Services
Above all, Ten Thousand strives to ease and enrich the lives of their residents. As such, a number of specialized concierges are part of the 80 member house staff. The Wellness and Performance Concierge assists residents in the achievement of their health and fitness goals. The Lifestyle Concierge will make dinner reservations and aid in party planning and host duties. And those in need of technology assistance can get help from the Technology Concierge. In addition to Ten Thousand's concierges, house staff also includes butlers, valets, housekeeping, and baristas, among many other
Impressive Technology Services
Notably, Ten Thousand has a dedication to offering the best and newest technology to their residents. For instance, an app-based portal connects residents to staff to coordinate schedules, book appointments, and activate the valet services. Even the elevators use an RFID sensor to lessen the time residents wait to travel between floors. And Ten Thousand is home to CHARLEY, a butler robot ready to deliver mini-bar items directly to your luxury home at a moment's notice.
A Wealth of Luxury Amenities
Ten Thousand caters to the fitness needs of its residence. The 75-foot indoor lap pool, fitness center, private training rooms, Pilates room, and studios offering fitness, spin, and yoga classes provide many opportunities to maintain your body wellness. And to recover, enjoy the sauna, steam rooms, and massage treatment room.
Beyond wellness, Ten Thousand has a bounty of amenities. The luxury tower has a resident's lounge with a full-service bar and a private dining room. In addition, a catering kitchen is available for intimate gatherings and larger events. And in a city synonymous with entertainment, it is no surprise that Ten Thousand boasts a private screening room with the most advanced projection equipment. Or visit the game room to catch current sporting events on television or indulge in some video gaming. Also, busy parents can keep the kids occupied in the Kid's Studio.
A Dedication to Service
As expected, this luxury residential tower has a wide variety of services available for the convenience of residents. Every day, a complimentary continental breakfast is served. The lounge also offers dining service and a full beverage menu. On-call, private drivers can transport residents to their destination using Ten Thousand's stable of luxury cars. Furthermore, busy dog owners can rest assured that their dogs are walked and groomed while they are away. Seemingly, there is virtually no task Ten Thousand isn't able to take on for their residents.
In short, whether you are looking for a long-term luxury residence in Los Angeles or only staying in the city for a year or two, the abundant amenities and level of hospitality make these lavish dream homes worth a peek. Rest assured, Ten Thousand is sure to impress.Address: 10000 Santa Monica Boulevard Los Angeles, CA 90067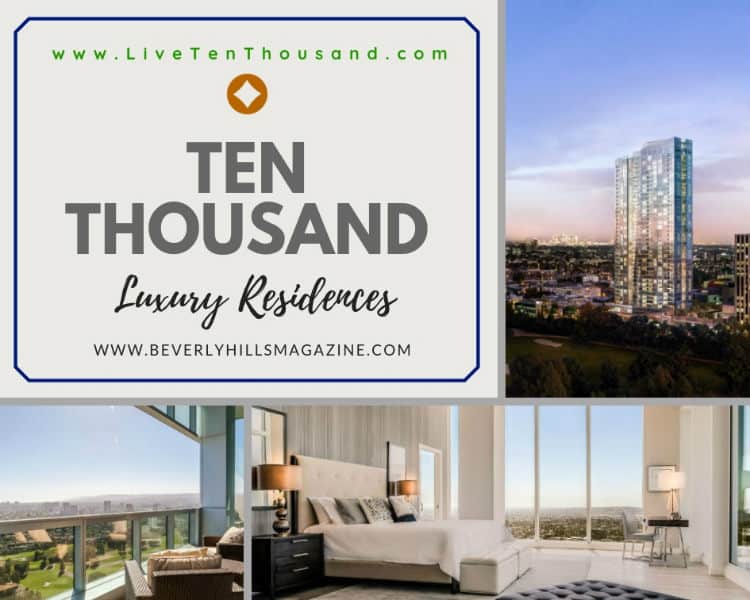 The rents for the currently available luxury homes in Ten Thousand range between roughly $10,000.00 and $30,000.00 per month.