Express your passion for fashion by rockin' this amazing ensemble of pink, black, and red color hues.
First, you'll want to start with the unique top that will definitely turn heads. In deep red with a sculpting silhouette, this Roland Mouret peplum top is sensual but refined fashion piece, complete with a ruffled peplum that will accent your smallest point and draw the eye to your waist. This will also highlight your shoulders giving ample options for a fine jewelry necklace to add a  little dazzle. Our favorite detail? The glossy zip at the back that keeps it just modern enough.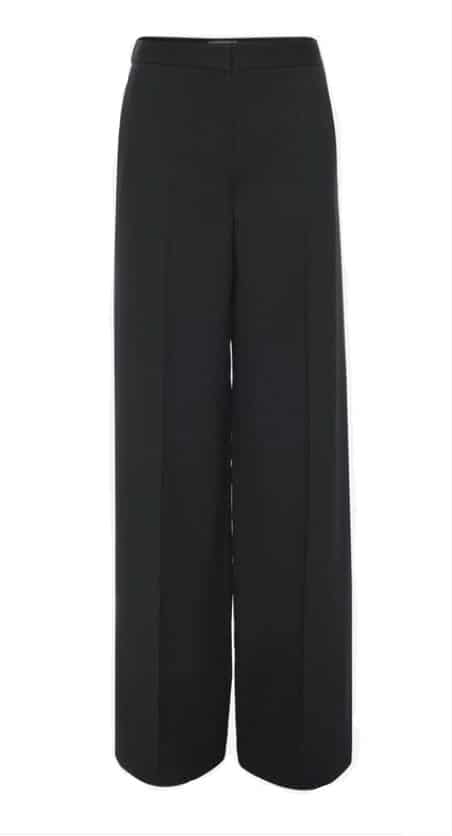 Next, pair it with these fabulous wide leg pants by Alexander McQueen. This impressive combination of styles in a characteristic length is enhanced by the softly falling pleats that lend the garment plenty of movement and a gorgeously elegant look. Cool, stylishly flowing fabric, with comfortable elasticized waistband for added comfort. These are a great option for more formal events where you want to dress more sophisticated and show less skin.
Then finish off this must have pink and red with black style with the ever adored Christian Louboutin pumps with ankle tie. Playfully, Christian Louboutin describes these 'Douce du Desert' pumps as, "This season's hopeless romantics." Lined in supple leather, this crepe de chine pair has lustrous ribbon ties that wrap elegantly around your ankle. The pin-thin stiletto heel is the perfect height for showcasing the iconic red sole.
We love the romantic marriage between red and pink, so we selected this adorable mini Kalifornia bag by Kenzo to complete the look. It's a fun and fresh addition to this already fashionable winner!
SHOP MORE FASHION AND STYLE NOW!!!