Le Vian®, the internationally renowned fine jeweler with a storied past tied to the historical jewels of ancient royalty and a trend setting present bejeweling hundreds of celebrities for Red Carpet appearances each year, revealed its 2015 fine jewelry design, color and bridal trend forecast at Le Vian® Red Carpet Revue, the highly anticipated fashion show in Las Vegas which took place on Sunday, June 1, 2014.  Celebrity guests at the event included Bill & Giuliana Rancic and Cheryl Tiegs.
"We strive to be the brand that makes anyone look fabulous at any age", said Eddie LeVian, designer and CEO as he addressed to a standing room only crowd. The event theme for the annual forecast was "Fabulous at Every Age," celebrating every woman who loves jewelry and fashion. "For the first time, our fashion show models ranged in age from their 20s to their 60s, including America's first supermodel, Cheryl Tiegs, who looks fabulous at age 67," added LeVian. When asked about what she loved most about Le Vian® designs, Tiegs replied, "I've been in the fashion business forever, and what I love about Le Vian® is that Le Vian® goes with all the moods, all the styles. It really suits everybody's style."
The Red Carpet Revue event which celebrated its 15th season is also a venue for celebrating celebrity style. "I am fascinated by Hollywood stars who have mastered the art of beauty, fashion and jewelry to transform themselves from daytime denim into iconic red carpet divas. I wish to impart this knowledge to everyday women with our unique and trend setting jewels," said LeVian. Attending the event to provide her red carpet expertise was E! Television Live from the Red Carpet Host Giuliana Rancic. "What I love about these designs, is that they can be very traditional and classic, but also modern, cutting edge, sexy, and risqué. That is why so many celebs love Le Vian®…there is something about the collection, year after year, that appeals to all women" tells Rancic. "There are a lot of jewelers who pay people to wear their jewelry on the red carpet, and Le Vian® does not need to do that… at every single red carpet, some celeb has your (Le Vian®) jewelry on, which is a real testament to how stylish this jewelry is," Rancic added.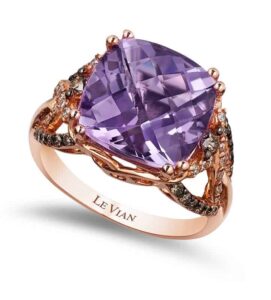 The event culminated with the introduction of the fashion and fine jewelry trends for 2015, the unique forecast where fashion and fine jewelry come together, presented by Avril Graham, Executive Fashion and Beauty Editor of Harper's Bazaar, and Eddie LeVian.  The design trends for 2015 include: Chevron™, Houndstooth™, Floral Lace™, Long Links™, Plaids™, Saddle Up™ and Gladiator® Wraps™.  The color trends for 2015 include: Santorini Blue™, Spumoni™, Caramel Quartz™, Vibrant Orchid™, Chocolate Covered Blackberry™, Chocolate Covered Iced Blueberry™, Iridescence™ and Peach Morganite™. The bridal trend for 2015 is Strawberry 'N Vanilla™ with a drizzle of Chocolate Diamonds® providing a touch of sweetness to the band or profile.
Since its first Red Carpet Revue event Le Vian® has chosen to support Jewelers for Children by making a donation for each guest who attends the fashion show. "This year, our donation increased to $180,000," announced LeVian. Jewelers for Children charity partners include: St. Jude Children's Research Hospital, Elizabeth Glaser Pediatric Aids Foundation, Make-A-Wish Foundation of America and National CASA Association.
About LeVian
Le Vian® is the jeweler of today and tomorrow, leading the fine jewelry industry on a path to trendsetting stardom with innovative design concepts and deliciously flavored exotic gemstones and diamonds, each revealed in the company's Red Carpet Revue Trend Forecast held each year in Las Vegas. Le Vian®'s historic journey in fine jewelry spans centuries with ties to ancient royalty, its American roots planted in the 1950s. Today, Le Vian® is the fashion couture fine jeweler of choice, expertly crafting a perfect union between high style fashion trend forecasting with glamorous handmade fine jewelry designs using rare diamonds and gems. Le Vian® attributes its meteoric rise in fine jewelry to its deep passion for finding the most beautiful gems in the world and designing the most innovative, unique looks that bring those gems to life. This sweet combination has resulted in hundreds of red carpet moments each year for many of Hollywood's hottest celebrities who choose Le Vian®'s distinctive jewelry and over one million collectors worldwide who crave Le Vian®'s newest trend setting designs.