Filled with notable landmarks like the Eiffel Tower and the Louvre, along with hundreds of boutiques and cafes, Paris, France seems to top the bucket list when planning a dream vacation. But beyond these traditional sights and activities, Paris has a regal and luxurious character that can be missed in the hands of an overzealous travel itinerary. In fact, indulging in Paris' glamour is essential for the ultimate visit. And throughout this entire city, there is no better place to experience the grandeur and romance of Paris than the exclusive getaway of Le Meurice.
Sign Up For The Free GOD Foundation Travel Portal for 60% Off Travel Deals Today & A Portion Goes To Charity!!! 

An Iconic Exclusive Getaway
Le Meurice on rue di Rivoli first opened its doors in 1835. Neighboring Tuileries Garden in the 1st arrondissement, this luxury hotel has always catered to the well-heeled. In fact, Le Meurice is deservedly nicknamed the "Hotel de Rois" or the "Hotel of Kings." Countless artists, politicians, celebrities, and royals have stayed at this exclusive getaway. One of its most notable return guests was Salvador Dalí. Every year for thirty years, the artist had an indulgent one-month stay at the five-star hotel. 
Its penchant for precision and dedication to luxury hospitality has earned Le Meurice countless awards from the world's best known travel magazine. And nearly a decade ago, it earned the prestigious distinction of "Palace Status" from the French Ministry of Tourism. As such, guests, whether noble or common, can expect the royal treatment during their stay at the luxury hotel.

Luxury Guest Quarters
Le Meurice has 118 rooms and 42 suites for guests to enjoy during their Paris vacation. As expected, each of these luxury accommodations are impressive. The Prestige Suite is thought to have the most beautiful view in Paris as it offers an unobstructed, panoramic view of the city and directly overlooks Tuileries Garden. The Presidential Apartment also faces Tuileries Garden. Utilizing the entire floor, this luxury, private apartment has up to three bedrooms, three bathrooms, two powder rooms, and two living rooms. Notably, the Presidential Apartment was a favorite of Dalí and was the residence of the King of Spain when he was ousted from the throne in 1931. 
The newest luxury suite in this exclusive getaway is the Pampadour Suite. And while this magnificent space immediately reminds visitors of a long-passed era, it also has touches of modernity. However, these features are expertly hidden as to not blemish the beautifully decorated suite. For instance, paintings conceal the televisions and USB ports hide within sofa arm rests. Also, the suite can plunge into darkness instantly with the remote-controlled lights. Pampadour Suite is even soundproof!
But the crown jewel of Le Meurice is the Belle Etoile Suite. Translated as "Beautiful Star," this luxury suite lives up to its name. This four bedroom duplex suite is on the top floor of the five-star hotel and has its own rooftop terrace with a 360° view of Paris. Filled with rare antiques, art, and finely-crafted marquetry, a stay in this magnificent suite is a must for anyone looking to experience unsurpassed luxury at this exclusive getaway. 

Incomparable Amenities
As a member of The Dorchester Collection, Le Meurice is known for its luxury amenities. Most notably, the concierges at this exclusive getaway are exceptional. Part of Les Clefs d'Or, or Golden Key, Le Meurice concierges have deep connections with all the right people to make your Paris vacation one of a kind. Indeed, getting reservations at the best restaurants, finding exclusive event tickets, and helping with any luxury activity are a small feat for these outstanding concierges!
This five-star hotel is prepared to make family's stays memorable. Children receive a specially-designed passport of little-known activities and sights throughout Paris. Restaurants offer a complete children's menu tailored to a younger palate. Rainy days won't threaten to ruin a vacation at Le Meurice. In fact, staff will even arrange a treasure hunt throughout the hotel to keep children occupied. Also, the hotel's proximity to the adventures of Tuileries Garden makes it an outstanding choice when traveling with children. 
Beyond people, this luxury hotel welcomes four-legged guests. In fact, upon checking in, cats and dogs receive a special gift basket. Dog walking services are also available to make more time for owners to enjoy their Paris vacation. And as the staff at Le Meurice love animals, pets can expect little surprises throughout the duration of their stay. 

Exquisite French Dining
Any Paris vacation should include indulgent haute cuisine. Restaurant le Meurice Alain Ducasse is the perfect spot to do so! This two Michelin-starred restaurant is helmed by Alain Ducasse and executed by Chef Jocelyn Herland who has worked with the esteemed Chef Ducasse for many years. The restaurant itself if inspired by the elegance of Versailles. And the menu aspires to create decadence from simplicity. But to make your meal even more memorable, reserve The Chef's Table. Set within a private area with excellent views of the kitchen, guests at the table will receive personalized recommendations from the executive chef.  
Looking for a more relaxed atmosphere, try Restaurant Le Dalí. This whimsical restaurant still has an elegant feel but the ambiance is decidedly more casual. Again, Executive Chef Jocelyn Herland guides the restaurant and its Mediterranean-inspired menu. And notably, the decor and design of the restaurant gives a nod to Salvador Dalí's penchant for distorting reality. 
And if you are in the mood for some expertly-made craft cocktails, Bar 228 will not disappoint. With a decor of rich, dark woods and soft leather chairs, Bar 228 is an excellent retreat. 

Exclusive Spa Services
As its name suggests, Spa Valmont pour Le Meurice uses only products from Valmont, a world-famous, luxury Swiss brand. Indeed, only thirty-five spas in the world have exclusive use of Valmont products. In fact, Le Meurice is the only spa in Paris with this privilege.   
As for services, this luxury spa offers a full menu sure to enhance any stay at the five-star hotel. Facials, massage, body treatments, and nail care treatments are available. To encourage guests to try something new, each month, Spa Valmont also highlights a different treatment which is always a favorite among guests. And aside from deluxe spa services, Le Meurice invites guests to enjoy the relaxation room, steam room, sauna, and the gym.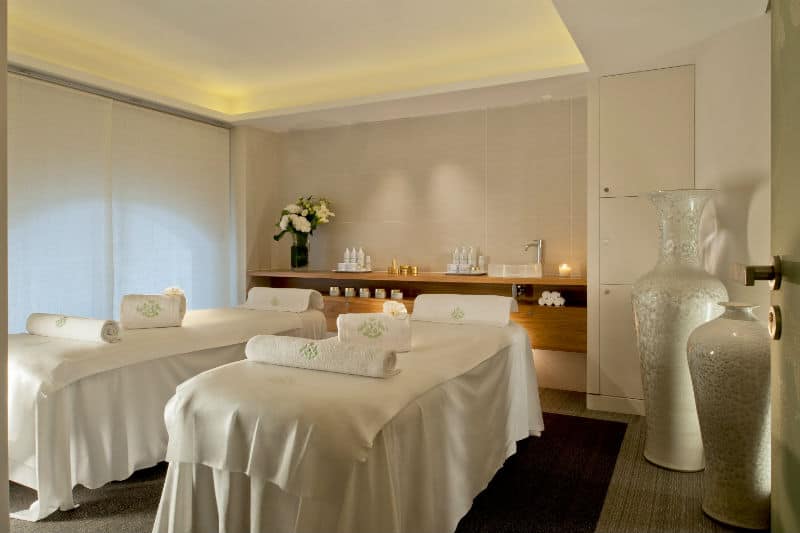 A Presence in the Art Community
In homage to Le Meurice's long history with artists and the arts, this luxury hotel began a patronage in 2008. Every year, the Meurice Prize for Contemporary Art provides financial support to a promising artist and helps them achieve international recognition for their art. For guest's enjoyment, the five-star hotel displays the works of the award's contenders. Anna Solal from New Galerie is the prize's current winner for her Mexico City kite installation made with recycled materials from the community. 
Notably, this innovative idea recently earned the luxury hotel a Prix Villegiature Award for its contribution to the arts!
Any Paris vacation is one for the memory book. But to experience a luxury unlike any other, be sure to add a stay at Le Meurice to your itinerary.