ABOUT LANDA BAGS:
Landa Bags is a women's luxury leather handbag brand that has its roots in Argentina. From clutches, body bags, laptop bags and handbags they have it all! Founded by Silvana, she found inspiration from her Italian grandparents. She grew up watching her grandfather, a cobbler, work hard to stitch by hand each shoe but sometimes also using sewing machines. On the other hand, her grandmother was a pants suit tailor. That makes them both self made hardworking and, good businessmen whom Silvana took after. Additionally, her well crafted bags are have sophisticated neutral palettes so it is versatile and easy to pair with any wardrobe. Each bag is sustainable. Not to mention there is so much attention to detail. Landa bags are a family pride and now let us take a look at 5 quality handbags.
TILIA MINI BAG WITH BUILT IN WALLET (Pictured Above)
The first super cute mini bag we feature to you here that has such a classic elegance is this Tilia Mini Bag with a built in wallet in color Rose candy. It comes in 2 other colors namely Tan and Off white. Made of full grain smooth leather and lined in a gorgeous beige suede, it is definitely of great quality and smooth texture to touch. Furthermore, it is finished with eco friendly edge painting and gold tone hardware. Among its other features are a push clasp fastening front flap, a wallet like interior that holds 8 card slots and an extra slip pocket to hold miniscule items in place. Also, it has a gold chain so you can either wear it as a cross bag or a clutch! Definitely versatile. Lastly, the bag gets its name Tilia, from a very much loved tree in Argentina. Wear this for the office, at the club or a date night, as a clutch or a body bag
TECA BAG: 3 STRAPS
The next bag we present to you is this minimalist yet chic and cool Teca Bag with 3 straps in Bordo (dark brown). It comes in 5 other colors namely black gold, black silver, Eucalyptus (mint green), nude and tan. Made with full grained pebbled leather, and lined with beige suede inside similar to the Tilia bag, it is of another great quality. It is also finished it with eco friendly edge painting and gold tone hardware. Furthermore, it features a central compartment, a zipper closure for extra security and a key clip. Additionally, it has an accordion silhouette which makes the bag spacious enough to store your daily essentials. What's great about this bag is that it can be worn in 3 ways. First, as a crossbody with its long leather strap. Second, as a top handle with the leather handle and third, on yours shoulders with its amazing hexagonal, turquoise shell plexiglass chain. Lastly, the Teca bag comes from the Spanish word Teak wood tree. Such an adaptable and fabulous bag you can take with you anywhere!
TIPA VEGAN WASH BAG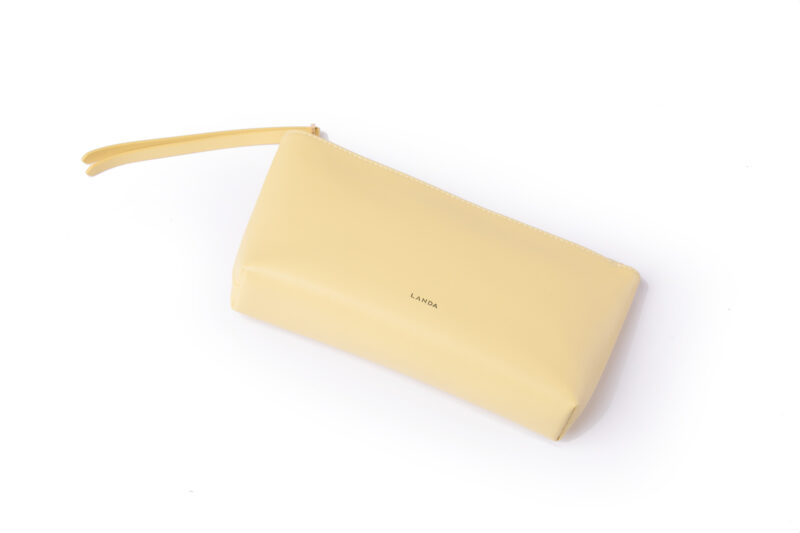 The third product we have from Landa Bags is this pastel yellow Tipa Vegan wash bag. Made of vegan leather and lined inside with beige suede; it is ethical yet stylish at the same time. It features the Landa signature long zipper puller that is pleasurable to use, finished with luxurious eco-friendly edge painting and gold tone hardware. Furthermore it comes in two other colors namely blue and pink. Ideal for makeup or toiletries you can never go wrong bringing this bag with you to travel! It can even be some sort of wallet. Lastly, the pouch gets its name, Tipa, from a beautiful tree in South America and Argentina where Silvana, the founder is from.
MINI OLIVO
The fourth handbag we have here is this cute and best selling Mini Olivo in black (Mini crossbody bag). It also comes in 3 other colors namely army green, taupe and powder blue. Made with full grain pebbled leather and lined with a beige suede like all the rest. Similarly, it finishes with eco friendly edge painting. It features a  gold tone hardware and an adjustable shoulder strap. Additionally, it is designed with a front flap closure and an internal pocket featuring the signature long LANDA zipper. It also has a Card Holder and a Key clip. It is the perfect size to carry your essentials. There's an external slip pocket in the back of the bag for easy access. There's nowhere you cannot bring this minimalist essential bag. It is definitely one to add to your collection.
LARGE OLIVO CROSSBODY BAG
The fifth and last bag we show you here is very similar to the previous bag and is equestrian inspired – the large Olivo crossbody bag. It comes in 6 other colors namely hot pink, taupe, blue, dark olive, red and tan. Made of pebbled leather and painted by hand to offer a perfect finish, it also has lines with black cotton material. It features gold-tone hardware and an adjustable shoulder strap. Furthermore, it has a front flap closure and an internal zip pocket. This is the perfect bag for work and a hand carry travel bag as you may put so many things and even your laptop inside. Lastly, just like the mini Olivo bag, it is named after the Olive tree.
All of the Landa Bags, as you can tell from its names, which are after the Argentinian and South American trees, value and show love for nature. It is a good investment, so what are you waiting for and add to your basket now in their website. To see more of our quality bags written here before click here.