ABOUT INTO THE BEDROOM
Into the Bedroom is a Canadian brand of sleep shirts, pajamas, dresses, resort and beach wear based in Vancouver. They also specialize in home accessories such as candles, slippers and furniture. In addition to that the brand does not just cater to women but also to men as well. Made of premium linens and cottons, the ensembles are sure to bring comfort for sleep and lounge wear. Founded in 2012 by Alexandra Isenberg, a Canadian who lives in Sweden, she makes sure her brand does not sacrifice comfort to her style.
The products are classic, contemporary and luxurious, whether you are using it at the beach, for a vacation or at the mountains of the Swiss Alps or even for a bridal party (yes they have a bridal/bridesmaid collection too); you will find that Into the Bedroom is a good buy. Lastly, it is a sustainable product and helps many causes. Among these are the Women's center in Canada that prevents violence against women and children. Plus, non-profits that support artists, writers and academics in relation to Black history. Moreover, click here for more of the causes that they support. Let us now look at 5 pieces.
LONG SLEEVE SHIRT AND SLASH POCKET PANT BLACK FLANNEL SET (Pictured Above)
The first pajama set we feature to you here is this classic and sophisticated long sleeve shirt and slash pocket pant flannel set in black. Made from 100% brushed cotton and weaved in Portugal, the fabric is super soft, medium weight and opaque. Perfect for sleeping and lounging. In addition to that, it features button down full length sleeves, a single breast pocket, an elastic waist with drawstrings, tapered leg form and slash pockets. These pajamas are a set you absolutely need as it is warm, cozy and fits any place you go. Conservative, casual yet stylish is what best describes this set.
SLEEP SHIRT BLACK LINEN
The second sleepwear we present to you is this super comfortable, modern and functional black linen Sleep shirt. Made of 100% linen, you can be sure its middle weight and a bit crispy on the skin. Obviously, it is still of premium quality. Furthermore, its features are a flared bottom, side pockets and seam lines, 3/4 sleeves with cuffs that have buttons for closing and a high low hem. This isn't just an ordinary night time sleep shirt as it can also double as a casual dress during the day. Just pair it with nude pumps or ballerina flats and you will look so sophisticated. I can even imagine pairing this with embellished stilettos for a more formal gathering. Definitely a versatile piece!
ANKLE LENGTH SLEEP SHIRT LEOPARD PRINT LINEN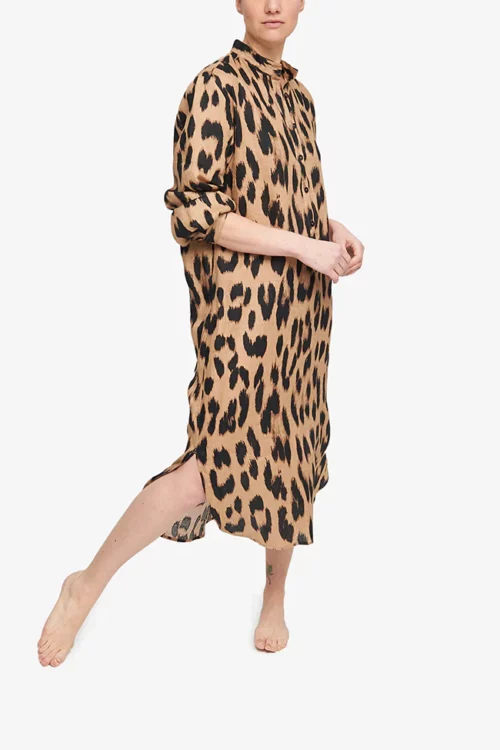 The third shirt dress we have here is this sexy and wild anke length sleep shirt Leopard print Linen. Made of 100% linen, this night dress is lightweight, opaque, crisp, and textured. Furthermore, it features a chic calf length length somewhere between our Long and Full Length styles. Additionally, it also has a chic rounded hem and a new, lengthened button placket. Similar to the previous piece, this Leopard print night shirt can be used as a sleepwear, loungewear and even a beach cover-up. I can imagine wearing this with a Fedora hat or an oversized stylish straw hat for the Bahamas. Bring out the sultry in you with this sleep/lounge or beach cover up shirt!
SHORT ROPE DRESS SAND AND WHITE LINEN CONTRAST
The fourth ensemble we have here is not just a sleepwear but a very simple, flirty, feminine and cute Short Rope Dress sand with white linen contrast. Made of 100% linen with a mix of beige and white threads this fabric as medium light weight, semi-sheer, textured, crisp. Moreover, it features an above-the-knee length, an empire waist and silky cotton rope straps that tie at the neckline. In addition to that, there are also inseam pockets. Truly a timeless, and modern piece. This is a perfect summer dress, pair it with a weaved Abaca bag (like in the picture), wooden jewelry and gladiator sandals or flip flops. It can even be paired with heeled slippers as you wish. Of course, you can still use it as a lounge or sleep wear.
FLOUNCE DRESS IRIS WASHED LINEN
The fifth and final dress we show you here is this dainty, fresh and girly, with such a cute Lilac color – Flounce dress Iris washed linen. Made, yet again of 100 % linen, its fabric is lightweight, semi-opaque, crisp, and delicately textured. It features a flounce detail on the sleeve and hem, a scoop neckline, and drapes more than our regular linens. Additionally, it doesn't just have to be a dress for outside, it can also be a cute flirty nighty, a beach cover up or a party dress. Pair it with neon sandals or a printed floral heel for a night. You cannot go wrong with however and wherever you bring this versatile dress to.
As you see, we saw 5 adaptable and amazing sleepwear that can also be worn casually as a loungewear and a dress. Did I forget to mention that Into the Bedroom also caters to women of Plus sizes? They are inclusive of all body types so you need not worry as there sure will be one for you! What are you waiting for? Add to cart and visit their website now. For more gorgeous sleepwear we recently featured, click here.