Been searching for that sexy evening style that no one has ever seen before? Well, as your trusted fashion magazine, we show you a unique ensemble that is classy and original.
First, you'll want to slip into this a ribbed stretch dress by Carolina Herrera. Carolina Herrera creates feminine and relaxed pieces that women can wear any time. This black dress is made from a stretch-knit fabric that sits close to the figure, with thicker ribbing at the waist that creates flattering definition. You can choose a form-fitted ribbed dress in your favorite color for the perfect evening style. In the fashion world, and on runways all over the world, you will see that unique designs always style pushes the boundaries of the fashion industry.
This look is a perfect example of innovative design. We wanted to add some dimension to this look, so we paired it with these Dolce & Gabbana Lace Peep Toe Bootie high heels. Available in black and beige making them perfect for any evening ensemble. They are simple and make the perfect addition to this already classy ladies evening style.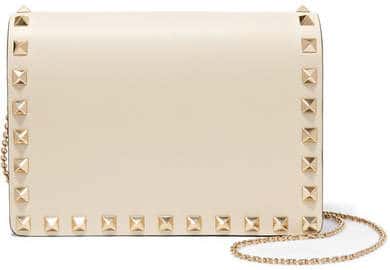 Finally,  to complete this fashion magazine collection, we added this Valentino Rockstud Handbag in ivory. The ivory and black duo style is very unique since both colors are so boldly different, but the ivory is a feminine color and when mixed with black, it will give you a strong feminine energy that everyone will love. So be bold, and get this edgy ladies evening style today.
SHOP MORE EVENING STYLE NOW!!!