Kona Kai Resort & Spa on the beautiful Shelter Island in San Diego, California. Surrounded by peaceful blue sea and wide open air space, this sweet escape will capture your senses and calm your spirit. Enjoy the serene colors throughout and the perfect architecture of this beach side resort.
Whatever your desire; pool side, beach, adventure water activities, or R & R, Kona Kai Resort & Spa  offers every guest the perfect array of options to choose from to make their San Diego vacation complete.
Guests can dine at Kona Kai's newly enhanced Vessel restaurant, which offers New American cuisine expertly prepared by Executive Chef Roy Hendrickson, served in a casual, chic atmosphere serving breakfast, lunch and dinner. Of course, you can always enjoy the social bar for refreshments and spirits of your choosing while enjoying the scenery of yachts and personal sea vessels just steps away in the marina. Personal docks are available for rental as needed for guests who are boating in from elsewhere in the world.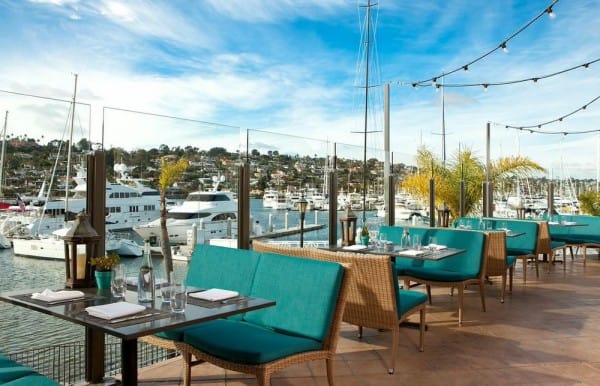 When you travel to San Diego, if R & R is on your priority list, set amidst the resort's captivating beach and marina, SpaTerre features six treatment rooms, two manicure stations and three pedicure thrones. The 7,020 square foot spa offers a couples suite, "Zen Den" relaxation room, Vichy wet room and state-of-the-art fitness center with MATRIX and TechnoGym equipment. Fitness classes and a spa boutique are offered in addition to the spa and fitness center.
SpaTerre offers an assortment of unique signature treatments including the Sandor Poultice Therapy, performed on Crystal Quartz Table and found locally only at SpaTerre. This therapeutic, heated alpha-quartz sand bed is based on the ancient Greek concept of 'psammotherapy', which uses warm sand to alleviate pain and promote comfort. The soothing massage combines warm sand poultices and aromatherapy oils to alleviate pain and promote comfort, instantly melting away tension and regulating energy flux. The spa offers other treatments including The Balinese Massage, The Javanese Royal Treatment, The Royal Massage, The Heated Sand Box enhancement, Deluxe Facial, and Piña Colada Pedicure, and features more than 18 different spa product brands.
For more professional getaways, Kona Kai Resort San Diego can accommodate any need whether on the beach side terrace or in one of their large ball rooms catering to larger groups and private events.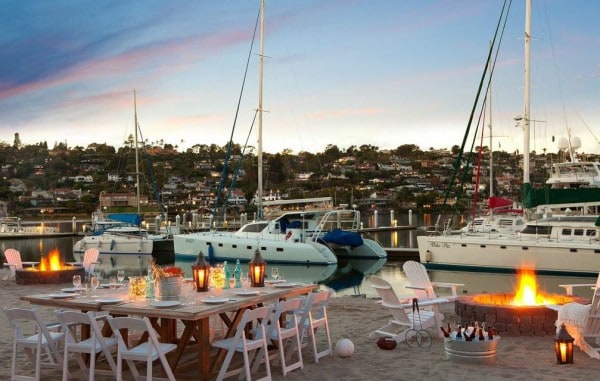 Fall in love at Kona Kai Resort & Spa. Where the sun and sand can make you forget the rest of the world while you indulge your senses in calm relaxation, or exciting water activities. Powerboat rentals are the best way to see all sights of San Diego Bay, the downtown skyline and the Coronado Bay Bridge. Experience the high speed thrill of our three person sit-down type personal watercraft wave runners. Another great way to explore Shelter Island and surrounding San Diego Bay is by bicycle also available for guests. Helmet and bike lock are included with the rental free of charge. Hit the pavement and catch the sights of Downtown San Diego and the beautiful Shelter Island landscape with a unique Segway rental.
From start to finish your dream vacation when you travel to San Diego will leave you feeling satisfied and refreshed. Kona Kai Resort & Spa is truly a gem available for all the world to see and enjoy. Book your reservation today!
Kona Kai Resort & Spa
1551 Shelter Island Dr, San Diego, CA 92106
619-221-8000