Are you seeking a luxury condo in Miami? Maybe you're thinking about a condo on the beach or close to the beach. Perhaps you're wishing for an apartment with superb views and in a prime location within Miami. You are in the right place. This article is for someone like you. Someone who is looking for condo buildings in Miami with specific luxurious needs in mind. If this sounds like you, read on!
Regalia | Sunny Isles Beach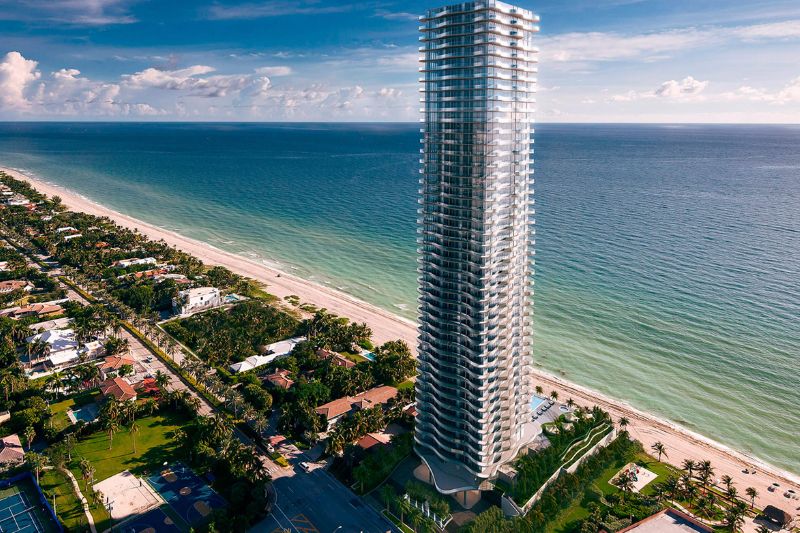 The Regalia Condo Miami is our number one building on this list. This doesn't mean it's the topmost amongst the four luxury condo buildings. But without a doubt, the architectural design of this beachfront condominium is spectacular. It has the best ultra-luxury condo units with the finest amenities and unparalleled elegance. Besides that, it features unique characteristics not seen before in any skyscraper around Miami. 
Thanks to its masterpiece and contemporary design, the Regalia Miami Condo complex won the Best Residential High-Rise Development in the U.S.A. by the International Property Awards in London.
The Regalia Miami has 46 floors and 39 condo residences. Each floor houses one unit with a spacious indoor space area of 5515 square feet and a terrace space of 2100 square feet. Also, residents have access to an exclusive spa center, an infinity-edge swimming pool, a billiards room, and a private beach, among others. 
Muse Residences | Sunny Isles
For those who prioritize luxury, location, and quality construction, Muse Residences in Sunny Isles is the perfect option. This high-end lavish building offers only 68 residences, ensuring that each occupant has plenty of space. The two- and three-bedroom units range from 2,360 to 6,106 square feet, providing plenty of room for families or individuals who want extra space. Every unit comes with advanced Smart Tech 2.0 state-of-the-art technologies.
The exquisite Residence is in a beautiful bay line between coastal waterways and the Atlantic Ocean. Muse condos offer occupants what they've always dreamed of: relaxing sunny days and white sand beaches and the vibrant nightlife of South Florida. The development of this glamorous building is the work of two companies: Property Markets Group and S2 Development LLC., renowned for their work on exclusive residential buildings worldwide. Carlos Ott and Sieger Suarez designed the architecture while ANTROBUS + RAMIREZ handled interior design, giving each unit a modern yet comfortable feel.
57 Ocean | Miami Beach 
As night falls, the Miami Beach skyline twinkles to life. The city comes alive with vigor and excitement. Amid this glamor, one building stands out: the 57 Ocean Miami Beach complex. The stylish residence is the beacon of luxury and refinement in this extravagant city. From its prime location on Millionaire's Row to its 18 stories of unobstructed ocean views, 57 Ocean is in a class by itself. It has 81 units, designed with meticulous attention to detail. 
They designed the units at 57 Ocean with one thing in mind: your comfort and enjoyment. Whether you choose the one-bedroom condo or the four-bedroom, they all have floor-to-ceiling windows with sweeping views of the Atlantic Ocean. The kitchens come with top-of-the-line appliances and marble countertops, while the primary bathrooms feature floor-to-ceiling stone. 
The amenities at 57 Ocean Miami beach residences are second to none. They include two infinity pools, a state-of-the-art fitness center, and a wellness pavilion spa. Residents can also unwind in the thermal suite or the sauna. No matter how occupants of this condo spend their time at 57 Ocean, they will have an unimaginable experience.
Eighty Seven Park | Miami Beach 
Eighty Seven Park Miami Beach is a recent development on the edge of North Beach's Oceanside Park and the Atlantic Ocean. The luxurious condo building features seventy elegant homes designed by world-renowned architect Renzo Piano.
The condo home design at Eighty Seven Park maximizes natural light and airflow. This enables each unit to have a refined living space that feels spacious and serene. Also, the residence features a private garden, where residents can host outdoor celebrations like listening to poetry, and music or engaging in a tai chi session.
Eighty Seven Park Miami is more than just a collection of beautiful condos–it's a community. There are plenty of amenities for residents to enjoy, including a swimming pool, fitness center, and enoteca. And with its ideal location, residents can easily enjoy all that Miami Beach offers–from the white sand beaches to the world-class restaurants and shops.
Final Remarks
Whether you are looking for a luxurious setting to call home or just a place to enjoy the Miami Beach lifestyle, the condo buildings mentioned above are excellent choices. They offer different unique styles and amenities, and apart from that, all four provide residents with stunning views of the Atlantic Ocean.
If you want a unique experience, 57 Ocean is perfect. For those who want to be at the center of the action while experiencing a sense of tranquility, Eighty Seven Park is ideal. And if you are looking for ultra-modern and comfortable settings, choose either Regalia or Muse Residences. Whichever you choose among these condo buildings, you will have an unforgettable experience.