Every room is a blank canvas in which we may create the design of our choosing. An opportunity to bring to life the vision in our hearts of what a room could be. We offer you some helpful hints to create the perfect luxury master bedroom that becomes your sanctuary. First, you will want a beautiful bed that invites you into its comfort. You will love this selection from luxury interior design specialist Juliettes Interiors in London.
Your master bedroom must be welcoming and comfortable from the moment you enter the space. This is the one room in the home that should make you feel most at ease and invite you to relax.
This luxury master bedroom suite offers an air of elegance and grace. Made for a king and queen, expect opulent style and quality craftsmanship.
An Extravagant Luxurious 4 Poster Bed
If you are seeking the focal piece of a lavish bedroom, look no further! This bed exudes opulence with curtains and cushions in ivory satin damask fabric. Soft velvet folds play against the ivory solid wood frame. Silver leaf details, ruched backdrop and silk opulent tie backs makes this an exquisite bed choice for a luxury master bedroom.
Coordinating pieces can elevate any space. As such, selecting the matching bedside table would solidify your design aesthetic. Moreover, this elegant piece has sufficient space to arrange anything from lamps to journals.
Quilted Marble Bedside Table
The High-End Bedside Cabinet transcends classical Italian design elegance. With a perfect union of materials and forms, this piece takes contemporary design to the next level. 
A hand-crafted wooden framework in an ash wood finish partners with smooth and padded, faux nubuck leather quilted upholstery of the two drawers. In addition, the drawers have an integrated soft close blumotion system for effortless closing. The inset Emperador marble top ties this exquisite piece together.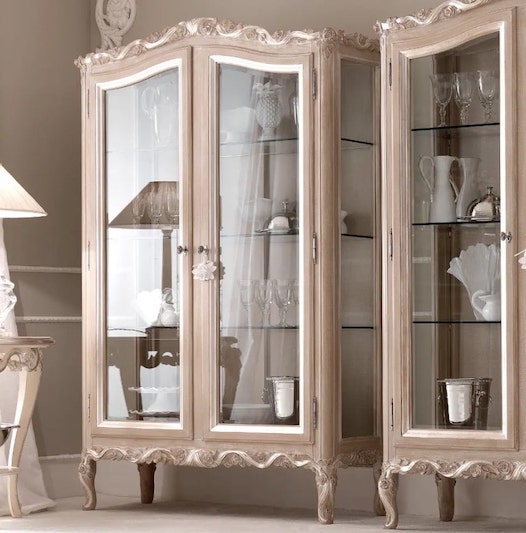 Ornate Designer Italian Display Cabinet
Delicate and romantic, this lockable display cabinet features glass shelves in a natural wood effect. Elegant hand-painted, bleached silver accents dance throughout the ribbon detail.
Create a sense of relaxation and well-being with this Luxury Italian Collection. Your master bedroom will become your private sanctuary.
Modern Designer Velvet Chaise Longue
Another key design element should be the selection of a magnificent accent piece. And it's even better when that piece serves a functional purpose. This Modern Designer Velvet Chaise Longue fulfills that design need perfectly.
Not only is this Chaise Longue striking, it suits nearly any interior.
Hand-crafted, the polished brass structure is padded upholstered with a luxury ivory velvet. The interlaced velvet and brass detailing to the head and foot of the chaise captures the eye.
Italian Dressing Table with Gold Leaf Mirror
When choosing furniture with such character, it is also necessary to blend the overall style with smaller pieces. This Dressing Table and Ornate Gold Leaf Mirror Set is an outstanding choice. Carved from solid wood, the vibrant white painted finish highlights the intricate details and hidden drawer.
Moreover, the lavish Gold Leaf Rococo Wall Mirror with its bright gold leaf creates an extra layer of delightfulness and luxury. A stunning bedroom Hollywood mirror adds the perfect touch of glamour to any living space.
Finally, to have take your luxury master bedroom to the next level, try these interior design tips. Make sure your room is well-ventilated. Choose the appropriate lighting for the room. We suggest subdued evening lighting with natural light during the day for optimal effect. Top off the look with some greenery or fresh flowers. Indeed, your sanctuary awaits!