Today we shine our Celebrity Spotlight on the multi-talented Justin Timberlake. A mainstay of the popular music scene for over two decades, Justin Timberlake first sang his way into our hearts as a member of the Mickey Mouse Club in 1993 and 1994. Starring on the sketch show with other future Hollywood royals like Britney Spears, Ryan Gosling, Keri Russell, and Christina Aguilera, he honed his vocal skills and developed a friendship with future 'N SYNC member JC Chavez. (Image Credit: PlayBill) 
In 1995, Justin Timberlake and Chavez, along with Chris Kirkpatrick, Joey Fatone, and Lance Bass formed 'N SYNC. Together until 2002, they created 3 albums and went on to become the fifth-best selling boy band in music history. The youngest member of the group, Justin Timberlake began to build a solo career.  He has since become one of the world's best selling music artists. With four albums, Justified (2002), FutureSex/LoveSounds (2006), The 20/20 Experience (2013), and Man of the Woods (2018), he won 10 Grammy awards and earned the moniker of President of Pop. Impressively, his song, "Cry Me A River", was even named one of Rolling Stone's 500 greatest songs of all time.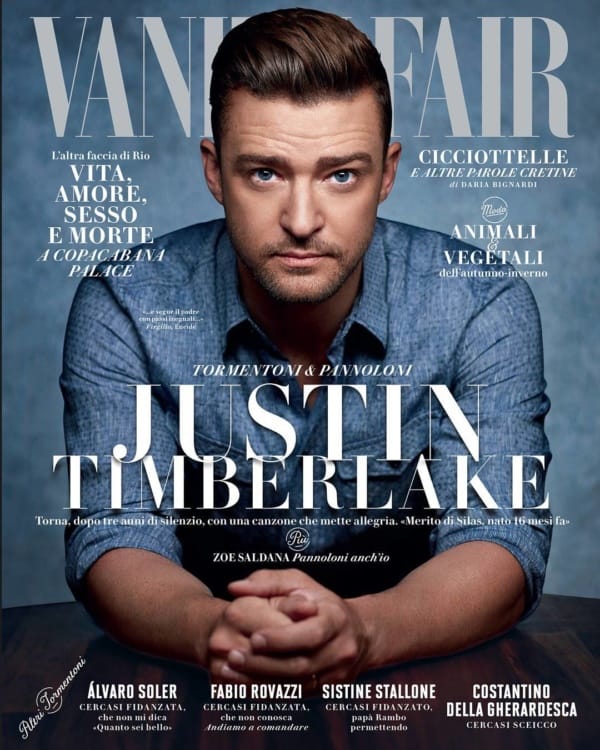 After achieving notable success in the music industry, Justin Timberlake set his sights on Hollywood. After a few small roles in television and movies, he had his first big mainstream success as Napster founder, Sean Parker, in The Social Network (2010). The following year, he proved his abilities as a leading man in the romantic comedy, Friends With Benefits, opposite Mila Kunis. In 2016, Justin Timberlake was able to combine acting with his love of music. Not only was he the voice of Branch in Trolls, he also composed and performed the song "Can't Stop the Feeling".
Some of his other notable acting works include: Shrek the Third (2007), The Love Guru (2008), The Open Road (2009), The Social Network (2010), Bad Teacher (2011), In Time (2011), Trouble with the Curve (2012), Inside Llewyn Davis (2013), Trolls (2016), and Wonder Wheel (2017).
Justin Timberlake has also parlayed his experience with sketch shows into becoming an extremely entertaining host of Saturday Night Live. An audience favorite, he was welcomed into the "Five-Timer's Club" in 2013. He also has received 4 Emmy awards for his stints on the show. 
This pop icon and movie star is also a philanthropist. An avid golfer, he has hosted numerous golf outings to benefit different charities, most notably Shriner's Hospital. He has had involvement in charitable giving to Haiti, Hurricane Sandy victims, and the community of Manchester following the arena attack. In addition to his busy schedule in movies and music, Justin Timberlake is a devoted husband to wife, Jessica Biel and father to son, Silas. Both parents are protective of their son's privacy but on Justin's newest music tour, the entire family has been traveling together. 
Fans of Justin's Timberlake can look forward to him reprising his role as the voice of Branch in Trolls World Tour, due to hit theaters in 2020. Can't wait that long for a J.T. fix? Be sure to catch this multi-talented celebrity on his Man of the Woods tour, running until January 2019.