ABOUT VOL
Vol is a Romanian brand based in Bucharest, selling exceptional dresses, jumpsuits, jackets, skirts, tops and blazers. Minimalistic in their approach to fashion, they do not forget the details in the ensembles. On top of that, the collections are timeless and made only of extraordinary and high gloss fabrics. Wearing a Vol dress or outfit accentuates a woman's curves, and structured to hug her body and bring out her sexiness; truly making her feel classy, empowered and up to date for the highest standards of high fashion. Let's look at 5 highly crafted designs from Vol that you will want in your closet!
POCKET DENIM JUMPSUIT (Pictured Above)
The first uniquely detailed and super cute jumpsuit we have here is this pocket denim jumpsuit. Made of 100% cotton and 100% leather, it's not just comfortable, but elegant and stylish as well. Additionally, it is lined with 95% cotton and 5% spandex so you need not worry about some room to stretch. It features a cut in the middle exposing sides of your waist that give you a discreetly sultry vibe. Furthermore, it has detachable pockets! How cute and convenient when you decide to leave your bag at home and only bring few necessities. Also, the decorative stitching that forms a V at the shorts enhances your hips and gives it a lot of personality. I can imagine this outfit at a summer beach party with cute gladiator sandals. It can also be worn at more formal events topped with a black blazer for a good contrast, and heels.
SMOOTH OPERATOR LEATHER DRESS
The second dress we feature here is this sultry, feminine and flirty smooth operator leather dress. Made of 100% lamb skin, and lined with 95% cotton and 5% spandex, it sure is a combination of luxury, comfort and style. Moreover, it gives you the stretch you need to feel less confined while still embracing and contouring your hourglass silhouette. Femme Fetale is the name of this dress. I can imagine a James Bond lady wearing this stunner. Pair it with strappy stilettos for a formal event or even black leather boots and dark jewelry to give it an edge in a more artsy casual event.
SCORPIO LEATHER JUMPSUIT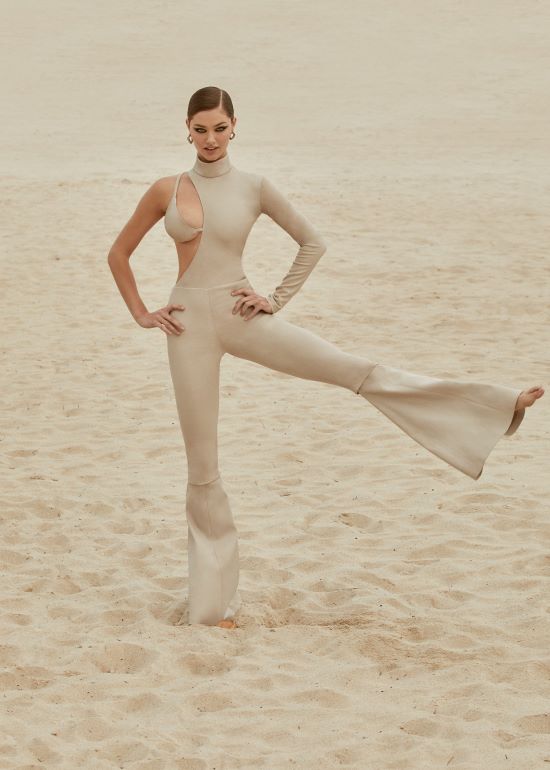 The third very unique, authentic and futuristic jumpsuit we present to you is the Scorpio leather jumpsuit. Made of 100% lamb skin, and lined with 95% cotton and 5% spandex just like the previous piece, this jumpsuit is all about elegance, grace and pleasantness when worn. Furthermore its features include detachable flared pants that give a 70s vibe, a half bikini top hybrid and a turtle neck, which makes it in contrast, modern and chic. Bold, ultra deadly sexy just like a Scorpion, this summer outfit is sure to sting anyone who eyes it, in a sweet and indulgent way of course! I can imagine this outfit for an evening pool party in Malibu with heels or at a disco themed party, paired with neon heels and jewelry.
PALOMA BLANCA SILK DRESS (to the Right)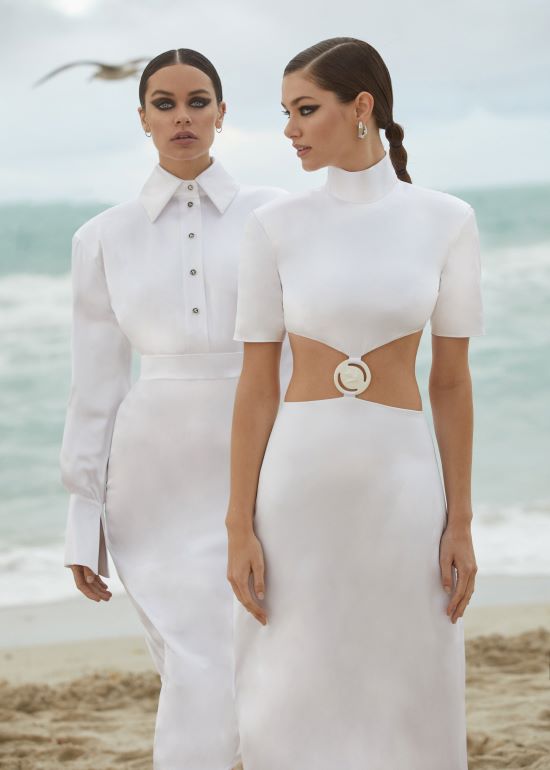 The fourth gorgeous and fabulous dress we show you here is this elegantly sexy Paloma Blanca silk dress. Made of 100% silk, lined in 100% polyester and accessorized in 100% porcelain, this masterpiece speaks delicacy, daintiness and femininity. It features a turtle neck which makes it look slightly modest, a porcelain circle detail attaching the skirt to the top part of the dress. Additionally, the sides of your stomach exposed gives such a teasing sexy look. I can imagine wearing this dress to a wedding reception, or even a wedding dress itself! It can also fit into any extravagant gala night paired with amazing jewelry, embellished pumps or stilettos and you will look like a goddess.
SAND CORSET SHORTS
The fifth and last set we have here is the sensual and body enhancing  Sand corset shorts. Made of 76 % virgin wool, 12% linen, 12 % silk and lined in 100% polyester, it give your hips and butt a great shape plus the texture of the corset feels great, comfortable, and smooth. It features the Loro Piana signed fabric and two detachable accessories that create an effect of lengthy slim legs. In addition to that, this is just the perfect casual summer shorts! Pair it with the sand vest and you will have the perfect classy summer outfit. It can even be worn in the office topped of course with a more conservative blazer and black pumps for a good contrast.
There you have it! 5 luxurious and minimalist pieces from Vol shop. Grab your unique piece now and wow your friends and family. To look at more minimalist pieces we've written about before click here.