Hello ladies! It's the holiday season and we want to share some beautiful fashion and style inspiration with you so you can really get into the Spirit of Christmas. Of course, we love red, since it's also the color of love. So let's get started so you can get the look!
First of all, you'll want to start with this perfect Christmas dress. We selected this red bow dress from Givenchy. It's soft and delicate material exudes a feminine flair, while being completely classy. Made in Italy, this lovely design features a tied neckline with a dramatic bow detail, a subtle slit at the chest, framed by half sleeves. Falling to a mid-length with a straight fit skirt, the dress is finished with a concealed rear zipper.
Furthermore, you'll want the perfect jacket to complete this stain dress style. We opted for a long jacket by Eileen Fisher. This fabric is simply fabulous, and when paired with satin it creates a fantastic dimension to the look. This unique elongated style is great for easy layering. Plus an open-front jacket instantly elevates any look with the soft shimmer of luxuriant, silk-infused velvet. Everybody will ask where you got both the dress and the jacket! Be sure to tell them; after all, sharing is caring!
Equally important is the shoes for this style. We selected velvet high heels from Christian Louboutin. Obviously the red sole is perfect match, and the velvet ties in with the jacket in a truly happy fashion marriage.
Furthermore, we want you to have the perfect purse for this stylish ensemble. We went to the Vessel Faux Leather Tote to get the perfect handbag. It will keep all your feminine essentials securely in the bag, with inner pockets for your handy must haves. There is also a slim tethered zip-top pouch that can be removed and carried separately when you want to travel light.
Since the fashion world also offers amazing accessories and jewelry, we made some selections you are going to love. Notably is this stunning 18K white gold and stainless steel jubilee Rolex watch for women. The white diamond bezel makes this the perfect watch for this classy style.
In fact, this watch will match perfectly with these diamond double marquise earrings we know you're going to adore. You can wear them for professional or social occasions. Traced in pavé diamonds, these exclusive marquise drop diamond earrings in 14K white gold add endless shimmer to any look.
Then of course, you'll want to get the perfect sunglasses to go with it all. We opted for the Jerry style by Saint Laurent. This particular design offers a unique and original elegance that says, "I set the trend, not follow it." Style is always about pushing boundaries and showcasing your own uniqueness in everything you wear.
Additionally, for those cooler days and nights, you'll want to keep your pretty fingers warm. We selected these velvet gloves that make the perfect mate to the velvet in this style. Get yourself a pair of timeless gloves that add a whimsical effect to this ensemble. Not to mention, they are made from velvet – this season's most-wanted fabric.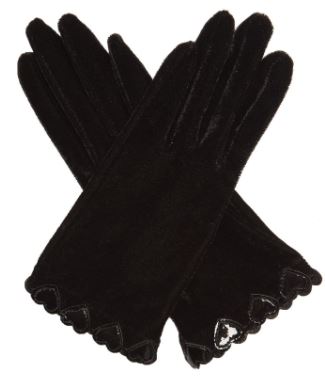 Finally, you'll have to get the "Girl, you're a boss," cellphone cover, since any girl who has the confidence to rock this ensemble, is definitely a style boss in our book.
Every season is the season to be your best self. From the inside out, your natural radiance should shine from the beauty of your heart and your style should match!
SHOP MORE FASHION AND STYLE NOW!!!