Beverly Hills, CA
90210
Average Home Value: $5,627,769
Beverly Hills is a city in Los Angeles County, California, United States. With a population of 34,109, it is home to numerous Hollywood celebrities. Beverly Hills is entirely surrounded by the city of Los Angeles. Famous for its shopping on Rodeo Dr, its dining at its finest and gorgeous estates and mansions…Beverly Hills is one of the most glamorous places to live and is home to some of the most expensive homes in the world. Find your new home in Beverly Hills now.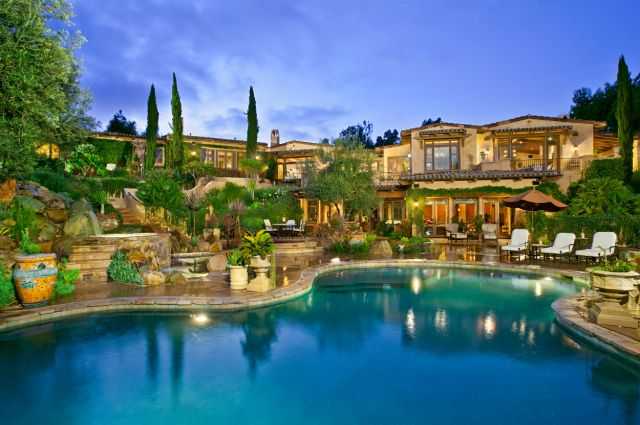 Rancho Santa Fe, CA
92067
Average Home Value: $2,982,609
The Elite community of Rancho Santa Fe is located four miles inland from the Pacific Ocean in northern San Diego County, twenty miles north of Downtown San Diego. The Covenant and its neighboring San Dieguito River Valley environs are within the unincorporated areas governed by the County of San Diego, giving this unique community an exclusivity and privacy like no other. With winding roads, horse properties, some of the most expensive houses, as well as bright green pastures, Rancho Santa Fe is surely a piece of Heaven on Earth. Buy real estate in Rancho Santa Fe today!

Malibu, CA
90265
Average Home Value: $7,421,371
Malibu is an affluent, beachfront city in northwestern Los Angeles County, California, United States with an exclusive city population of 12,645. Malibu consists of a 21-mile strip of prime Pacific coastline. The community is famous for its warm, sandy beaches, and for being the home of many Hollywood movie stars and others associated with the entertainment industry.

Del Mar, CA
92014
Average Home Value: $2,732,244
Del Mar is known internationally for its premier race track and Thoroughbred horse meet. Near perfect weather year-round attracts a steady stream of repeat visitors and relocates who come to town to enjoy miles of Coastline, two beautiful beaches, the famous Torrey Pines State Reserve and outstanding dining and shopping in a quaint Tudoresque village, dotted with historical cottages and the finest in innovative architectural design. Ever popular as a small resort, Del Mar provides the best in coastal living at the northern gateway to San Diego. Find California homes for sale in your favorite zip code.

Montecito, CA
93108
Average Home Value: $4,494,756
Montecito is an unincorporated community in Santa Barbara County, California with a population of just under 10,000. Tucked between the mountains and the sea and boasting a near-perfect year-round climate, Montecito has become one of, if not the most exclusive and attractive communities offering some of the most extravagant dream homes in the world. Home prices begin at nearly $2 million and go up to $45 million and more. Along with a coterie of movie stars and celebrated authors, some dozen billionaires either call Montecito home or maintain second homes here.
Contact Maddison Estates To Buy, Sell, Or Build Your Dream Home!

Coronado, CA
92118
Average Home Value: $2,157,258
Welcome to Coronado, one of the most unique and beautiful beachfront cities in the world! Measuring only 13.5 square miles and located just minutes from downtown San Diego, this enchanted "island" has it all – beaches, parks, numerous recreational activities, highly rated schools, top notch municipal services, a wonderful climate and an ideal location. It's an ultimate luxurious travel destination and of course, a lovely place to call home.

Brentwood, CA
90049
Average Home Value: $4,234,760
Brentwood is a district in Western Los Angeles, California, United States. If you're a regular supporter of the arts and enjoy outings to the theatre, weekend boutique-ing, or even a finely aged wine with dinner, than you're in good company. The people here truly stand out as a class among their own. They are an exclusive community characterized by refined tastes, cultural inclinations, and the means to live well.

La Jolla, CA
92037
Average Home Value: $2,881,070
La Jolla is the most famous neighborhood in San Diego. It is home to the University of California, San Diego, La Jolla is part university town, part artsy and part historic. Rising abruptly from the coast, La Jolla has many large expensive view homes. According to tradition, the name La Jolla (pronounced la-HOY-a) derives from a Spanish word, la joya, meaning "the jewel." In one sense the claims of tradition are more accurate than those of research, for the town is indeed a Jewel. Not to mention, some of the finest real estate homes in the country too.

Tiburon, CA
94920
Average Home Value: $1,842,296
Tiburon is an incorporated town in Marin County, California. It occupies most of the Tiburon Peninsula, which reaches south into the San Francisco Bay. The city's name derives from the Spanish word tiburón, which means "shark". The name was first given to the peninsula on which the city is situated, and probably inspired by the prevalence of locally native leopard sharks in the surrounding waters. This quaint neighborhood set amidst the mountain tops of Marin County, offers a relaxing atmosphere and much to do with family and friends all year long.

Newport Coast, CA
92657
Average Home Value: $5,014,192
Newport Beach, incorporated in 1906, is a city in Orange County, California. Located along a stretch of coastal real estate on California's coast, Newport Coast is a one of a kind community. With home values extending to 30-50 million, the properties are breathtaking. Enjoy sandy beaches, restaurants galore, and endless sunny days, Newport Coast is the epitome of Southern California Coastal living. It offers the best of everything, and makes a great 2nd or 3rd home community for many.