Everyone gets excited about receiving business gifts; it could be a small or big thing, but the thought behind the gesture matters most. Such is the excitement of employees when their anniversary with the company is getting near. Choosing a gift from a list of excellent stuff gives one immense anticipation.
The same goes with loyal clients who have patronized you from your business' inception. Those who stuck with you through thick and thin deserve a well-thought-out gift during special occasions like company anniversaries or national holidays.
Big or small businesses should take advantage of giving gifts to people who matter to them. It's a way of showing appreciation and gratitude that could also boost the company with its goal of building a positive brand image. A new hire welcome package for your recently employed workers can boost their motivation."
Luxury corporate gifts serve many purposes to companies. Even if it entails a cost, it's a worthwhile one that would eventually translate to something positive for the brand. Here are some of the corporate gift's benefits:   
It improves team member performance and loyalty  

It reduces team member turnover  

It ensures continuity of partnership with clients  

It increases brand recognition  
There are so many options for luxury corporate gifts, but the one that truly resonates with the receiver is a gift they would be able to use personally. Not just something that would be displayed and gather dust at home.
Globally, personalized gift sales are continuing to increase. In 2019, it was valued at USD$23.5 billion and was projected to reach USD$34.3 billion by 2026. It is not dwindling anytime soon because it has been a time-honored tradition and culturally ingrained in many businesses.
Lately, fashionable business gifts have been making waves. It's worth investing in because receivers will be more than happy to flaunt it, giving brands a wider chance of being recognized when these gifts are worn. If your company plans on providing corporate gifts to clients and employees, here are some fashionable ideas to help you get started:   
 Luxury Leather Bags And Accessories
Leather bags are something many people would be glad to receive. And leather bags embossed with your company logo and name will be something nice to tote around. Different types of leather bags are customizable to fit your client and staff profiles. You may also customize one based on your budget. Of course, larger pieces of leather bags would cost more, but you may also request smaller types of leather accessories that would match your marketing allotment. Here are types of leather accessories you can customize: 
Tote bag   

Suitcase   

Weekender bag   

Document bag   

Cardholder   

Clutch bag   

Cosmetic pouch   

Messenger bag   

Satchel   
These leather bags and accessories will be utilized for a long time as leather gets more character and personality as it gets used more. And genuine leather is something many people would treasure and be delighted to receive. They would feel extra special and a significant part of your success. And they would also benefit both genders, so their adaptability and flexibility would give you more room for your budget.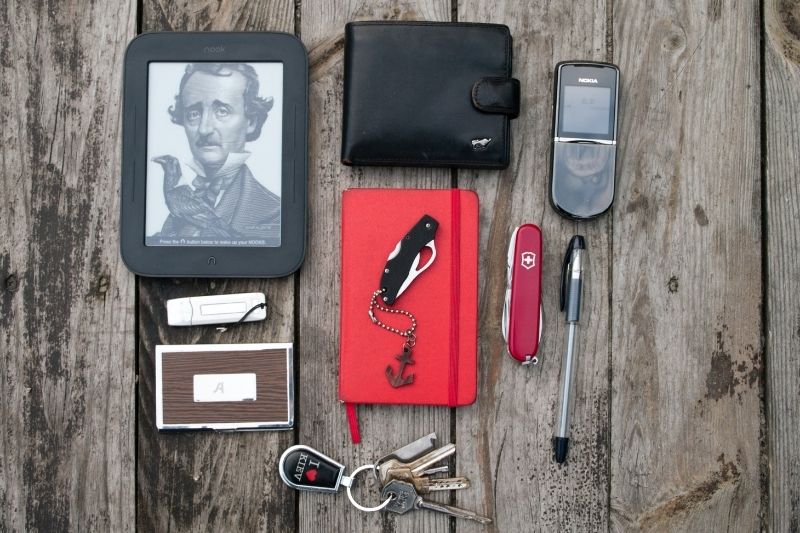 Many companies gift their team members customized watches for their company anniversaries. These are symbolic and functional, and they represent a crucial milestone in their career. Many employees look forward to this period in their corporate life, and most of the time motivates them to stay longer with the company, thereby reducing employee turnover.
A watch is a gift that a wearer will use every day. It's a necessity for many, thus giving it a spot on most people's OOTD. Many watches, especially those from reputable brands, are built to last a lifetime. A finely crafted one and cared for might even outlast its wearer and be an heirloom piece that could be passed on for many generations.   
Watches are versatile too. A classic watch design can match any outfit and be worn on any occasion. It could be something that one can't leave home without.
Technology has caught up with corporate gifting, and these days companies are gifting their employees and most relevant clients with wearable devices like a smartwatch. Smartwatches are not just trendy, but also a must-have, especially for active people who want to keep track of their health and get updated with their sports tracking.
Of course, appearance-wise, it looks entirely different from the previously mentioned elegant watch. Smartwatches have a modern interface and look very chic and young.   
They're packed and loaded with many features, including a heart rate and temperature sensor, GPS, e-wallet, music, and many apps that could help you get healthy in your hectic life. Smartwatches are also customizable with your company logo, so gifting them would be a thoughtful remembrance.   
Fashionable eyewear in a beautiful case with your brand logo is an excellent gift your employees and clients would be thrilled to receive. For your team members, you may give them the option to make it prescription eyeglass so that they can do their job easier.   

Giving your employees this option will show your concern for their welfare, and they will feel cared for and special.
Stylish hoodies with your company logo will be something your team will be proud to wear. And if worn simultaneously in a big event will create an impact that will resonate with other people and give your brand that much-needed boost.   
Sweatshirt and hoodies complement any age and gender, making it a very flexible gift. You may give your employees the option of choosing and designing their hoodie or sweatshirt so they can enjoy wearing them. And today, options to make it sustainable by using 100% organic cotton are very popular since many people are now trying to reduce their carbon footprint to help the planet heal.   

Conclusion
A company that gives back to its employees and clients reaps more rewards and is a company with a heart and appreciation of people's efforts and contributions. Giving corporate gifts, whatever size and value, may make any company worthy of admiration. It is one of the qualities companies in the Fortune 100 best companies to work for possessing. And when you choose a fashionable corporate gift, you're elevating the image and stature of your brand, and you're giving value to people who surround you in your success.