ABOUT REVICE DENIM
Revice denim is a brand created for denim lovers. It focuses on premium quality denim jeans that can be bought for only under a hundred dollars! What is the brand's main mission for its customers if you may ask? First, Revice Denim wanted to answer the question why some really good quality jeans can only be found in vintage stores. This is because jeans that were made forty years ago go through a rigorous process of creation.
Second, Revice wants to maintain quality and affordability. This is done by skipping retailers and going direct to the customers. The effect of this is less retail markup, hence lower prices and avoiding department stores which ruin quality and careful creation process of denim. Third, Revice wants to bring back the damn good old pair of jeans by recreating that vintage denim silhouettes. Moreover, bringing them into the modern day all American individual.
Let us now look at four beautiful Venus Flares Edition styles Beverly Hills Magazine handpicked for you.
DOUBLE BUBBLE VENUS FLARES (Pictured Above)
The first pair of amazing, high quality jeans featured is this Pink Double Bubble. It is made from 98 percent cotton and 2 percent elastane. In effect, hugging your hips and accentuating those curves. It also features a star stitch detail at the butt area. Furthermore, it is high waisted and front pleated. The most iconic star jeans of the 70s is embodied in this super fabulous pink Double Bubble jeans. I can imagine one wearing this in a roller skating rink in action with friends or at a Katy Perry concert.
STARGIRL VENUS FLARES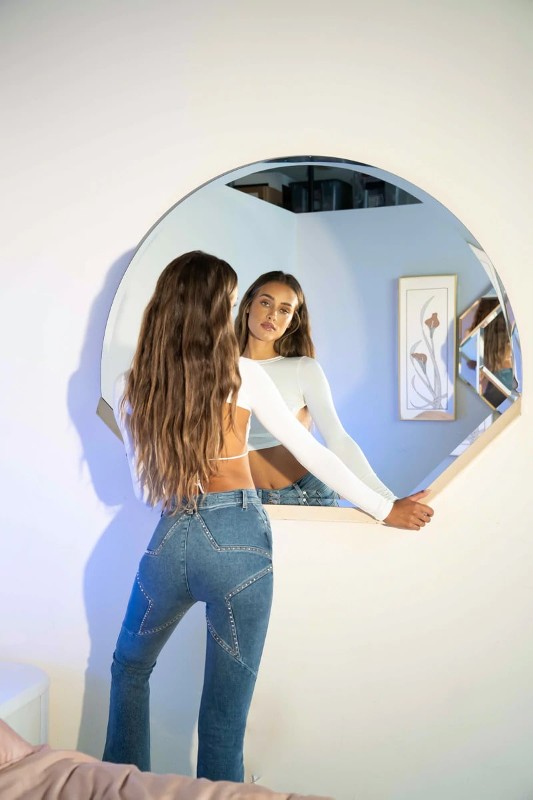 The second jeans we present to you is the star studded Stargirl jeans. Like the Doubble Bubble, Stargirl jeans has a star stitching detail on the butt, is high waisted and front pleated. Moreover, it is also made of 98 percent cotton and 2 percent elastane, making it super comfortable yet tight fitting. In effect, giving that hourglass shape and va va voom vibe to those who wear it. In addition to that, super fabulous star studded jeans is definitely an eye catcher and a sparkler. I can imagine one wearing it for a casual look at the mall to a music festival paired with a crop top.
SUPERNOVA VENUS FLARES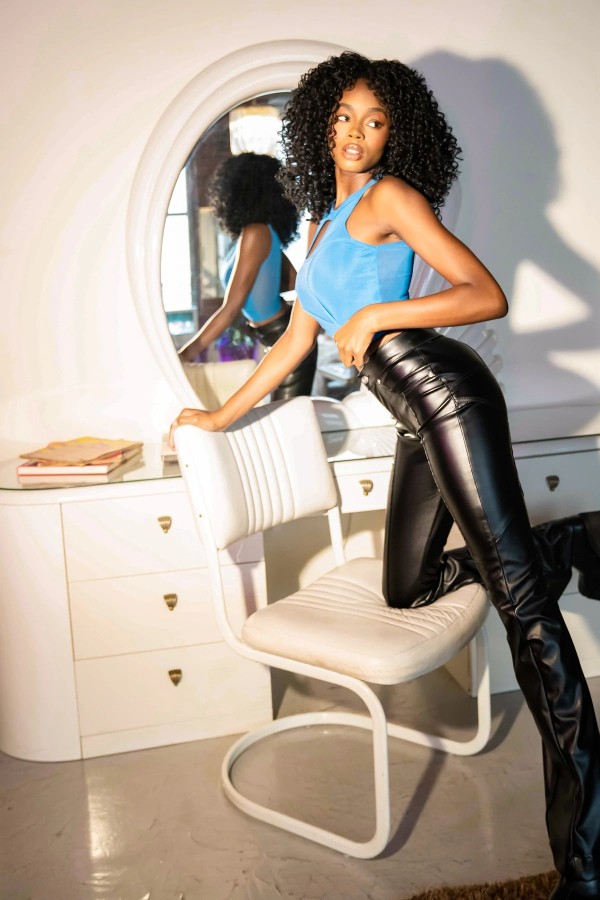 The third pair of jeans is the Supernova jeans. Again, just like the first two pairs we mentioned, this pair has a star stitching detail on the butt area, is high waisted and front pleated. The difference this pair has with the first two is that it is made from 100 percent polyester and high quality faux leather. In the same way, it is also form fitting and accentuating like the first two pairs of jeans. The faux leather makes this jeans so edgy, funky and sexy altogether. I can imagine one wearing this paired with a white tank top and stilettos with ankle boots at a local dive bar. It can also be worn with a colorful silk crop top and stilettos at a nightclub with your girlfriends.
X MARS VENUS FLARES
The forth and final pair we have here is the fiery red X Mars Jeans. Similarly, like the first three it is high waisted, front pleated and features a star stitching detail on the butt area. In comparison to the Supernova pair, it is also made of faux leather, specifically polyurethane leather which is animal cruelty free leather. Rock this hot and edgy, out of this world pair at a punk rock or metal concert. I can also imagine this pair being worn at a local art festival or museum gallery viewing.
There you have it! To sum it all up, we featured four Venus Flares Edition jeans from Revice Denim that does not disappoint in style and quality. If you are a denim lover and want to bring back jeans that do not undergo low quality, Revice Denim is for you. Go against the mainstream with your jean choices! Go Revice now. Visit their website now to see more collections.