Papinelle Sleepwear is a cozy Australian brand that makes all of their clothing out of delicate fabrics, cute colors, and pretty patterns. The company was founded in 2003 by Nicki Kelley and Renae James. The brand is famous for using ethically sourced materials. Many of the sleepwear sets are even made from 100% silk! However, none of the fashions are made from leather or fur—making them entirely free from animal cruelty. The brand is also popular among a variety of celebrities, including Jessica Alba.
Soft Nightgowns
One of the cutest things that Papinelle sells are their petite nightgowns and nighties. The nightgowns come in a wide range of lengths, strap thickness, and cleavage coverage. So, if you are into more modest fashions, you can try out a style like the one below. This pink nightgown is made of 92% modal and 8% spandex, which makes it super comfy. Since it is loose-fitting, it makes for comfortable sleepwear even for pregnant women.

Matching Sets
If you're looking for a matching pajama set, then Papinelle is still the best place to go! Some of the best pajama sets here are made with silk, like this blue and white one below. This set has a dark navy blue coloring with white piping on the edges. Unlike other silk pajamas, since these are only 20% silk and 80% cotton, they don't have an unappealing sheen to them. The fabric blend also makes it less likely to slip off.

If you're looking for something a little more casual, then these pink pajamas might be perfect for you. While these pajamas are Kate Modal knits, the design is much more relaxed. The pants of this set have an elastic waistband with a drawstring, so even if you buy a size that is too big, you can still wear the outfit comfortably. For the most part, Papinelle is great with returns. However, if you choose to monogram your pajamas, they cannot be returned.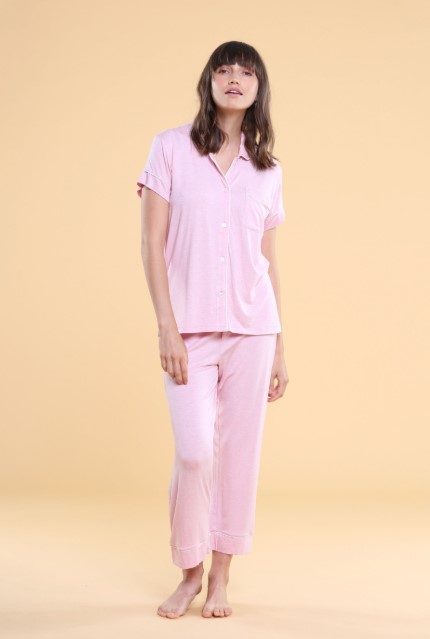 Mix and Match for the Weather
With Papinelle having so many great patterns, sometimes it can be hard to pick just one set. For example, Papinelle sells this gorgeous starred patterned pajama set. Unlike the other two-piece sets already shown, this set is made of 100% silk, excluding the buttons and elastic waistband. This makes this, not only one of Papinelle's most dazzling designs, but also one of their most comfortable designs.

So, say you love the star pattern but it's too warm to wear a full pajama set. Well, you're still in luck! Papinelle makes a variety of pajama items with the same pattern. So, like with the set below, you can opt for a camisole and shorts instead of long-sleeved shirts and pants. If you search the site even more, you can find nighties with the same pattern as well!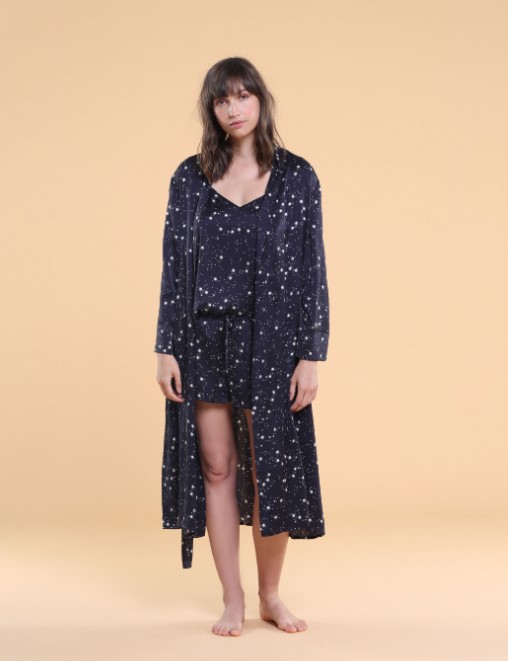 Final Thoughts
Papinelle is one of the best places to go if you're looking for elegant silk and cotton-based pajama sets. Not only is this sleepwear comfortable, but the designs are fantastic! If you want to check out more of Papinelle's styles, check out their website or follow the company on Instagram.