Though built only a few years ago, this stately London mansion looks as though it has been standing on Avenue Road for hundreds of years. A luxury home in one of the most coveted neighborhoods in the capital city would be a gem in any real estate portfolio. (Image credit: Sotheby's International Realty)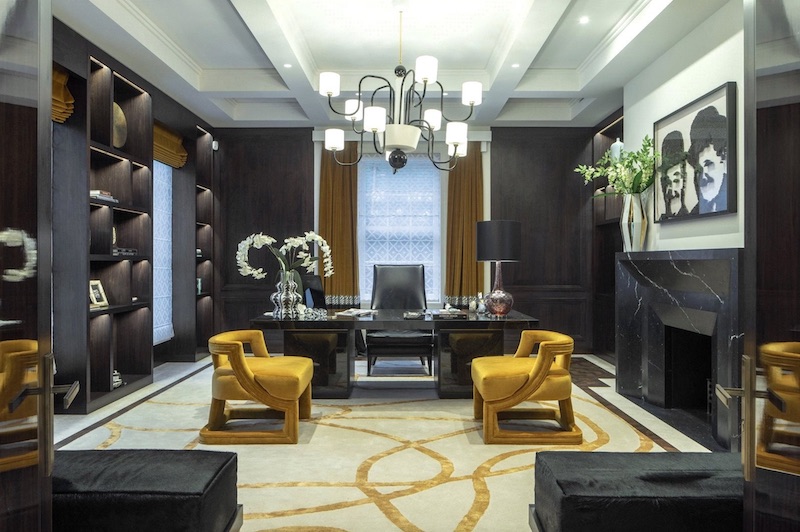 Prestigious St. John's Wood
The St. John's Wood neighborhood began in 1804. Even then, developers were interested in privacy, leaving space between homes to create a more luxurious living experience. As such, St. John's Wood attracted the affluent members of London society. This pattern continues today. In fact, the community is one of the most expensive locales in London and carries with it the expected level of prestige.  
Though St. John's Wood has evolved over the years, there are still abundant spots to enjoy the fresh air. Residents benefit from many parks, the largest being Primrose Hills and Regent's Park. And both are just a short walk from the front door of this stately mansion. Cricket players and watchers will also have no shortage of the sport as the community is home to Lord's Cricket Ground and a number of clubs. This neighborhood is also a favorite among Beatles fans. After all, the legendary Abbey Road runs right through it!
Also, located northwest of the city, St. John's Wood is just 2.5 miles from Mayfair, the hub of London's luxury. With this home, shopping on Savile Row, Michelin-starred restaurants and culture at a host of art galleries are just moments away. 
A Timeless Stately Mansion
From the tree-lined street, this stately mansion looks as though it's stood on Avenue Road for hundreds of years. Four towering Doric columns flank a solid oak door. And the brick facade seamlessly blends with the classical and Palladian architectural style. Within, however, time moves forward. A decidedly art deco flair cascades throughout the home. For instance, the central stone staircase is quite traditional. However, the floor to ceiling chandelier, which can be seen from every level of the home, sparkles with its modernity. 
This luxury home has five floors. The entry level has a formal drawing room, office, dining room and kitchen along with guest facilities. The dining room allows for easy al fresco entertaining with French doors to the garden and sunken courtyard. The kitchen is sleek, boasting Gaggenau appliances and a contemporary design. 
Contact Maddison Estates To Buy, Sell, Or Build Your Dream Home!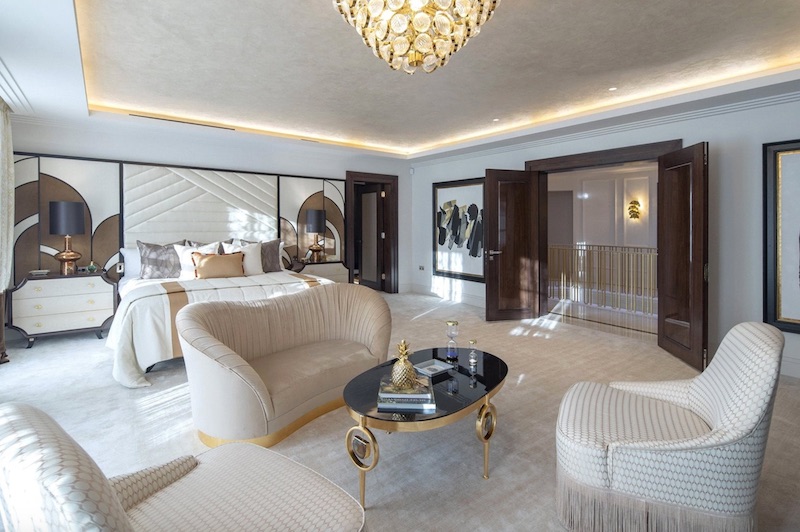 The remaining upper levels contain bedrooms each with ensuites. The master, on the first floor, overlooks the garden. Not only does it have a spacious, walk-in dressing room, this homeowner's retreat features two marble bathrooms. The remaining bedrooms also have dressing areas and built-in wardrobes. 
With 25,000 square feet of living space, a mansion of this size and prestige is likely to require staff. As such, a three bedroom/three bathroom staff quarters make up one level of the home. In addition, it has a sitting room as well as a fully-equipped catering kitchen. A separate entrance and discrete service stairs assure privacy for homeowners.  
Extraordinary Extras
While the top floors contain all the elements one would expect in such a stately mansion, the lowest level has a wealth of excitement! The 46-foot pool is surely the focal point. Perfect for laps or lazing, it is capped by a jacuzzi and surrounded with an abundance of seating as well as a bar. 
This downstair entertainment level also has an in-house spa with a sauna, hammam, treatment room and dressing room. The spacious 12-seat home theater will make a phenomenal spot for movie night. And oenophiles will love the two climate controlled wine cellars. In addition to an underground garage with room for four cars, this London dream home even has a hydraulic car lift. And if safety and security is a priority, this level has a biometric security technology room. 
And remember the crystal blue pool? The underground game room actually has a series of windows that look directly into the waters of the pool!
This stately mansion is a unique fusion of old world and new. Should the luxury of London beckon, look no further than this luxury home in St. Johns Wood. 
Address: 87 Avenue Road, St. John's Wood, London, NW8
United Kingdom Sotheby's International Realty lists this luxury home with an asking price of £75,000,000 or roughly $95 million USD.