Onalaja is a contemporary fashion brand that fuses African design elements with modern sophistication. Founded by Kanyinsola Onalaja, a Nigerian who studied Fashion Design at Istituto Marangoni, London, and went on to study 3D pattern cutting at Accademia di Costume E Moda in Rome.  
Kanyinsola Onalaja founded her eponymous brand in 2015 and has showcased her brand at numerous fashion shows ever since. Recently, FarFetch launched an exclusive collaboration with the Folklore which has the Onalaja brand on it. 
Besides, Onalaja incorporates African cultural design elements into its designs like the traditional weaving craft, hand embroidery, and hand painting. All fashion pieces are handmade locally.   
Continue reading for some featured Onalaja dresses.
The Talitha Dress
This absolute sequin beauty took over 900 hours of handcraftsmanship to create. The Talitha Dress is a hand-beaded sequin dress made from hand-cut metallic Gold sheets. 
It features beaded spaghetti straps, bubble beaded straps, and side zip fastenings. Also, it's extremely lightweight so you can't feel the weight of the fabric.
Elia Mini Dress
Completely made from shiny black Aso Oke and semi-precious stones, Elia Mini Dress features a bold cut that makes it perfect for a date night or special occasion. 
With a price tag of $637.50, it's a perfect addition to your wardrobe. The dress features a center-back zipper and cut-out detailing. 
Zusi Dress
Zusi Dress is a painted abstract leopard print high neck bodycon dress. Its color scheme uses a burnt orange, pink, and multi-color brown to make the dress pop and eye-catching. Also, the Zusi Dress is accentuated with handstitched black beads. 
Although made from a lightweight fabric, its design took over 300 hours to come to life.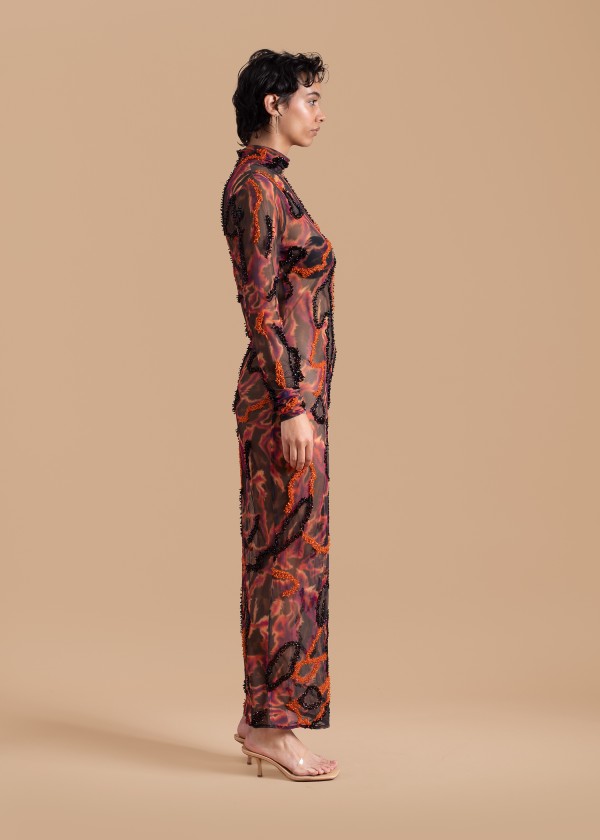 Onalaja is the brand for the modern woman, with clothing pieces that make her so confident of herself. Want to bring the modern woman in you to life? Shop Onalaja here.