Leonisa is an underwear brand located in America. More than 20 years in the business, Leonisa has expanded its reach to over a hundred countries with numerous physical stores around America, a strategic partnership with Victoria's Secret and an online store that serves the USA and Canada customers. Moreover, the underwear brand makes beautiful lingerie for women that makes them feel confident and underwear for men. 
As a company concerned with giving the best quality to their customers, they have several patented technologies they use in their fabrics to promote comfortability and uniqueness. The technologies include PowerSlim®, SmartLace®, SkinFuse® and DuraFit®. 
Leonisa has everything you need for underwear, just name it: Lingerie, Shapewear, Shaper Panties, Posture Correctors, Bras, Panties, Bodysuits, Waist Clinchers, Post Surgicals Wears, Leggings, Postpartum Maternity Wears and many more. 
We at Beverly Hills Magazine have hand picked a select few for you to buy and you can visit their website to make your choice. 
Super-Soft Moderate Compression Butt Lift Legging
Made with Lenonisa trademarked DuraFit® fabric, the Legging is designed to give all-over shaping. It features a high waistband that helps to flatten the tummy and gives the waist a natural shape. 
It can be worn during any activity e.g. dancing, jogging, walking, during workout or leisure. Moreover, you won't have to worry about sweats as it is made from moisture-wicking fabric. 
This super-soft butt lift Legging goes for $65— a purchase you won't regret. 
Mesh Stripe Sculpting Active Leggings
A customer's review of this beautiful Compression Legging is that "it holds her stuff in the right places" and that is what you would definitely get if you buy yours. 
Features a double-layered waistband to keep the tummy well tucked in and give your waist that curvy silhouette. With its breathable mesh cutout and moisture-wicking fabric, you are assured of dryness all day long. 
One-Piece Silicone Side Shaping Swimsuit
This one-piece swimwear is one of its kind. Accentuated with bold contrast designs and silicone by its sides to give an hourglass silhouette, it's the swimsuit to buy if you want to bring out your curves. 
The shaping Swimsuit has a halter neck, criss-cross straps on the back and a removable contour padding which goes for $90.
Zip Front Sculpting One-Piece Convertible Swimsuit
Do you want a Swimsuit that will shoot your level of confidence beyond the skies? If yes, this masterpiece is all yours. All for $85, you get to have swimwear that makes you feel on top of the oceans. 
The one-piece convertible swimsuit has multiway straps that can be worn classic, halter, criss-cross, or strapless. However you want it, baby! Also, its front zipper allows you to control your cleavage, contour cups with underwires for supports. And Leonisa can never forget to come through with their tummy flattening fabrics and body shaping promises. 
Multiway Skirt One-Piece Swimsuit
If all you want is comfort and coverage, Leonisa has got you. The Multiway Skirt One-Piece Swimsuit has no underwire for maximum comfort. 
Its peculiarity is its skirt that can be styled in three ways: as a skirt, as a wide waistband, and as a wrap. Get yours here.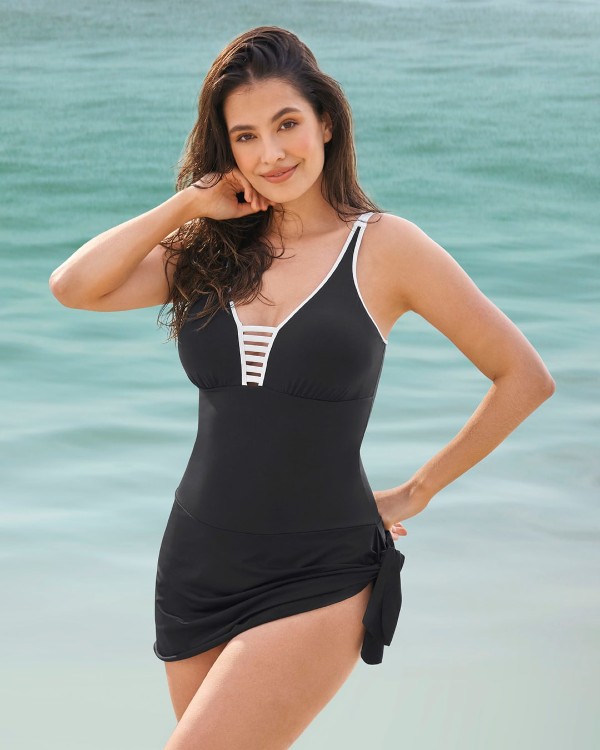 Swimwear Cover-Up Short Skirt
A handy addition to your swimwear can be worn anywhere be it the beach or the pool. The cover-up short skirt will give that extra coverage you want. 
Get the extra coverage for $25. 
Simply Comfortable 3-Pack Boyshort Panty in Cotton
Designed with the idea of a multi-tasking woman in mind, this boyshort panty offers you all the comfort you can get. 
Made from soft cotton and flat seams for comfort, it gives full-back coverage. Also, it comes in a pack of three. 
Comfortable Wireless Bralette 3-Pack
Bralettes are known for the comfort and versatility they offer. Made from SkinFuse® fabric,  it has no seams so it won't leave a trace of you wearing anything. 
Also, like the boyshorts panty, it comes in a pack of three. 
Finally, you can visit Leonisa online store to check through their wide catalogue and make your choice.