Hypeach is a fashion brand that is inspired by the coastal lifestyle of Southern California; The California Fresh style. The brand slogan "fashion that gives back"  is proven by their commitment to donating a portion of every purchase to Global Girl Media- a nonprofit organization that aims at equipping young women who are marginalized with digital media training and skills. The aim is to make high-quality apparel affordable.
Hypeach boutique was founded in Southern California by husband and wife who are business partners. They created the brand to use fashion as a force for good, and offer exceptional customer service.
A good thing to note about Hypeach is affordability. Discounts sales are offered from time to time and you get value for your money.  Good deal, right?
Here are some lovely pieces you should have in your closet from the store
SWEET THING RIBBED MIDI DRESS BEIGE:
This form fitted and feminien style is perfect for your nightly wear. It's soft and ultra comfortable. The front slit makes it extra stylish. You will absolutely love this dress syle!
BI-COASTAL WOVEN KNIT BEIGE JUMPSUIT:
This is a simple yet classy V-neck midi jumpsuit. Its woven knit material gives a snug and comfy feel. It comes with a detachable wooden-buckled belt and a back zipper closure. You can rock it simply or take it further with the right styling and accessories, either way, you are sure to look good in this. It is available in S-L sizes. 
RIBBED BLACK MIDI DRESS SLEEVELESS
This ribbed midi bodycon dress is designed to give you comfort. It has metal clasp buttons in front and the material is form-fitted. It is 65% rayon and 35% spandex. You can keep it low-key and chic or get further creative on this dress with the right accessories.  It is available in size XS-L.
LIDO ISLE CHARCOAL PETAL PANTS
These pants are a must-have. It is lightweight and easy to pair with other pieces. It has an angled side leg slit and a non-detachable front tie. The waistband is also elastic to give you a good fit. It is fresh and perfect for a busy day as it gives you that much-needed free feeling. It is available in sizes S-L.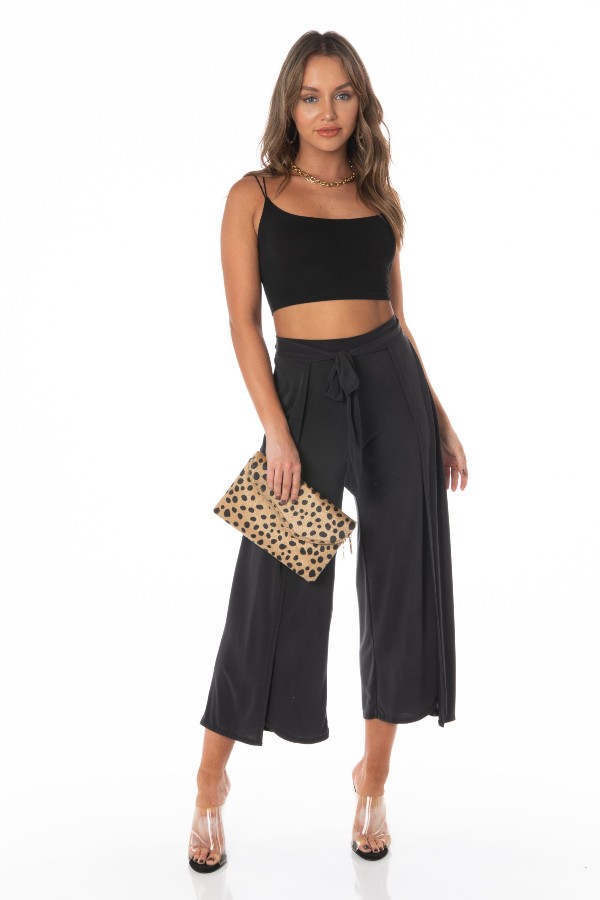 They have much more quality apparel and awesome discount offers. You can check out their website, there is always something every woman would love. 
Also, when you shop on Hypeach, you are helping to contribute to a good cause. 
 Happy Shopping Style!