BALMAIN is one of the leading names in fashion, and the brand is back at it again, releasing new beautiful designs. If you love glamour, then look no further. These styles are adorned with sequins, fringe, and other wonderful sparkling materials. Some of BALMAIN's newest and most fashionable pieces are showcased below.
Metallic Tweed Jacket
BALMAIN is famous for their padded jackets, so it's no surprise that the brand incorporated one into their newest season. The lining of this jacket is made from 100% cupro, giving it a luxurious feel. Of course, it's the outside of the jacket that holds all of the charm. The outside is made from an 88% polyamide and 12% cotton blend. The contrasting black and white color scheme gives the jacket a hint of dramatic flair. The shoulder pads and trims fit the body tightly. The metallic buttons add a final touch of flair.
Mercy Chain Heels
The mercy chain suede boots had a regal metallic flair that sets them apart from other fringe boots which usually use leather or another organic material. The chains on these boots are reminiscent of chainmail armor, which is only fitting as, "The Balmain muse is a warrior woman." The fierceness continues through the stiletto heel and pointed toe. The lining is made from goat skin, the sole from leather, and the outside from 100% suede. There's hardly a way to make these shoes more luxurious. 
Sequined Fitted Dress
If you are looking to spend a night out in a club or bar, there's hardly a flashier look you could sport than this BALMAIN sequinned fitted dress. This short dress ends just before the knees with a pencil skirt-like bottom. The inside lining is made of a silk blend, so it is comfortable to wear. The sequin embellishments cover every square inch of the dress, making for a dazzling spectacle. Other bonus include comfortable shoulder pads and an easy-to-use zipper at the back of the dress.
Sequined Padded Shoulder Mini-Dress
If you can't get enough of sequins, then try this padded-shoulder mini-dress. Unlike the last dress, this one is entirely black. This look is less fun and flirty and more powerful and confident. Imagine you are strutting down the runway at a fashion show when you wear this dress, because that's what you are going to look like! As for added details, the inside lining is made of 100% silk and there is a zipper in the back of the dress.
Textured Ankle Boot
These texted ankle boots will go well with both of the dresses on this list. Italian leather provides the shoe's sole and decorations. The stiletto heel is an impressive 3.71 inches tall. The open-toed design, laces, and metallic clasps give the heels an edgy look. A zipper on the back makes the shoes easy to take on and off. All in all, it's one of BALMAIN's most stylish shoes.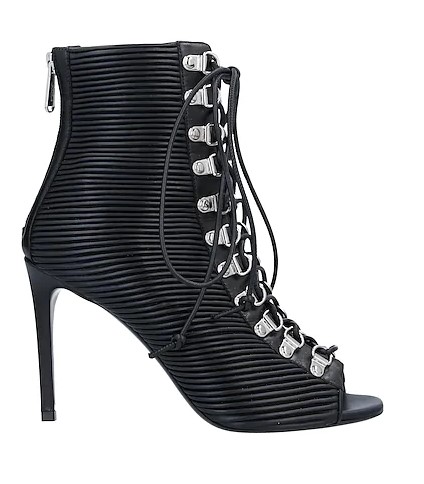 Final Thoughts
BALMAIN has been wowing women in the fashion scene for years. These new designs are sure to explain why. If you want to look confident and cool, then you can't miss your aim when you try one or all of these BALMAIN styles.
SHOP MORE FASHION AND STYLE NOW!!!