Welcome to the fashion world for men where you will learn about the hottest trends in fashion style for men. We pair some of the latest style pieces together to make your style truly unique. This compilation of stylish dress shirts for men will make you stand out from the crowd. Plus you'll love this Rolex watch to add to your collection too.
A classic style for men is always about boldness, that's why dark tones are always a fashion magazine winner. Select from one of these great options of men's collared shirts; we love this signature black dress shirt by Stefano Ricci. It's form fitting with great style, and goes well with dress pants or jeans. It even comes with cuff-links. Fashion world ready! If you don't want to wear black, try the gray Apt. 9 slim fit. It will make you look good while still keeping you comfortable.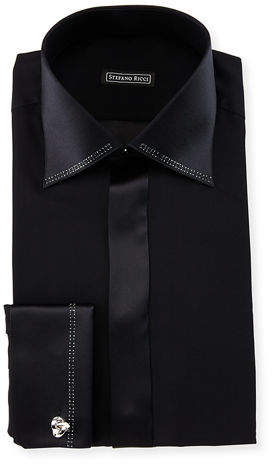 You know they say real men wear pink? Well they definitely wear burgundy and purple too. This color in the fashion world exudes power and strength. With a firm collar, square black buttons and elasticized cuff-links it's an easy go to day or night. Feeling like royalty? Grab this purple collared dress shirt by Eton. You can pair it with striped tie. True style for men is about taking risks with your wardrobe, yet standing with confidence in your own unique fashion and style.
To complete this collection, we included great accessories that every man must have. This ROLEX Deepsea blue customized watch is an excellent timepiece to compliment any look, whether it be formal or casual. Then get a men's alligator wallet in black, brown, or tan; with eight credit card compartments and two for paper money.
As a fashion magazine, we understand the key to success for great fashion and style for men. So get one or all of these items for your new wardrobe, and start looking like a fashion model today.