Kate Beckinsale is a gorgeous fashion icon who shows us how to shine with this unique Hollywood style. The centerpiece to this evening wear style is a gorgeous long sleeve gold and sliver dress by Ashish, a designer from India but based in London, whose abstract sequin embroidering is simply dazzling the fashion world with its glamorous design. Gold is a great alternative to the traditional little black dress. It makes a bold statement and exudes a unique vibe of feminine confidence.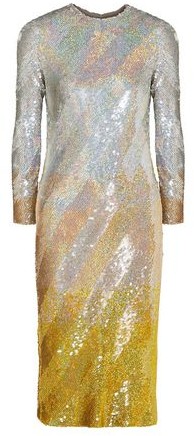 Pair this with a fabulous ankle heels by Jimmy Choo that are the hottest heel in style now. With unforgettable charm, these ombre heels can amp up any evening style and make poolside day-wear a whole lot classier. This is a one of a kind fashion blog item that every Hollywood starlet should own, or will own once they set eyes on it. It's gorgeous!!!
Since gold is the signature style favorite, get this Alexander McQueen gold & black skull knuckle box clutch with Swarovski crystal detail. It's an edgy yet elegant purse that makes a powerful fashion statement.
Additionally, add this timeless and striking  gold diamond cuff by Buccellati. Part of the 'Macri' collection, this cuff is cast from 18-karat gold and hand-engraved to create the label's signature 'Rigato' finish. It's set with 1.55-carats of round-cut diamonds and dotted with 18-karat white gold.It says elegance and style with its beautiful shimmer.
With this elegant ensemble with iconic style, you will dazzle any crowd with this gorgeous fashion magazine favorite evening wear. Go ahead darling, get in style and shine!
SHOP MORE FASHION ICON STYLE NOW!!!