ABOUT SIMA COLLEZIONE
Sima Collezione is a very high end fashion couture evening dress and gown collection. Founded by Sima Azadegan, her vision for the brand is to empower and give light and enhance inner beauty to each woman. Not only that, each intricately made dress exudes themes of love, faith, hope, compassion and charity. Mostly made of silk, embellished with Swarovski crystals and custom made for each individual, it is truly a masterpiece. Furthermore, its founder Sima, is a talented spiritual woman who, growing up went through adversities. Now, she wants to share her knowledge and love through this brand and the proceeds of the sales go to her various charities. Most of all, the dresses she has designed is not just an ordinary gown or dress. It is to make women feel unique, beautiful and see their true light within. To know more about the Sima Azadegan click here. Let us now look at 5 unique and gorgeous gowns.
THE WHITE BRIGHT CELEBRATION DRESS (Pictured Above)
The very first exquisite gown we present to you is this White bright celebration dress. Made with the finest silk fabric, this dress is all about glamour and sophistication. Additionally, it also features 450 Swarovski drop crystal stones and has over 1000 flower petals and a gray flower on the upper stomach area. Imagine the labor of love done in this dress. Moreover, it is strapless with a V shaped neckline that enhances your assets. I can imagine this one of a kind dress as a wedding dress for you! It can also be a dress worn for a once in a lifetime gala. Truly, this dress is for an extremely special occasion no one will ever forget. Pair it with white gloves and a diamond choker necklace and you will be the belle of the ball.
THE RED ROSE DRESS
The second lovely dress we have here is this sultry yet classy Red Rose dress that comes with a flower choker. Made of red silk fabric, it is smooth to the touch. Adorned with red Swarovski stones on the upper part, this gown speaks passion, love and desire. Additionally, it features an overlay of red chiffon skirt at the bottom along with small red Swarovski crystals at the same area. Lastly, infinity signs at the bottom of the dress symbolize undying love. I can imagine wearing this dress for a romantic event with your significant other in your honeymoon overseas or at any occasion which celebrates love.
THE BLACK SIGNATURE DRESS
The third dress we feature here is the Black signature Dress of Sima. Similarly made with the finest black and gray silk fabric, the quality of the dresses are top notch. It features over 60 flower appliques on the bust. Furthermore, each flower is designed differently with cabochon gray Swarovski stones. It also features a very deep V neck, and a white zigzag line at the bottom of the skirt for a good contrast of color. A black flower choker and gray long sleeves complete the classy and signature look of this work of art dress. In any formal ball, or celebrity event, this stunning dress will make a signature statement!
THE RED DIAMOND DRESS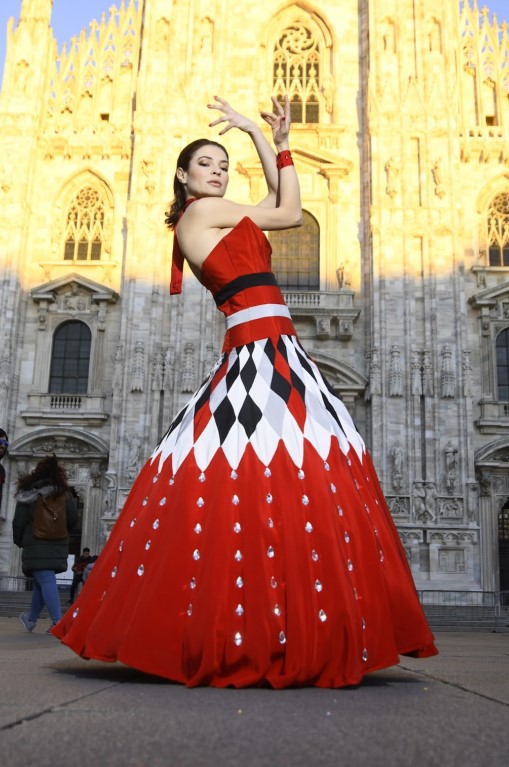 The fourth dress we have here is this stunning and eye catching Red diamond dress. Made with layers of fine black white, red and gray silk, it gives a theme of the Queen of red and black diamonds in a game of cards. Additionally, it features over 200 cut out diamond pieces that has been sewed flawlessly together. Over 250 diamond Swarovski drop stones fall from the skirt. This is a great dress of a Halloween Masquerade ball or simply a dress you wear if you want ton stand out!
THE BLUE CINDERELLA DRESS
The fifth and final dress in this feature is this dreamy and ethereal Blue Cinderella dress. Made with fine blue and white silk, it doesn't sacrifice quality just like the rest of the 4 previous dresses. Similarly, it features 500 Swarovski stones falling down from the bustier; and each of them spaced far apart to give them an individual radiant shine. In addition to that, the choker has 200 Swarovski crystals as well. The blue bows lined vertically on the bustier, the blue mermaid skirt and long sleeve give such an elegant accent that spells happily ever after, just like Cinderella. Wear this as an after gown to your wedding reception or to a friend's wedding. It can even simply be donned for any formal gathering.
In summary, we showed you 5 of the best Sima Collezione gowns and dresses for extra special occasions. They are all made with love, details that are distinct from each dress and whose proceeds go to Sima's charity. You will never ever regret investing in your own work of art. See more from their collection here and make a purchase now! To check out more gorgeous Oscar- worthy gowns from our magazine click here.