Dubai is arguably the most luxurious and 'vacationy' town in the Middle East. With so many water, land, and air activities to enjoy, it's the one place on earth that shouldn't miss on your bucket list. But such an adventurous vacation is incomplete without a stay at one of the most luxurious resorts in the region, The Fairmont Fujairah Beach Resort. (Image Credits: Fairmont Fujairah)
Perfect Location
Located in the hidden valleys of the Al Hajar Mountains, United Arab Emirates, the Fairmont Fujairah Beach Resort provides some of the most beautiful sights in the area. It sits alongside Dibba's coastal region and the magnificent Gulf of Oman, providing the ultimate blend of mountain terrain and ocean beauty.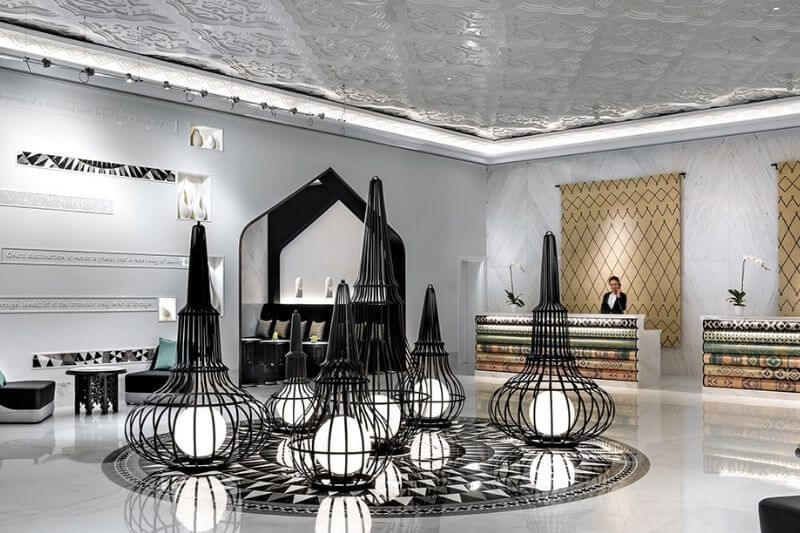 The resort is only a few minutes off the country's leading tourism hub, Dubai, and is easily accessible via road and air. Its location is one of the main reasons why tons of tourists find this the perfect vacation resort.
Rooms and Accommodation
Fairmont Fujairah prides itself on offering some of the best accommodations in UAE. With 181 guestrooms and suites, the resort provides a relaxed modern living experience for their guests. Their rooms embrace a contemporary Arabesque décor and finishing with a touch of sophisticated modern luxury.
Like all other Fairmont hotels, the guestrooms are categorized into different types. There's the Fairmont View room, Signature Terrace room, Family room, and the Deluxe Family room. Suites are also divided into; One-Bedroom Suite, One-Bedroom Terrace Suite, Two-bedroom Suite, and the Royal Suite.
All these rooms come with a private alfresco balcony, allowing guests to enjoy the breathtaking sceneries surrounding the resort. The floor to ceiling doors and the lounge chairs on the patio, also make watching the sunrises perfect.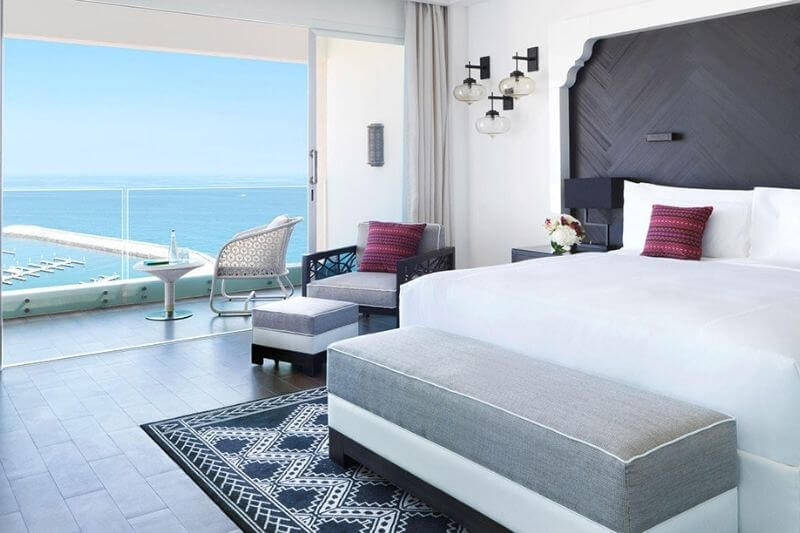 The resort also takes into account guests with special needs and abilities and avail their rooms upon request.
The rooms also come with a 42-inch flatscreen Tv, an in-room safe, coffee and tea makers, en-suite bathrooms with bathtubs and rain showers, plus complimentary wi-fi.  Room packages also come with complimentary access to the gym, kid's club, and a baby crib!
The hotel ensures that whichever room you choose, you'll enjoy stunning views of the oceans, marina, or mountains.
A ton of Activities and Amenities
If there's one thing, the Fairmont Fujairah assures you it's that you can't miss something to do at the resort. Whether you want activities for kids or adults, the resort offers it all. Among the most popular activities is enjoying full-day access to the hotel's swimming pool and beach. With two pools, including a children's pool, you'll never get tired of that scorching sun at this resort.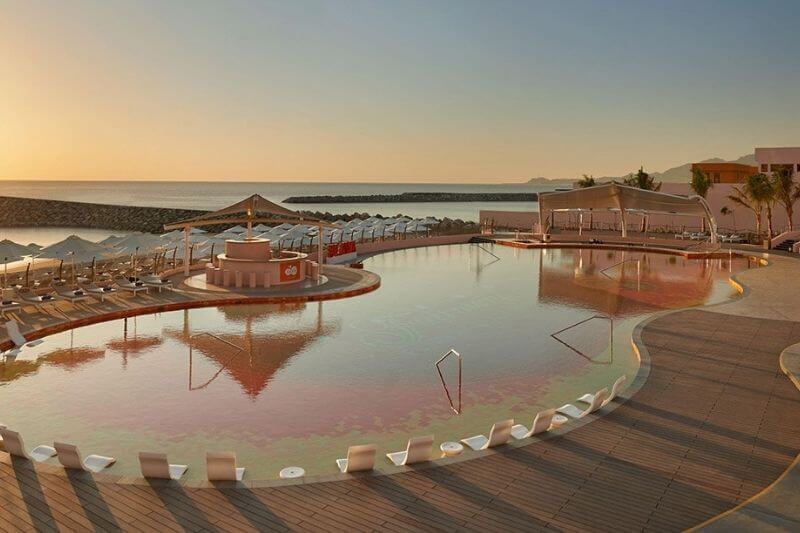 If you're looking for something more thrilling and daring, the resort also offers Jet skiing, flyboarding, kayaking, and snorkeling sessions for their guests. If watersports aren't your cup of tea, then the guided mountain bike tours, golfing, jogging trails, the Rock safari, and Hajar mountain hiking will definitely get your motor running.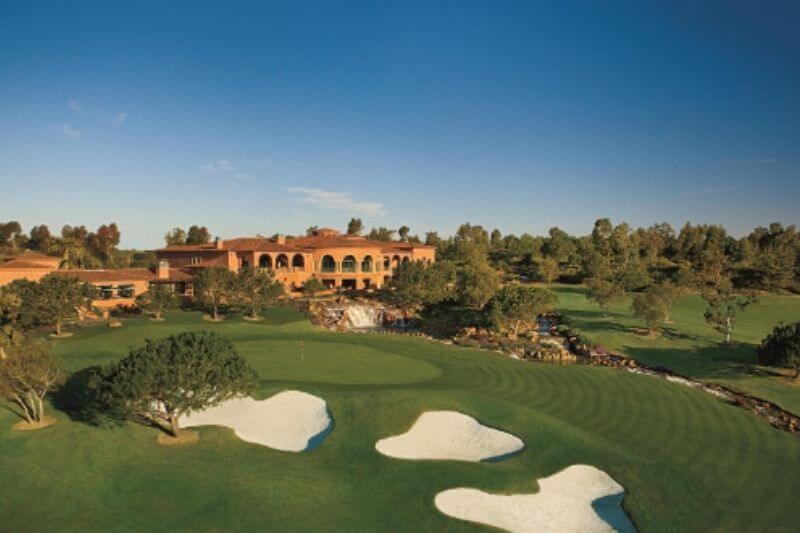 For kids, the resort welcomes children age 4-8 to a world of fun adventure games and extensive supervised programs. From face painting to arts and craft lessons, movies, sing-alongs, and rock climbing, your kid's day can't get better than this. All these happen at the resort's famous Little Sailors kids club.
Sign Up For The Free GOD Foundation Travel Portal for 60% Off Travel Deals Today & A Portion Goes To Charity!!!
Fine Restaurants and Bars
The highlight of your stay at this magnificent resort is undoubtedly the unique dining experience. With five restaurants and 2 bars on-site, guests can be sure of an experience of a lifetime. The resort embraces an eclectic fusion of Bohemian and Arabic-influenced cuisines, introducing guests to the tantalizing local and international dishes.
The Canva restaurant offers an amazing interactive experience with live cooking stations and an open spacious dining area. The Copper Lobster restaurant offers the best seafood in the area in its London-gastro bar setting.  When looking for the romantic sunset or pool-side dinners, the Lava Dining is the place for you.
It focuses on MediterrAsian cuisine, serving lush selections of local seafood, meats, sushi, and a varied assortment of salads. The Artesian Lounge offers a gallery style with inspiring art pieces all around the lounge. It's perfect for leisure afternoon tea or drinks.
For the bars, the IAMMAI bar serves a variety of light meals and cocktails. Set against the breathtaking mountain backdrop and the light blue Indian Ocean, this bar leaves guests with jaw-dropping sights of nature and freedom.
For soccer and football fans, the resorts, Arena Sports Bar and Kitchen, provides the perfect place to watch live matches. This European-style bistro serves all your favorite dishes from tomato bruschetta to lasagna burgers to caramel chocolates. You also can't miss an assortment of alcoholic and non-alcoholic drinks at the high bar!
Signature Willow Stream Spa
Typical of any Fairmont hotel, the Willow Stream Spa offers one of Middle East's best Spa services. This award-winning spa embraces the Arabian gulf's turquoise surroundings and the warm setting sun to create the perfect environment for your healing and tranquility.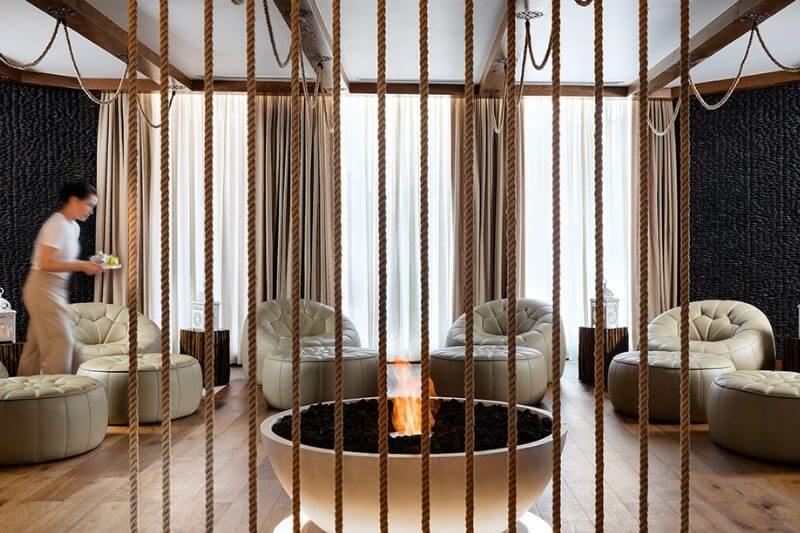 Their treatment routines are inspired by nature's elements, earth, air, water, fire, and wood, leaving you refreshed, calm, and rejuvenated. Spa facilities present on-site include the rock sauna, steam rooms, heated loungers, experience showers, and a private hammam room.
 Guests can book for facial enhancements, body massages, body treatments, and authentic future, past and present Hamman experiences. However, you have to book early if you want to enjoy this service during your stay. (The Spa is usually fully booked during high seasons).
A state-of-the-art, fully-equipped fitness center is also available, complete with relaxation areas, experience showers, lockers area, and temperature-controlled swimming pool.
All in all, the Fairmont Fujairah Beach Resort offers an incredible experience for guests looking for some privacy, adventure, and luxury. With so much to do at this resort, this is the perfect place to stay when looking to explore the adventures of the Arabian world.
So, when planning for your next vacation, why not go all out to Dubai? You won't regret it!