Some styles just pull in the eye. They are so put together that a person cannot help but stare. That is the way it is with this fabulous yellow and black style. Each pristine element creates an outfit that is sharp and coordinated perfectly. If you love shopping, then you must pick up this one of a kind outfit.
First, start with the Cheetah-Printed Silk Top by Haider Ackermann. Every woman must have a cheetah print anything in their wardrobe. Get a stylish casual tank top for warmer weather, and it is more preferable if it is made out of silk, like this high quality top. You will love the visual interest that the cheetah print creates.
Then, opt for a long sleeve blouse for a more sophisticated style with this Crêpe Satin Blouse by Alexa Chung. This ultra luxurious fabric is soft to the touch. It gives the entire outfit a classic look. If you want a top that fits perfectly to wear to the office, then this is an excellent go-to. You must have this perfectly fitted blouse.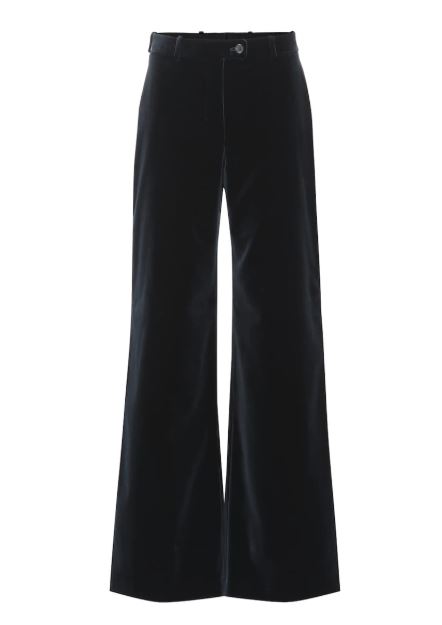 Next, purchase the High-Rise Flared Velvet Pants by Acne Studios. Velvet pants have an extraordinary feel to them. These particular ones wear well throughout the day. They don't wrinkle easily. You will love the elongating flare at the bottom of the pants as well.
Additionally, the Valentino leather pumps are well crafted. They will give you the height you desire while still maintaining the element of comfort that you need. Your feet will be happy as you go about your day working or shopping. You will feel classy and elegant in this style of pumps.
Finally, you will need the Salvatore Ferragamo leather handbag. Every woman needs a bag that they can rely on. This leather piece is crafted for quality. It makes any outfit look sharp as it has a versatile look to it. You can pull in the elements of gold and black from your outfit with this purse. This fabulous handbag will make you style stand out from the crowd.
SHOP MORE FASHION AND STYLE NOW!!!