These fabulous fashion and style treasures, will make you the envy of every fashion blog, and give you that fashion model look that every girl dreams of. So don't be shy, get yours today and start strutting your style with the fashion on the runway. Own it girlfriend!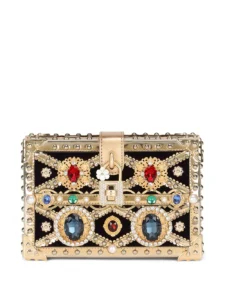 Crystal Clutch Bag
Yes I know, I can't stop staring at it either. Leave your jewelry at home; get this Crystal clutch bag for it is all you will need to accessorize your unique fashion and style. The Black and gold hue reminds me of royalty, opulence, and the crown jewels. It's a unique minaudière evening clutch that is a charming example of feminine elegance for your evening refinery.   It's the ideal party style accessory, just don't let go. Remember you don't carry this clutch, "you wear it".
Givenchy Scarf
Red, red and redder, after all it's a great color match for every passionate woman.  This Givenchy scarf can be worn in a casual style with a pair of jeans and boots. It can easily be worn to the office, wrapped over a black blazer and completed with steel tip heels. Even better it can complement your little black dress; the pop of color will get you noticed. While it's unavoidable elegant style keeps you effortlessly classy and chic. Get one today!
Valentino Sunglasses
After all we live in California, sunglasses year round please! Valentino sunglasses in black are ideal. If only Jackie-O were here….She'd be adorned in these gorgeous shades wherever she goes. They are mysterious, classy and uncomplicated. They can be your every day pair that gives you additional style no matter what you're wearing, or the ones you go to when you are quick on the run. They make a great gift, for friends or to yourself! Hey when they're this cute, you have to have them!