First, get in style with this one of a kind colorful look that will make heads turn and mouths drop. Yes, you really will look that good. Fall in love with this satin Goldie slip dress by Haney that exudes feminine sensuality. Add this elegant style into your cocktail repertoire with this gradient flowing satin dress finished in tonal shades of pink and fuchsia. Gold accents and streamlined footwear pair perfectly with this elegant number.

That being said, we recommend you stick with the bold colors that are so in style right now. You'll have everyone swooning over your one of a kind colorful styles. As your trusted fashion magazine, we tell you that the hottest fashion trends are always those that are bold, unique and full of fashionably fierce color.

That's why we paired this Haney dress number with these in style jewel embellished Badgley Mischka slip-on heels. You'll feel like a princess in these. These lady pumps take an avant-garde turn with sparkling crystals that shimmer and shine in the light. These just might become your new favorite shoes!

Then for the must have in style fashion accessory, get Balenciaga's signature purse styles particularly in silver for this Haney dress style this season. Logo detailing and unique texture adds dimension to this look.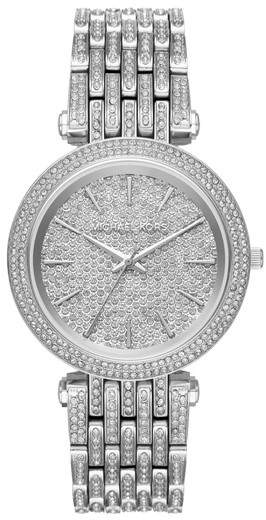 Equally important to your fashion accessories, is your jewelry. We selected a simple watch for this elegant ensemble. We think showing bare skin is the key to keeping this look chic and simple. Add this Michael Kors watch that has a crystal bezel giving additional shine to this dazzling style.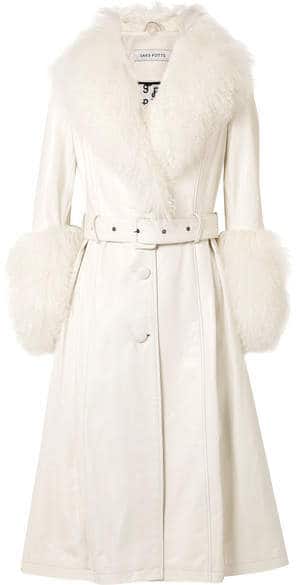 Finally, you'll want to get the most fashionable and heavy coat that will compensate for the super sheer dress.  This 'Foxy' coat is made from smooth white leather with tactile shearling trims at the collar and cuffs. Available in pink, white, beige, and turquoise. The buckle-fastening belt helps cinch the loose silhouette, while the satin lining ensures a smooth fit.
SHOP MORE ELEGANT DRESS STYLES NOW!!!