This dazzling silver style is a perfect way to shine like the star that you are at any formal occasion. Silver is a bold color that makes a powerful fashion statement. It exudes elegance, purity, and beauty. Here's how to get the look!
Galvan Chrome Panel Sequined Dress
First, start at the higher note with this Galvan Chrome Panel dress. This stunning dress is sequined and stylishly designed in silver, black polyester material that shimmers in response to all forms of light. You will simply adore this dress! It's sexy, classy, and super chic. It is cut in a figure-contouring silhouette with bare shoulders and a high neckline to expose a little bit of skin. This dress is unmistakably high fashion and will surely turn heads wherever you go.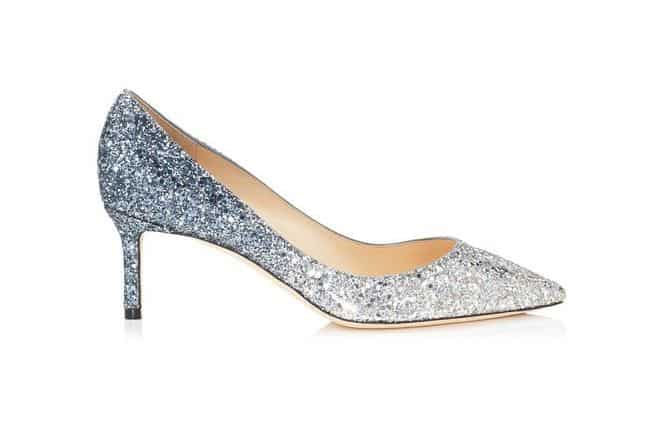 Jimmy Choo Glitter Pumps
Next, you should complement your perfect dress with this Roomy 60 Glitter Pumps. You can tell Jimmy Choo was going for a glamorous look when designing these shoes. These pumps are well-detailed and varnished with a sparkling gleam from an optic combination of gold and anthracite that brings out the fashionista in you. Also, the pumps are further enhanced by a pointed toe and a slender, glossy heel to provide an ultra feminine finish. If you truly want to look dazzling throughout the night, these pumps are one way to accomplish that effortlessly.
Tabitha Simmons Velvet Sandals
If you are getting ready for a more casual event, you can substitute the Roomy 60 Glitter Pumps with these stylish sandals instead. Simmon, the designer for the Frances 85 Velvet sandals, has combined class and elegance by using a plush velvet upper to blend perfectly with any dazzling silver dress. The 85mm stiletto heel with a dimensional bow will make you stick out from the rest while adding a sweet romantic statement.
Miu Miu Shoulder Bag
Additionally, you should get this designer bag from Miu Miu. It is classy, lightweight and less detailed so not to detract attention from the dazzling ensemble. This Matelassé shoulder bag blends effortlessly with the timeless dazzling silver style by offering a sense of regality as well. It's a must-have accessory in any style closet.
Roberto Coin Bangle
Finally, add some shine to your wrists with this unique Roberto Coin bangle. Its antique silver color with the crystal details enhances the overall dazzling silver look.
18-karat white gold shapes squared bangle.
Pave white diamond detail; 14.05 total diamond carat weight.
Roberto Coin signature hidden 0.3 carat ruby.
This cuff bangle adds a little shimmering and sparkles to your style and will undoubtedly draw attention all night long.
SHOP MORE FASHION AND STYLE NOW!!!